Contains the keyword opinion
Tar Sands - National Wildlife Federation
, , National Wildlife Federation, (2010)

Big Oil has some big plans to put America's clean energy future in jeopardy by expanding the production of tar sands oil – one of the most destructive, dirty, and costly fuels in the world.
In 2008, 1,600 ducks drowned in toxic tailing ponds created to produce dirty tar sands oil.

In July, 2010, 1 million gallons of oil gushed into a Michigan river from a pipeline owned by a tar sands company.
And now, tar sands oil companies want to pump this dangerous and dirty fuel right through America's heartland, putting our public water supplies, crop lands, and wildlife habitats at risk of tar sands oil leaks.
To extract the tar sands, oil companies are digging up pristine forest in Alberta, Canada, which provides habitat for large populations of migratory birds, wolves, grizzly bears, lynx and moose.
Mining and extracting these tar sands destroys enormous swaths of important ecosystems, produces lake-sized reservoirs of toxic waste, releases toxic chemicals into our air when it is refined in the U.S., and emits significantly more global warming pollutants into the atmosphere than fuels made from conventional oil.
TckTckTck | The World is Ready
, , TckTckTck.org, (2010)

TckTckTck is an unprecedented global alliance,
representing hundreds of millions of people from all walks of life, who are united by a desire to see a strong global deal on climate change. We are made up of leading environment, development, and faith-based NGO's, youth groups, trade unions and individuals, and we are calling for a fair, ambitious and binding climate change agreement.
The Marcellus Effect
, , Marcellus Effect, (2010)

Blog by Sue Smith-Heavenrich reporting from Owego, New York.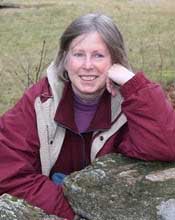 Sue Heavenrich.
I am a freelance journalist, writing about Marcellus gas issues, the environment and science. I live in upstate NY, surrounded by forest and fields. There is gas beneath my feet. member: Society of Environmental Journalists; Society of Children's Book Writers & Illustrators.
Two of the Seven Strangest Man-Made Disasters
, , Risk Management Monitor, (2010)

The Gates of Hell
This pit of fire that has been burning for 40 years looks more like something out or Mordor than Turkmenistan. But the burning crater of natural gas began shortly after a Russian drilling rig collapsed into the Underworld and no one knew what to do.
Having opened this huge poisonous gas cavern up, the atmosphere and the nearby residents in the village of Derweze decided the next logical move would be to set this huge crater on fire, and it has been burning ever since.
Here's video of some tourists enjoying the incredible, football-field-wide hole to hell (not literally).
The Centralia Underground Coal Fire
Our former publisher and Pennsylvanian Bill Coffin used to talk about this one all the time, so I have been familiar with its existence for some time. Nevertheless, it's completely nuts. Like the Gates of Hell, it has been burning for decades — since 1962 in fact. But unlike the Turkmenistan fire, its genesis is not so clear.
It is suspected to be a blunder by the local fire department in 1962 which had been tasked with cleaning up the local landfill, which itself sat on top of an abandoned strip mine. To accomplish this, they set the landfill on fire, apparently not an unheard of method at the time. However, the theory goes that the fire was not put out properly, and heated up veins of coal underneath the landfill, which began to smolder over time.
Eventually the reaction lit an underground fire which continued to burn, which caused little concern from local authorities until almost two decades later when in 1981, a 12-year-old boy fell into a 150-foot sinkhole which suddenly opened up in the backyard underneath his feet.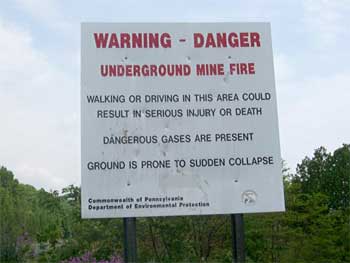 An actual sign in Centralia, PA.
U.S. Energy Choices and Global Climate Plans
, , Dot Earth | New York Times, (2010)


...the sometimes loosely governed rush to liberate this fuel from rock deposits through hydraulic fracturing, or "fracking," has helped invigorate opponents of drilling. I agree with Christopher Helman over at Forbes, who wrote a couple of days ago that low gas prices mean there's little to lose by holding up drilling in highly contested areas (the Marcellus Shale here in New York being the prime battle zone) while an Environmental Protection Agency scientific review is completed.
I was at the Environmental Protection Agency on Tuesday and officials there made a convincing case that the hydraulic fracturing study, due out in 2012, will clarify where real risks lie.
But campaigners who fight natural gas altogether, like anyone else immersed in the struggle over an energy policy that works for the long haul, had better come up with a real-world game plan for fostering human progress while limiting environmental risks.
Otherwise, they've moved from the Nimby camp to the world of the Banana (build absolutely nothing anywhere near anything).
See: Climate Co-benefits and Child Mortality Wedges

In Dot Earth, which recently moved from the news side of The Times to the Opinion section, Andrew C. Revkin examines efforts to balance human affairs with the planet's limits.
un-naturalgas.org
, , un-naturalgas.org, (2010)
because there is nothing natural about what the natural gas extraction process invented by Halliburton does to water, air, & living things
Includes extensive background information and petition.
See article on Eminent Domain.
See: Is Your Unleased Property Facing Compulsory Integration?
Site contains link to Dr. Ronald E. Bishop, Sustainable Otsego. "Beyond MSDS: A Review of Hazardous Materials Used by New York's Natural Gas Industry." Cooperstown, NY. September 18, 2009.
"The New York Department of Environmental Conservation (DEC), in response to a Freedom of Information Law request from the Committee to Preserve the Finger Lakes, sent material safety data sheets (MSDS's) for 48 products permitted for use in the drilling and development of natural gas wells in New York. These are posted online by the Finger Lakes chapter of the Sierra Club.
From these and many other documents, Steve Coffman of the Committee to Preserve the Finger Lakes, developed a wonderful article: "The Safety of Fracturing Fluids – A Quantitative Assessment".
Vincent Alabama Confidential
, , Vincent Alabama Confidential, (2010)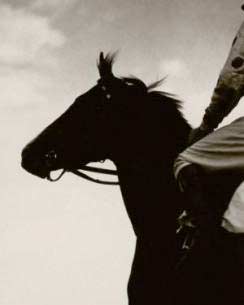 Alabama based blog, Vincent Alabama Confidential, by Max Shelby. Updated frequently featuring news and opinions on the relationship between the environment and political corruption.
Corruption, Politics, Big Business and the "New Mules" Still Kickin' the Environment
"At a time of universal deceit, telling the truth is a revolutionary act." --George Orwell
In the state of Alabama things are very, very wrong. Not only does our environment suffer constantly, but environmental racism/injustice seems to be rampant; if you're poor, minority or non-white you are forced to live with egregious corporate offenders on an every day basis.
What is most troubling is the state and legislature have turned a blind eye to their citizens and the environment. My story is their story and the attempt to affect change. The words of Robert Bullard: "No other community, rich or poor, urban or suburban, black, brown, red, white, or yellow should be allowed to become an environmental "sacrifice zone." I could not agree more. MAX
Water All Around … Or is There? | Activist's Corner
, , Workers World, (2010)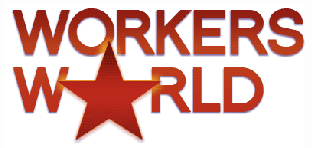 Much of the focus on the rapid expansion of natural gas extraction through hydrofracturing, or "fracking," has centered on methane leaks and chemical contamination of residential water wells. In Dimock, Pa., more than 15 residents sued Cabot Oil and Gas Corp., charging permanent damage to their wells.
However, another concern is the impact of fracking on renewable sources of fresh water. Some fear that this drilling process may be draining valuable and irreplaceable water resources.
See: Do the natural gas industry's surface water withdrawals pose a health risk?
WATER | Aurora Lights. Public Health & Coal Slurry - Water Quality ::: Journey Up Coal River
, , Aurora Lights, (2010)

"The West Virginia coalfields contain some of the highest quality water in the world. Aquifers in the coalfields often sit directly below seams of coal. When the coal seam is undisturbed, it acts as a giant carbon filter, leaving excellent water quality that West Virginians across the state rely on for drinking water.
When coal seams are disrupted, however, water quality quickly declines. The accounts of impaired water quality in the coalfields are abundant. As mining continues and practices such as slurry injections and impoundment sites become more prevalent, communities are seeing a decline in their water quality.
One woman from Hopkins Fork had her water tested when she moved into her home in 2002 and was told it was of spring water quality, as good as any you could buy. Today, she does not even use the water to brush her teeth...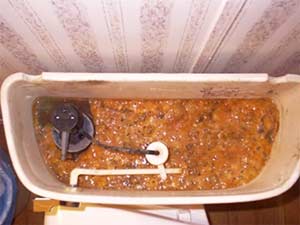 ...In total, several hundred million gallons of coal slurry were injected underground within 3 miles of the nearest well user. Some residents suspect that the heavy blasting at the Black Castle Surface mine cracked the geologic layers allowing the coal slurry to enter the water table.
Environmental Engineer Dr. Scott Simonton agrees this is a plausible scenario. Despite repeated requests by residents and citizens groups, the West Virginia Department of Environmental Protection still refuses to study the water in Prenter to determine the source of the contamination."
Aurora Lights supports locally-based projects that strengthen the connections within and between human communities and their natural environment by promoting environmental and social action. See also: Aurora Lights Home.
WATER | Clean Water Action
, , Clean Water Action, (2010)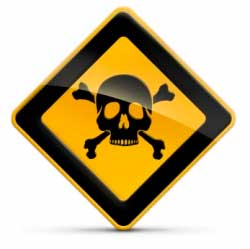 Environmental activist website. "For 36 years Clean Water Action has succeeded in winning some of the nation's most important environmental protections through grassroots organizing, expert policy research and political advocacy focused on holding elected officials accountable to the public."