Two of the Seven Strangest Man-Made Disasters
, , Risk Management Monitor, (2010)

The Gates of Hell
This pit of fire that has been burning for 40 years looks more like something out or Mordor than Turkmenistan. But the burning crater of natural gas began shortly after a Russian drilling rig collapsed into the Underworld and no one knew what to do.
Having opened this huge poisonous gas cavern up, the atmosphere and the nearby residents in the village of Derweze decided the next logical move would be to set this huge crater on fire, and it has been burning ever since.
Here's video of some tourists enjoying the incredible, football-field-wide hole to hell (not literally).
The Centralia Underground Coal Fire
Our former publisher and Pennsylvanian Bill Coffin used to talk about this one all the time, so I have been familiar with its existence for some time. Nevertheless, it's completely nuts. Like the Gates of Hell, it has been burning for decades — since 1962 in fact. But unlike the Turkmenistan fire, its genesis is not so clear.
It is suspected to be a blunder by the local fire department in 1962 which had been tasked with cleaning up the local landfill, which itself sat on top of an abandoned strip mine. To accomplish this, they set the landfill on fire, apparently not an unheard of method at the time. However, the theory goes that the fire was not put out properly, and heated up veins of coal underneath the landfill, which began to smolder over time.
Eventually the reaction lit an underground fire which continued to burn, which caused little concern from local authorities until almost two decades later when in 1981, a 12-year-old boy fell into a 150-foot sinkhole which suddenly opened up in the backyard underneath his feet.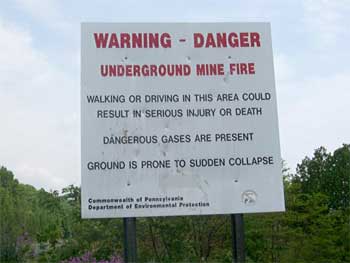 An actual sign in Centralia, PA.