Draft Plan to Study the Potential Impacts of Hydraulic Fracturing on Drinking Water Resources (Updated 2011-04-09)
Publication Type:
Report
Source:
U.S. Environmental Protection Agency (EPA), Volume EPA/600/D‐11/001, Washington, D.C., p.1 - 140 (2011)
URL:
http://water.epa.gov/type/groundwater/uic/class2/hydraulicfracturing/upload/HFStudyPlanDraft_SAB_020711.pdf
Keywords:
government
Notes: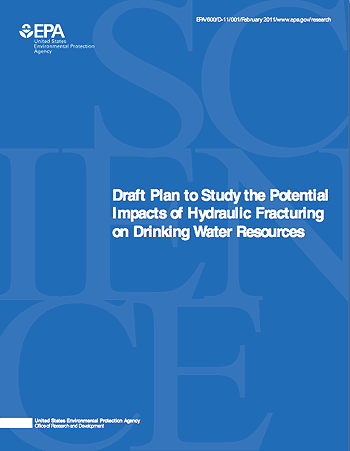 You can read all the form letters submitted from Texas, as well as my letter here:
"The States have not shown that they can adequately regulate gas drilling, especially in more populated areas. Federal Regulations are clearly needed.
Time and time again, as noted by a Pew Research Group report, a wide variety of industries, in seat belts, lead paint, cigarettes and many others, have fought federal regulation only to have history prove that it never hurt their bottom line." (Neil Zusman, 2011-02-28).
See: Pew Environment Group (PEG) Factsheet: Industry Opposition to Government Regulation (PDF), October 14, 2010.
See: Letter from Thomas Curtis, AWW. Website below:

In summary, AWWA supports protecting of sources of drinking water under any and all circumstances, including hydraulic fracturing. We appreciate the agency's consideration of our comments. If there are any questions about these comments, please direct them to Alan Roberson, AWWA, at (202) 326-6127.
Yours Sincerely,
Thomas W. Curtis Deputy Executive Director
See this hand-written letter by Pamela Curtis of Trumansburg, New York: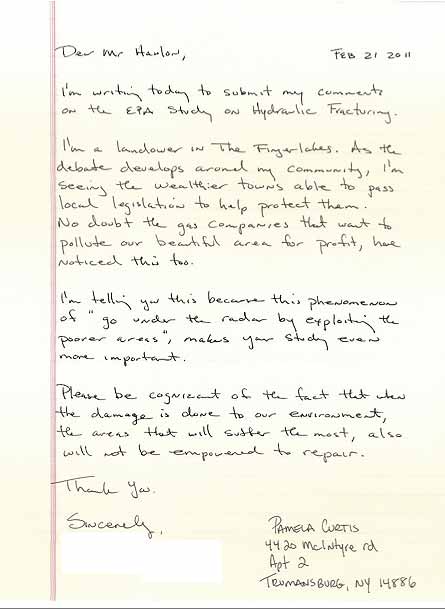 The Environmental Protection Agency (EPA or Agency) Science Advisory Board (SAB) Staff Office announces a public face-to-face meeting of the SAB Panel to conduct an independent review of EPA's Draft Hydraulic Fracturing Study Plan.
The meeting will be held on March 7, 2011 from 9 a.m. to 5 p.m., and March 8, 2011 from 8 a.m. to 5 p.m. (Eastern Time).
The Panel meeting will be held at the Westin Alexandria Hotel located at 400 Courthouse Square, Alexandria, VA 22314.
Members of the public can submit comments for a federal advisory committee to consider as it develops advice for EPA. They should send their comments directly to the Designated Federal Officer for the relevant advisory committee.
Oral Statements: In general, individuals or groups requesting an oral presentation at this public meeting will be limited to five minutes per speaker. Interested parties should contact Mr. Edward Hanlon, DFO, in writing (preferably via e-mail), at the contact information noted above, by February 28, 2011 to be placed on the list of public speakers for the meeting.
Written Statements:
Written statements should be received in the SAB Staff Office by February 28, 2011 so that the information may be made available to the SAB Hydraulic Fracturing Study Plan Review Panel for their consideration.
In its Fiscal Year 2010 budget report, the U.S. House of Representatives Appropriation Conference Committee identified the need for a focused study of this topic. EPA scientists, under this administration and at the direction of Congress, are undertaking a study of this practice to better understand any potential impacts of hydraulic fracturing on drinking water and groundwater. EPA consulted with experts in the field through peer review, and technical workshops and engaged stakeholders in a dialogue about the study through facilitated public meetings.
EPA has submitted its draft study plan on hydraulic fracturing for review to the agency's Science Advisory Board (SAB).
The overall purpose of the study is to understand the relationship between hydraulic fracturing and drinking water resources. The scope of the proposed research includes the full lifespan of water in hydraulic fracturing, from acquisition of the water, through the mixing of chemicals and actual fracturing, to the post-fracturing stage, including the management of flowback and produced water and its ultimate treatment and disposal.
The SAB plans to review the draft plan March 7-8, 2011. Consistent with the operating procedures of the SAB, an opportunity will be provided for stakeholders and the public to provide comments to the SAB during their review. The Agency will revise the study plan in response to the SAB's comments and promptly begin the study. Initial research results are expected by the end of 2012 with a goal for a report in 2014.
See: Industry responds to public take on hydraulic fracturing | Fracking Resource Guide
See: EPA Hydraulic Fracturing Study Plan Review Panel
See: Lisa P. Jackson, EPA (lisapjackson) on Twitter
See: U.S. Congress. Committee on Space, Science, and Technology. "Hearing Highlights Lack of Objectivity in Draft EPA Fracking Study--No Evidence of Drinking Water Contamination from Fracking, Witnesses Say". May 11, 2011