Contains the keyword opinion
Marcellus Shale Protest
, , Marcellus Shale Protest | No Frackng Way, (2010)

PROTEST SHALE GAS CONFERENCE
Wednesday, November 3rd, 2010

On November 3, 2010, the gas industry gathered at the Developing Unconventional Gas (DUG) East Conference at the David Lawrence Convention Center in Pittsburgh. Karl Rove was its keynote speaker.
As Pennsylvania citizens concerned about the health of our communities and the environment on which we depend, we attended the conference in the streets...

"No Fracking Way!" was the thunderous statement made by over 500 protestors in Pittsburgh today, marching from Allegheny Landing to the David Lawrence Convention Center.
Residents from West Virginia, Western Maryland, New York, and Pennsylvania were joined by activists and artists from all over the country to oppose the dangerous and destructive hydro-fracking gas drilling. The impassioned rally circled David Lawrence Convention Center, where inside gas industry executives were meeting to discuss the "future" of hydro-fracking gas drilling and planning to use heavy explosives to blast apart the Marcellus Shale formation to get the gas beneath.
"This is a revolution!" said Loretta Weir of Lincoln Place, Pittsburgh. Loretta said that a revolution was needed since the gas companies operate "outside the law." Weir took the podium to encourage city residents to support a moratorium on drilling in Pittsburgh, and to attend a public hearing tomorrow to discuss the matter.
Josh Fox, maker of the film Gasland, remarked that the movement to stop hydro-fracking gas drilling is growing, prompting huge cheers from the crowd. Telling the story of a father in a hydro-fracking region whose two sons got frequent nose bleeds from hydro-fracking-associated toxins.
"We are here for that family!" said Fox.
Marcellus Protest is an alliance of western PA groups & individuals building a broad movement to stop the destruction of our environment and communities caused by Marcellus Shale gas drilling as well as to support other directly affected communities.
Includes upcoming events, blogs, listing of groups and network meetings.
MarcellusProtest.org is an information clearing house about Marcellus Shale gas drilling and activism and related issues. It is a project of The Center for Coalfield Justice.
Although this website's primary geographic focus is Western Pennsylvania, MarcellusProtest.org also includes content pertaining to the fives states in which the Marcellus Shale is located - as well as other Shale gas formations across the U.S. A new social movement is in the making, and it's going national.
See: Marcellus protest YouTube Channel
See: Pictures from Allegheny Defense Project
See: Poison Fire
Marsh Fork Elementary: Journey Up Coal River | A Community and Strip Mining
, , Aurora Lights, (2010)

Primary documentation of the effects of strip-mining for coal on a West Virginia community. Gas Drilling and Strip-Mining affect communities health. This website is an outstanding example of the human aspect of sacrifices for energy and power production that may not be necessary.
Aurora Lights supports locally-based projects that strengthen the connections within and between human communities and their natural environment by promoting environmental and social action. See also: Aurora Lights Home.
"What we got going on here in Rock Creek is a little school in Sundial, W.Va., called Marsh Fork Elementary and it's being surrounded by a coal mining processing plant and a toxic waste impoundment and also a mountaintop removal site," said Rock Creek resident Ed Wiley. He used to work at the processing plant and his granddaughter, Kayla, attended Marsh Fork Elementary.
The toxic waste impoundment and processing plant are all operated by the Goals Coal Co., a subsidiary of Massey Energy. The 1849-acre mountaintop removal mine that surrounds the school and dam is operated by two other Massey subsidiaries, Independence Coal and Alex Energy.
See: Code Black: Coal's Assault on America's Health Campaign | PSR (Physicians for Social Responsibility)
Montana Environmental Information Center (MEIC)
, , Montana Environmental Information Center (MEIC), (2010)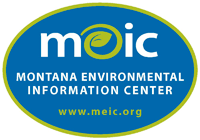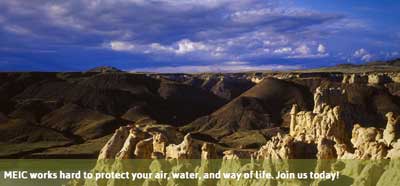 Government Agency Watchdog.
Montana Environmental Information Center (MEIC) is Montana's environmental "watchdog." It has successfully influenced state and federal agencies for more than three decades, monitoring issues from old growth forest protection, to standards for coal bed methane development, to air and water pollution permits. When all else fails, MEIC utilizes litigation to ensure that environmental laws are complied with.
Promoter and Protector of the Constitution. MEIC works hard to uphold the valuable rights afforded by Montana's Constitution, including the inalienable right to a clean and healthful environment, the right to participate in and know about government operations, and the right to have all lands disturbed by the taking of natural resources reclaimed.
Respected Media Source. MEIC has a long history of working with the mass media to raise public awareness and understanding of key environmental issues. Through writing opinion pieces and making its staff available to the press, MEIC makes sure that critical issues receive the attention they deserve. MEIC provides a nonpartisan perspective, and is consistently quoted in a variety of Montana and national newspapers and other media.
Grassroots Advocate and Public Educator. MEIC assists individuals and local organizations facing environmental problems by providing information, organizing and tactical advice, and technical assistance. MEIC also has an active membership ready to submit comments, attend hearings, and go to pubic rallies when needed."
Myth Busting | The Marcellus: An American Travesty
, , (2010)

The Marcellus Shale Coalition, has just released a video promo that would make Leni Riefenstahl proud. A more comprehensive myth-busting is forthcoming.
For now, read "Marcellus Shale: Asking Tough Questions of the Oil and Gas Companies" by Claudia Detweiler, "Lies and Broken Promises" by Jon Bogle, which both expose the bias and inaccuracies the "Penn State Report" and other economic impact studies.
And read this assessment by Robert W. Howarth, of Cornell University, who writes, "natural gas far less attractive than other fossil fuels in terms of the consequences for global warming."
See: Natural Gas Drillers Protest Nomination of Fracking Critics for EPA Review Panel
New Tar Sands Oil Pipeline Will Lock U.S. into Dangerous Consequences
, , Switchboard, from NRDC :: Peter Lehner's Blog, (2010)

Energy companies believe they can more than triple the production of tar sands oil, but one of the main constraints is delivery: unless the tar sands fields are linked by pipeline to more markets, there is a limit to how much they can grow.
That barrier could soon be removed. The United States is already the biggest consumer of tar sands oil, and to expand the supply, companies have decided to build a new $7 billion pipeline that will stretch 2,000 miles from Alberta to Texas. We need to resist the siren call of a pipeline that will prove dangerous to our health and environment.
Decisions about pipelines rarely attract a lot of attention, yet they should, because they open up lands for gas and oil development. And every time we expand our fossil fuel infrastructure, we lock ourselves into a string of costly and potentially dangerous consequences...
See: Senator Mike Johanns. "Keystone XL Pipeline - Issues"
New York Gas Lease, formerly Pass Gas Now
, , New York Gas Lease, (2010)

Southern Tier Landowners Coalition, Groups, and Associations. Includes online petition to support natural gas exploration.
"Southern Tier landowners are encouraged to join a Southern Tier Landowners Coalition, Group, or Association to negotiate better gas leases, obtain higher signing bonuses and royalties, and protection of your property and the environment."
New York Land For Lease For Natural Gas Exploration
, , Tioga County Landowners Group for the Tioga Gas Lease, (2010)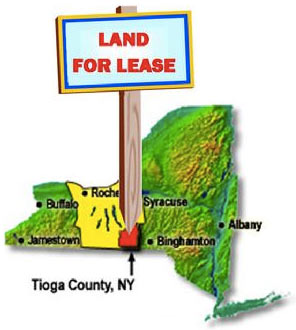 The Tioga County Landowners Group was organized in the summer of 2008 for the express purpose to educate ourselves and our members about the mineral right opportunities.
We are an organization of 1600+ families who own 111,000+ acres of land in Tioga County, NY. At this time there are 75,000 acres available for immediate lease with additional acreage that will be available in the near term. A small percentage of our existing population is currently under lease.
We seek a drilling partner who is fair and equitable, will be sensitive to our property, our community, and the environment. In exchange, you will be partnering with a coalition who is ready and willing to work with a responsible drilling partner towards a successful outcome for us all.
New York Residents Against Drilling (NYRAD)
, , New York Residents Against Drilling (NYRAD), (2010)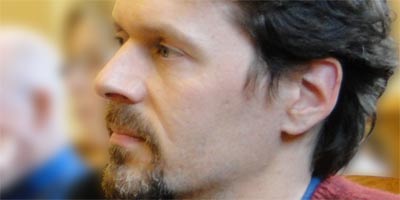 Ben Perkus. Photo by Neil Zusman
New York Residents Against Drilling (NYRAD) is a grassroots network of local residents who are concerned about unconventional gas development in New York State.
See the Personal Accounts and Viewpoints pages.
New York Well Watch Forum
, , Google Groups: New York Well Watch Forum, (2010)

Up-to-date Google Forum established to share information, announce local meetings, and foster open, respectful discussion about the Marcellus Shale gas drilling in the Finger Lakes and Southern Tier communities.
No Frack Mountain
, , No Frack Mountain, (2010)

Pennsylvania based blog. Includes a quotes page unique to blogs on the environment, highlighting the struggle between citizens, corporations, and government regulations, providing a larger historical context.
It is horrifying that we have to fight our own government to save the environment. ~Ansel Adams
"In the woods we return to reason and faith"
Ralph Waldo Emerson
See: Fracked Dry
Over the next thirty years, given the present technology, 500 billion gallons of water will be retired underground in Pennsylvania through the process known as horizontal fracturing. This is according to email discussions I have had with Penn State's Marcellus Center for Outreach and Research
500B is equivalent to 68 Harvey's Lakes, or 263 Huntsville reservoirs, or 200 Wallenpaupacks (a relatively shallower but more expansive body of water).
This water will no longer be available for human use. It will lurk in the shattered caverns below. This dispersed sea will be waiting for a flaw, a break, an errant burst of pressure…
...Recently, EnCana Corporation was given permission to drill three "exploratory" natural gas wells in the Back Mountain, near Herb Baldwin's property.