Full Steam Ahead: Albany Rally 3/24/11 Requesting Governor Cuomo to Expand Scope of draft SGEIS per Executive Order No. 41
Publication Type:
e-mail
Source:
(2011)
URL:
/frack_files/Full_Steam_Ahead_Albany_Rally.pdf
Keywords:
opinion
Notes: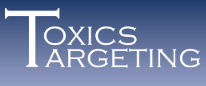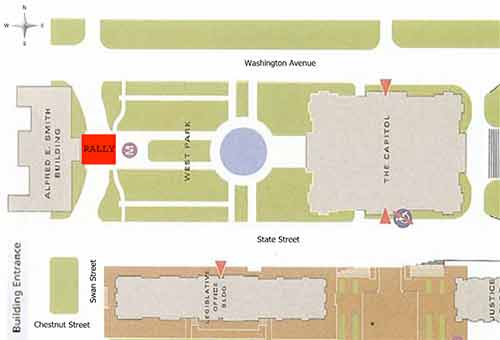 Update on Event:
...More than 125 activists gathered from all over New York. We heard many moving speakers, including, but not limited to: Sandra Steingraber, Bob Boyle, Wes Gillingham, Legislative Representatives Barbara Lifton, Donna Lupardo, Liz Krueger, Brian Kavanagh, Danny O'Donnell, Michelle Schimel, Deborah Glick, Aileen Gunther and Tom Abinati as well as Catherine Hughes and Gene Stilp, an emissary from Pennsylvania's beleaguered gas fields, among notable others.
After the Rally, the crowd snaked from the "Well" in the Legislative Office Building all the way to the Capitol next to the Hall of Governors where Governor Cuomo's office is located. As we ascended the staircase, our chant of "NO FRACKING WAY" began to reverberate off the stone walls.
By prior agreement with highly accommodating New York State Troopers, the crowd gathered in the beautiful and historic War Room. The high-volume chant went on and on and on for nearly an hour, maybe longer. The floor in the War Room was shaking. People, including at least one minister, were dancing and banging on anything that could make noise. It was totally unbelievable. Albany was buzzing today at the performance of the "leather lung choir!!!" Rock on.
Check out "War Room protest: 'No fracking way'" a video posted by the Albany Times Union. It will knock you on your butt.
See also: Nancy Hickling. "Local Protesters Travel To Albany To Rally Against Hydrofracking." WBNG News. 2011-03-24.
See also: Erin Connolly. "Rally to expand hydrofracking impact study." TWEAN news channel of Albany: Capital Region YNN. 2011-03-25.

...Commissioner Martens acknowledged that we had presented new data that had not been incorporated into the woefully deficient originally draft SGEIS or the Executive Order proceeding. He was entirely gracious and said he was still in the process of being briefed about the many aspects of revising the Draft SGEIS per Executive Order No. 41. He said no decision would be made in our meeting about allowing public comment regarding how DEC should go about revising the Draft SGEIS. He offered to meet again with the group.
Original Report. 2011-03-22
We are Full Steam Ahead for a Noon Rally this Thursday, March 24, 2011 at the New York State Capitol (West Capitol Park, Swan Street Steps) requesting Governor Andrew M. Cuomo to expand the scope of the Marcellus Shale draft Supplemental Generic Environmental Impact Statement (SGEIS).
Update
Neither rain nor snow nor sleet will keep us from our momentous Rally tomorrow in Albany to request Governor Cuomo to expand the scope of the Marcellus Shale draft SGEIS.
Since inclement weather is predicted, we are moving our Rally indoors. Please gather at 12:00 Noon in the "Well" of the Legislative Office Building. See map below. Just walk into the LOB from the Concourse of the Empire State Plaza. The Well is just past the elevators. You can't miss it.
This large cavernous space will showcase our event to Legislators, staff and lobbyists. It is ideal for our purposes. Thank you, Assemblywoman Lifton, for all your assistance on our behalf.
In addition to the highly notable individuals and groups I mentioned yesterday, we will be joined by Shaleshock, Committee to Protect the Finger Lakes, Cortland Drilling Awareness Coalition, Tompkins County Legislator Pam Mackesey and Catherine Hughes of New York City Community Board One, which passed a major resolution last evening in support of expanding the scope of the draft SGEIS.
I am pleased to let you know we will be joined by State Legislators, physicians concerned about gas drilling threats to public health, NYPIRG, NYRAD, Catskill Mountainkeeper, Sierra Club: Atlantic Chapter, acclaimed ecologist, Sandra Steingraber, and legendary environmental activist and author, Robert H. Boyle, who revealed GE's contaminated the Hudson River with PCBs (polychlorinated biphenyls).
Most importantly, grassroots activists and groups will be gathering at the Capitol from all over New York...
Thank you so much for your strong support.
See: New York State Assembly Passes Moratorium on Hydrofracking | Governor Vetoes Bill.
See: Watchdog: New York State Regulation of Natural Gas Wells Has Been "Woefully Insufficient for Decades."
See: Leaked EPA Documents Expose Decades-Old Effort to Hide Dangers of Natural Gas Extraction.
See: Protests urge fracking fluid ban.
See: Meeting of Manhattan Community Board #3 held on Tuesday, April 28, 2009 at 6:30 at IS 131, 100 Hester Street.