Regulation Is Lax for Water From Gas Wells
Publication Type:
Newspaper Article
Source:
The New York Times (2011)
URL:
http://www.nytimes.com/2011/02/27/us/27gas.html?_r=1&ref=us
Keywords:
press
Notes:

...the relatively new drilling method — known as high-volume horizontal hydraulic fracturing, or hydrofracking — carries significant environmental risks.
It involves injecting huge amounts of water, mixed with sand and chemicals, at high pressures to break up rock formations and release the gas.
With hydrofracking, a well can produce over a million gallons of wastewater that is often laced with highly corrosive salts, carcinogens like benzene and radioactive elements like radium, all of which can occur naturally thousands of feet underground. Other carcinogenic materials can be added to the wastewater by the chemicals used in the hydrofracking itself.
While the existence of the toxic wastes has been reported, thousands of internal documents obtained by The New York Times from the Environmental Protection Agency, state regulators and drillers show that the dangers to the environment and health are greater than previously understood.
The documents reveal that the wastewater, which is sometimes hauled to sewage plants not designed to treat it and then discharged into rivers that supply drinking water, contains radioactivity at levels higher than previously known, and far higher than the level that federal regulators say is safe for these treatment plants to handle.
Other documents and interviews show that many E.P.A. scientists are alarmed, warning that the drilling waste is a threat to drinking water in Pennsylvania. Their concern is based partly on a 2009 study, never made public, written by an E.P.A. consultant who concluded that some sewage treatment plants were incapable of removing certain drilling waste contaminants and were probably violating the law.
The Times also found never-reported studies by the E.P.A. and a confidential study by the drilling industry that all concluded that radioactivity in drilling waste cannot be fully diluted in rivers and other waterways.
But the E.P.A. has not intervened...
See: A Life's Value May Depend on the Agency, but It's Rising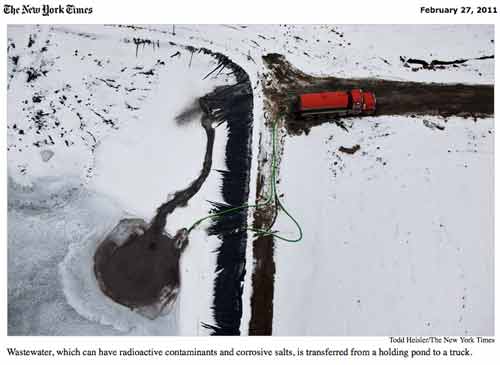 Walter Hang said this about the NYT report:
"A 2008 drinking water crisis is documented that affected more than 850,000 residents along the Monongahela River near Pittsburgh. When New York imposed its de facto Marcellus Shale horizontal hydrofracturing moratorium, many firms went to drill in Pennsylvania.
Municipal treatment plants were accepting up to 40% of their influent as natural gas drilling wastewater even though they were not equipped to handle that type of waste. So much Total Dissolved Solids (TDS) pollution was discharged in the Monongahela River that the water became unpotable. A 70-mile stretch of the river was impacted."
Hang, Walter. "The New York Times Covers Marcellus Shale Gas Drilling Wastewater/Hold Onto Your Hats." 2011-02-26 6:42 PM EST: n. pag. E-Mail.
See: Drilling Down | Documents: Natural Gas's Toxic Waste
See: Video: Natural Gas, Polluted Air
See: Interactive Map: Contamination
See: Graphic: Pulling Gas From Rock
Over the past nine months, The Times reviewed more than 30,000 pages of documents obtained through open records requests of state and federal agencies and by visiting various regional offices that oversee drilling in Pennsylvania. Some of the documents were leaked by state or federal officials. Here, the most significant documents are made available with annotations from The Times.
See: Ian Urbina. "Drilling Down Series Index." NYT. Feb. 27, Mar. 2, Mar. 4, 2011.
See also: Freedom of Information in the USA
See also: Do the natural gas industry's surface water withdrawals pose a health risk?
See also: With Natural Gas Drilling Boom, Pennsylvania Faces an Onslaught of Wastewater
See also: WATER: Gas drilling in huge Appalachia reserve yields foul, briny byproduct - AP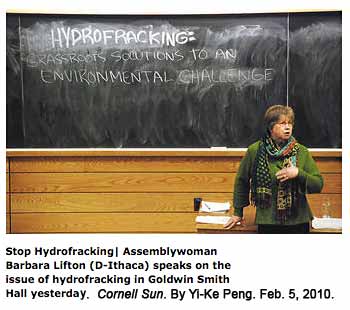 See: Lifton, Barbara. The Assembly. State of New York. "Letter to Governor Cuomo re: Executive Order No. 41 and the Marcellus Shale DRAFT Supplemental Generic Environmental Impact Statement (DRAFT SeEIS), signed by 50 Democratic and Republican representatives." April 13, 2011.
We, the undersigned members of the New York State Legislature, write to thank you for signing a continuation of Executive Order No. 41 as one of your first official acts. That order requires your Department of Environmental Conservation (DEC) to: "analyze comprehensively the environmental impacts associated with high-volume hydraulic fracturing combined with horizontal drilling.." DEC is then required to revise its Marcellus Shale DRAFT SupplementalGeneric Environmental Impact Statement (DRAFT SGEIS) to address widespread criticism of the
original document...
…First, extensive new scientific and technical information has become available since the SGEIS proceeding began nearly three years ago. This includes data gleaned from more than 30,000 pages of documents recently brought to light by the New York Times in a three-part series. We request that you require a public comment period of no less than 30 days to afford interested parties an opportunity to identify sources of new natural gas drilling information that DEC should review in order to revise its DRAFT SGEIS.
...We request that you require the scope of the SeEIS to be expanded to include those issues and all other issues required to fulfill Executive Order No. 41.
The public should be allowed to comment on that matter.
In conclusion, you have repeatedly said you believe horizontai hydrofracturing of Marcellus Shale must only be allowed to proceed in New York State based on "good science." Our requests are entirely consistent with that policy.
See: New York State Assembly Passes Moratorium on Hydrofracking | Governor Vetoes Bill.