Contains the keyword opinion
Gas Wells Are Not Our Friends | Endless Mountains Visitors Guide: New Attraction in PA - Visit a Well Pad
, , Gas Wells Are Not Our Friends, (2010)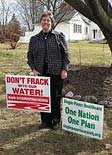 "Read and weep. Here is part of the new brochure: Endless Mountains Visitors Guide. Imagine trying to make a gas well a wonderful and fascinating thing to visit in Pennsylvania. It is almost like trying to make visiting a ward in a VA hospital something to look forward to.
Come see the death and destruction here in Pennsylvania. It will be fascinating. Watch the gas drillers as they work diligently to ruin everything we treasure here in Pennsylvania. Read on.........(from the Endless Mountains Visitors Guide)"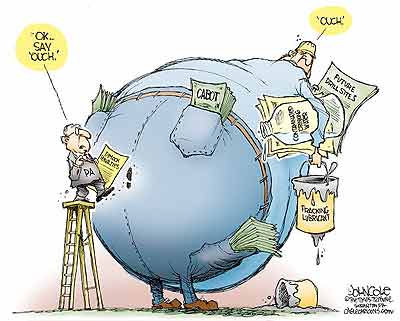 Cartoon by John Cole, The (Scranton) Times-Tribune
Gasland: Drilling Isn't Safe
, , Drilling Isn't Safe, (2010)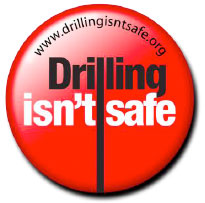 From Colorado to Pennsylvania, scientific data and documented cases have clearly shown that wherever fracking has occurred there is substantial risk of drinking water contamination, air pollution and severe illness among people and animals.
Hundreds of chemicals are used in fracking. Some 350 chemicals used to extract gas or found in gas wastes have been identified, among them known toxins like benzene. But the identity of hundreds of other chemicals used are kept secret by industry, as are their effects on human health.
Gasland is going a long way in spreading public awareness about gas drilling and the risks it poses on human and environmental health. Nationwide response to the film has been overwhelmingly positive. The Oil and Gas Industry's response: not so enthusiastic.
"Energy-In-Depth" is a PR Firm/Lobbying Group funded by the American Petroleum Institute. They are putting a misleading spin on information in Gasland to soothe and silence public curiosity about gas drilling.
The work of Energy-In-Depth lacks journalistic credibility and educated opinion. It's nothing short of an attack on truth. For public interest, we've prepared a response to their self-serving claims on gas drilling. Click here to learn more and pass along to friends.
See "Let's Talk About Cleavage", Energy In Depth. August 11, 2010.
Take Action. Adapt the film screening party to ongoing community benefits and information sharing. Download: Gasland HouseParty Guide (PDF) 2010-06-21
See: Mike Hale. NYT Review, "The Costs of Natural Gas, Including Flaming Water".
See: PBS Interview with Josh Fox, March 26, 2010.
See: the Water Portal page on SourceWatch with an excellent summary of the Gasland phenomenon. Robert Koehler of Variety referred to the film as "one of the most effective and expressive environmental films of recent years… "GasLand" may become to the dangers of natural gas drilling what Rachel Carson's "Silent Spring" was to DDT."
See: Josh Fox Interview with Jon Stewart on The Daily Show.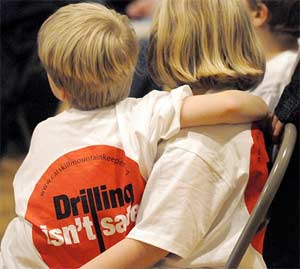 Greers Ferry Lake Natural Gas Watch
, , Facebook | Greers Ferry Lake Natural Gas Watch, (2010)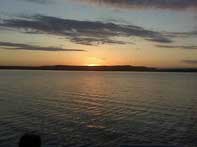 Arkansas based blog on Facebook.
All members of the International Brotherhood of Magicians "and gas drillers" agree to:
1) Oppose the willful exposure to the public of any principles of the Art of Magic, or the methods employed in any magic effect or illusion.
First rule in the magicians code. Never reveal your secrets.
Last week there was sort of a vote at AOGC on something they called Rule B19. Arkansas joined Wyoming in becoming one of 2 states that required full disclosure of what frac fluid contains. It was in all the papers. Hooray!
Closer examination revealed that it really wasn't a rule at all, but instead a really a clever bit of slight of hand. It was a magic trick by AOGC to allow the companies to say they were doing something, without really having to do anything at all.
Rule B19 was supposed to cause the companies involved in hydraulic fracturing to completely disclose every chemical involved in the process. We were told by AOGC director Larry Bengal:
"We will tell you what's in the cake, but not teach you how to bake the cake."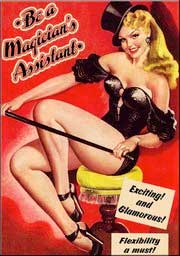 See: Arkansans for Gas Drilling Accountability. Dec. 20, 2010. "The SHAM EXPOSED! Log Cabin Democrat and Times Record Expose Last Minute Loophole in AOGC's Rule B-19".
H2Oil: An Explanation of the Tar Sands in Alberta
, , Futurism Now, (2010)

The tar sands in Alberta are so big they can be seen from space...
H2Oil is a documentary, now on DVD.
"In the vast, pristine forests of Western Canada, the 'war for water' has already begun…
Thanks to Alberta's Athabasca oil sands, Canada is now the biggest oil supplier to the United States. A controversial billion-dollar industry is heavily invested in extracting crude from the tarry sands through a process so toxic it has become an international cause for concern. Four barrels of glacier-fed spring water are used to process each barrel of oil, then are dumped, laden with carcinogens, into leaky tailings ponds so huge they can be seen from space.
Downstream, the people of Fort Chipewyan are already paying the price for what will be one of the largest industrial projects in history. When a local doctor raises the alarm about clusters of rare cancers, evidence mounts for industry and government cover-ups. In a time when wars are fought over oil and a crisis looms over access to clean fresh water, which resource is more precious? And what price are we willing to pay? — Gisèle Gordon."
And now they want to do this in Utah, though on a smaller scale:
A plan to strip-mine oil sands crude on U.S. land for the first time in northeastern Utah is facing legal challenge.
Through a legal appeal, a pair of local environmental groups are working to overturn a decision earlier this month by John Baza, director of the Utah Division of Oil, Gas and Mining (UDOGM). He upheld a permit approval for a 62-acre mine in the remote Uinta Basin of the Colorado Plateau.
Should the legal option fail, the groups said they are determined to block the project – by whatever "peaceful" means...
See: The End of the World As We Know It? The rise of the post-carbon era
How Should We Do the Mountain?: Who the heck is Calvin Tilman?
, , How Should We Do the Mountain?, (2010)

"Who the Heck is Calvin Tillman?"
"...Texas allows public domain seizure for pipelines. The many pipelines feeding the compressors cross private property rendering it unfit for future development.
The cumulative effect of the gas industry on the residents and their property values has caused Calvin, their mayor, to refer to Dish as a Sacrifice Zone.
Calvin became concerned about the health effects of gas industry vapors. Besides the unpleasant smells, trees and animals were dying and some residents complained about a number of growing health problems."
Pennsylvania based blog. Includes many links and articles.
Updated frequently.
Blogroll links to
Categories include:
See: Dish Mayor Calvin Tilman Testifies at Railroad Commission - Oil and Gas Lawyer Blog.
Incite: An independent advocate for the environment. | Gas Pains
, , Audobon Magazine, (2010)

Ted Williams.  Audubon. Jan/Feb. 2010. "Incite".
"...So deficient is the draft that it drew sharp criticism even from the laconic U.S. Environmental Protection Agency. The EPA says the draft ignores or glosses over: cumulative impacts, threats to the Catskill reservoirs that supply nine million people in and around New York City with untreated drinking water, maintenance of wastewater pits, threats to air quality, health risks of frack-water flowback, impacts on aquatic ecosystems from water withdrawals, and dangers to Important Bird Areas, which sustain all the forest-interior birds threatened by ongoing fragmentation in Pennsylvania."
WHAT YOU CAN DO
To follow Marcellus gas development and learn how to help control it, go to these websites: PennFUTURE, ConserveLand.org, Pinchot Institute for Conservation, and Penn State College of Agricultural Science's Cooperative Extension.
It's Getting Hot In Here: Keeping (and Calculating) Tabs on Gas Drilling
, , It's Getting Hot in Here, (2010)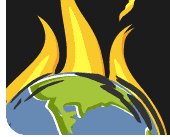 Amy is the Pennsylvania campus and community organizer with Energy Justice Network.  She helps coordinate PA's KEY Coalition youth network.
I think we need to take a look at the economic justice implications of gas drilling.
Journey of the Forsaken
, , Journey of the Forsaken, (2010)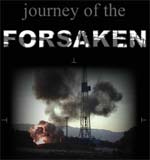 Website by Lisa Bracken. (2007-2010). Journey of the Forsaken. Personal account of her family's experience with the gas drilling by Encana on and around their land in Colorado.
"Walk for two years with the forsaken and embark on a journey with my family as we track, via web entries and posted photos/video, the development of 60 new natural gas wells within an approximate mile radius of our home. Currently, there are eleven in production.
This region is a  former "moratorium" area created as the result of a toxic leak into Divide Creek which occurred – and continues to be mitigated - in early 2004. The leak was found by the state of Colorado to have been caused by an improperly drilled well which was located approximately a quarter mile from our home. This resulted in an estimated (and acknowledged) 115 million cubic feet of natural gas saturating the sub and surface environment and led to the largest fine issued by the Colorado Oil and Gas Conservation Commission in Colorado's history. The well, which was the focus of that investigation, was the one shut in when this website began tracking developments - 9 new wells are to be drilled successively on this site.
Can industry be blamed for proceeding with 60 wells in this area - uniquely prone to geologic disturbance? Hardly. Industry operates to turn a profit - and, without moral discretion, can be expected to stop at nothing within allowable bounds to achieve it. Allowable bounds. This is what we must consider. To what limits should industry be allowed to pollute, endanger and destroy for the benefit of profit? Though America benefits from the new economy of catastrophe and environmental degradation, how readily can we recover precious lost resources of air, water, land and a functioning food chain... all of which are necessary to healthy, bio-diverse populations and sustainable contiguous habitat. Simply because we can do something, doesn't mean we should. But today we grapple and hope to survive what is allowed.
Prudence in the permitting process has failed the people, once again."
See also: Lisa Bracken. "fracpage". (2007-2009).  Video: EnCana Buries Hydraulic Fracturing Pit Sludge in Unlined Pit May 14, 2009.
Love Canal 2020
, , Love Canal 2020, (2010)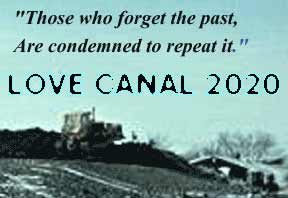 Blog by LOVECANAL 2020.
SEE: April 6, 2010. "Never a Single Case? How about 15!"
The Natural Resources Defense Council has complied a list of incidents where drinking water has been contaminated and hydraulic fracturing is a suspected cause. There are many, many, other cases around the country, but these 15 represent a group where the evidence was provided by a homeowner with knowledge that a nearby well was recently fractured and specifically included that information in reports, according to the NRDC.
See also:  April 11, 2010.  "See What's Coming to NY!  Gas Drilling's Rural Impact."
Marcellus Accountability Project (MAP)–Tompkins - News & Events
, , MAP - Tompkins, (2010)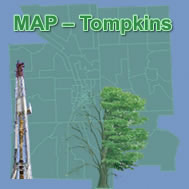 Informational site produced by Bill and Sandy Podulka and an all-volunteer group of local citizens "concerned about the effects of gas drilling on our health, safety, and quality of life." Background:Gas Drilling Information from a scientist's perspective covering issues such as Water Contamination, Waste Disposal, Private Water Testing Reccommendations, Noise, Economic and Social Impacts, Pending Legislation, What People Can Do, and more...
Click the map... to see a map of Tompkins County showing all the tax parcels with recent gas leases. You can zoom in on parts of the map and print a customized version. The data was gathered by volunteers concerned about the effects of gas drilling moving rapidly into our area.
Updated frequently. Links to Take Action; News and Upcoming Events in Tompkins County and surrounding areas including Chemung and Cortland County, Buffalo, New York; Archives, , Resources, Gas Drilling Primer, Map Data Details, View Map of Gas Leases, To Find More lease Info, and others.
Contact form on website.