Contains the keyword opinion
Peabody coal company threatens to sue over getting punked
, , San Francisco Bay Guardian Online (SFBG), (2011)

Change.org, the website that allows users to create petitions for social change, received a legal threat from Peabody Energy after Coal Kills Kids (CKK) -- a group that partnered with the Yes Men to unveil a faux Peabody charity initiative earlier this week -- continued the hoax with a mock petition.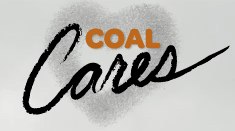 The petition was titled, "Stop Peabody Coal's Outrageous Coal Cares campaign," in mock outrage over the Coal Cares website that CKK developed in tandem with the Yes Men. The website claimed that Peabody had created a charity to "make asthma cool" by giving away free designer inhalers with themes like My Little Pony and The Bieber.

Peabody's lawyers contacted Change.org on May 12 and threatened to file suit if the fake petition against the fake website wasn't removed within 24 hours. "The lawyers seem as serious as an asthma attack," said Ben Rattray, founder of Change.org. The website agreed to remove the petition in order to avoid legal entanglement.
"I think Peabody probably made a mistake doing this," noted Change.org spokseperson Brain Purchia. "Because now it's drawing more attention to the problems that coal-burning power plants are causing."
The Yes Men and Coal Kills Kids received their own legal threat from Peabody, and they issued a response early this morning.
Here's what they wrote:
Dear Andrew Baum, Foley Lardner LLP, and Peabody Energy,
Thank you for your thoughtful letter demanding that we remove Peabody's name from www.coalcares.org and cease falsely suggesting that Peabody cares about kids made sick by coal.
Your threat, although entirely baseless (see ... the EFF's blog post), did make us realize one thing: that Peabody, despite being our country's largest coal producer, and one of the largest lobbyists against common-sense policy, accounts for a mere 17 percent of U.S. coal production. The remaining 83 percent comes from 28 other companies, who are, every bit as much as Peabody, giving kids asthma attacks and other illnesses.
As even you may agree, the root of the problem is not Peabody, but rather our system of subsidies, regulations, and lobbying that lets your whole industry continue its lethal work. To make this clear, we have changed every instance of the word "Peabody" on www.coalcares.org to a rotating selection of the names of other large U.S. coal producers who, like Peabody, also need to be stopped from killing kids.
Very truly yours,
Coal is Killing Kids and the Yes Lab

See: Coal company gets punked by the Yes Men
See: The Yes Men
Welcome to Mr. Rogers Neighborhood
, , Appalachian Voices, (2011)



Kentucky ranks dead last in healthy behavior, and 49th in overall well-being, emotional health, and physical health (behind WV of course). More mountaintop removal will only make these problems with the health of Appalachian people even worse. Its hard to get worse than worst, but Hal Rogers is doing his darndest.
Yesterday the coal lobby added a litany of dangerous amendments to HR 1 that had nothing to do with spending, but instead are aimed at removing citizen protections from mountaintop removal.
Why Americans Should Oppose Rep Hal Rogers' Federal Budget (HR 1)
Appalachia saw several new threats arise in Congress yesterday, as Representatives of Congress introduced bad amendment after bad amendment after bad amendment to the already dangerous Budget Resolution (H.R. 1) that is due to be voted on as soon as tonight. In all, more than 400 amendments were filed yesterday and an additional 180 have been filed today. Many of them reflected Congressman Hal Rogers' own sentiments about how to govern – disregarding citizen protections and sound science, while encouraging the complete and utter deregulation of large polluting industries that are a threat to public health and well-being. We've seen what happens when Mr. Rogers' policies are put into place, as they have been in eastern Kentucky for decades.
Of the 435 Congressional districts, Rogers' district (KY-05) is #1 in mountaintop removal and stream damages by the coal industry. But it is also DEAD LAST in well being.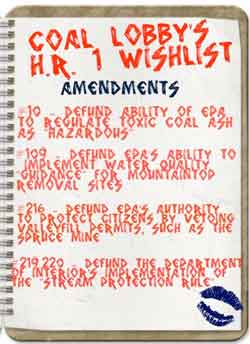 Hal Rogers' neighborhood may be "dead first" in mountaintop removal, but out of the 435 congressional districts in the United States, his ranks:
- 435th in life expectancy (dead last)
- 435th in physical health (dead last)
- 435th in overall well-being (dead last)
- 435th in emotional health (dead last)
See: iLoveMountains
See: GOP Budget Amendments Would Destroy Health, Economy, Planet.
What happened to climate change?
, , EnergyVox | Citizen Energy, (2011)

One of the most glaring omissions during Obama's State of the Union address was the acknowledgement of climate change.  As the Senate and House return to Capitol Hill both sides are gearing up to attack the existing tool in place to address greenhouse gases – the Clean Air Act...
...Instead of addressing these threats to the Clean Air Act, Obama shifted the focus to the need for "clean energy" – stating the goal of an 80% clean energy sector by 2035 – a seemingly positive objective if the energy sources he referred to were actually clean.  But in this case, dirty energy by any other name is still dirty energy.  Obama's clean energy plan includes dirty technologies such as nuclear reactors, coal, natural gas and biomass.  Learn more here.

About Us
Corporations have their lobbyists in Washington, D.C.
The people need advocates too.
We have successfully challenged the abusive practices of the pharmaceutical, nuclear and automobile industries, and so many others. We are leading the charge against undemocratic trade agreements that advance the interests of mega-corporations at the expense of citizens worldwide.
We have five policy groups: our Congress Watch division, the Energy Program, Global Trade Watch, the Health Research Group and our Litigation Group. Learn more about them here.