Government
Fracking: Government Regulations, Legislation, Politics and Information
---
Analysts: Don't expect 'fracking' standards until after 2012 election
, , The Hill | E2Wire - The Hill's Energy & Environment Blog, (2011)


A federal proposal laying out new standards for a controversial natural-gas drilling practice called hydraulic fracturing likely won't be issued until after the 2012 elections, an energy analyst said Thursday.
The practice is certain to be an election issue for lawmakers from states in which hydraulic fracturing is prevalent, but the timing of the standards would take that hot-button issue off the table.
Comment:
"This new process is a Godsend…BY Grandma" on 02/11/2011 at 20:52
The federal government must step in and start regulating fracking. Hydraulic fracturing should NOT be exempt from the Safe Water Drinking Act and Clean Water Act. This industry is killing people by contaminating aquifers across the nation. Fracking is shaping up to be the cause of the biggest environmental and public health disaster this country has ever witnessed. 2012 is too long to wait to start correcting this horrific wrong that has been committed against the people of the United States.
See: Toledo. Free Press. "Kasich says Marcellus Shale could be 'godsend' for Ohio." Toledo. Free Press. 2011-01-01.
See: U.S. Congress. Committee on Space, Science, and Technology. "Hearing Highlights Lack of Objectivity in Draft EPA Fracking Study--No Evidence of Drinking Water Contamination from Fracking, Witnesses Say". May 11, 2011
Birth of EPA
, , EPA Journal, Volume 11, p.6ff, (1985)

The official birthday of EPA is December 2, 1970. Like any other birth, EPA's needed progenitors, and a family tree stretching back for years. Surely no factor was more pivotal in the birth of EPA than decades of rampant and highly visible pollution. But pollution alone does not an agency make. Ideas are needed--better yet a whole world view--and many environmental ideas first crystallized in 1962.
That year saw the publication of Rachel Carson's Silent Spring, first in serial form in the New Yorker and then as a Houghton Mifflin best seller. This exhaustively researched, carefully reasoned, and beautifully written attack on the indiscriminate use of pesticides was not exactly light reading. Yet it attracted immediate attention and wound up causing a revolution in public opinion.
An inveterate bird-watcher, Carson derived her missionary zeal from her fear that fewer species of birds would be singing each spring unless pesticide poisoning was curtailed. The readers of her book, however, were less alarmed by the prospect of a "Silent Spring" than they were about people dying from any number of hidden poisons lurking in what had previously seemed a benign environment. It was not hard to wax hysterical after reading in Carson's book that "the common salad bowl may easily present a combination of organic phosphate insecticides" that could "interact" with lethal consequences to the unsuspecting salad muncher.
Silent Spring played in the history of environmentalism roughly the same role that Uncle Tom's Cabin played in the abolitionist movement. In fact, EPA today may be said without exaggeration to be the extended shadow of Rachel Carson. The influence of her book has brought together over 14,000 scientists, lawyers, managers, and other employees across the country to fight the good fight for "environmental protection..."
See: EPA History Web Page
See: The Origins of EPA
See: Carson, Rachel. (1962). Silent Spring. Boston: Houghton Mifflin, 2002. Print.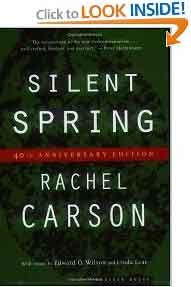 BP Disaster Is Cheney's Katrina
, , Center for American Progress, (2010)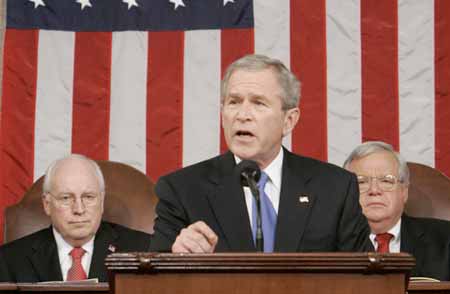 President Bush delivers his 2006 State of the Union address, where he famously stated that "America is addicted to oil."
AP/Pablo Martinez Monsivais
Rebecca Lefton includes a timeline: 2001-2008 of the Bush Presidency's corrupt energy policy.
BP's oil disaster in the Gulf of Mexico is without a doubt former Vice President Dick Cheney's Katrina. President George W. Bush and Cheney consistently catered to Big Oil and other special interests to undercut renewable energy and energy efficiency initiatives that would set the United States on a more secure clean energy path.
Oil companies raked in record profits while benefitting from policies they wrote for themselves. These energy policies did nothing for our national security and left consumers to pay the price at the pump and on their energy bills, which rose more than $1,100 during the Bush administration.
See: The Bill From Bush's Broken Energy System
Read also: The Prelude to Cheney's Katrina by Joshua Dorner
Clean Water Act Definition of "Waters of the United States"
, , US EPA: Wetalnds | Clean Water Act Defionition of "Waters of the United States", (2011)


Americans depend on clean and abundant water. However, over the past decade, interpretations of Supreme Court rulings removed some critical waters from Federal protection, and caused confusion about which waters and wetlands are protected under the Clean Water Act. As a result, important waters now lack clear protection under the law, and businesses and regulators face uncertainty and delay. The Obama Administration is committed to protecting waters on which the health of people, the economy and ecosystems depend.
U.S. EPA and the U.S. Army Corps of Engineers have developed draft guidance for determining whether a waterway, water body, or wetland is protected by the Clean Water Act. This guidance would replace previous guidance to reaffirm protection for critical waters. It also will provide clearer, more predictable guidelines for determining which water bodies are protected by the Clean Water Act. The draft guidance will be open for 60 days of public comment to allow all stakeholders to provide input and feedback before it is finalized.
The draft guidance will reaffirm protections for small streams that feed into larger streams, rivers, bays and coastal waters. It will also reaffirm protection for wetlands that filter pollution and help protect communities from flooding. Discharging pollution into protected waters (e.g., dumping sewage, contaminants, or industrial pollution) or filling protected waters and wetlands (e.g., building a housing development or a parking lot) require permits. This guidance will keep safe the streams and wetlands that affect the quality of the water used for drinking, swimming, fishing, farming, manufacturing, tourism and other activities essential to the American economy and quality of life. It also will provide regulatory clarity, predictability, consistency and transparency.
See: William Ringler sentenced to prison of Clean Water Act violation
See: Supreme Court Restricts Clean Water Act
See: Laws and Regulations, United States - water, effects, environmental, disasters, pollutants, history, impact, EPA, pesticide, toxic, world, human, sources, disposal, use, health, oil.
See: Environmental, Health and Safety Online
See: Polluters and Environmental Criminals - 2007 Enforcement of EPA Regulations and Laws - Envforcement Actions, Criminal and Civil casess.
Clean Water Restoration Act of 2009 (S 787)
, , cleanwateraction.org, (2010)

How and Why Clean Water Protections Are Being Weakened
The Clean Water Act, as written in 1972, safeguards all of the "waters of the United States," through a number of programs. The federal Environmental Protection Agency (EPA) and Army Corps of Engineers regulations implementing the law have for decades reflected the intent of Congress to protect all of America's waters. These rules had been upheld by the vast majority of state and federal courts.
In 2001, however, a bare majority of the Supreme Court-in a case called Solid Waste Agency of Northern Cook Cty. v. Army Corps of Engineers - ruled 5-4 that the presence of a habitat for migratory birds is not sufficient justification for protection of a water that does not flow year round or that is an "isolated" wetland under the Clean Water Act. The decision in Rapanos v. United States in 2006 created further confusion about which waters deserved protection under the Clean Water Act.
...The Clean Water Restoration Act of 2009(S 787) introduced by Sen. Russell Feingold, D-WI, would accomplish these important goals and has been endorsed by Clean Water Action."
Clean Water Action: A Brief History
Mission Statement
Clean Water Action is an organization of 1.2 million members working to empower people to take action to protect America's waters, build healthy communities and to make democracy work for all of us. For 36 years Clean Water Action has succeeded in winning some of the nation's most important environmental protections through grassroots organizing, expert policy research and political advocacy focused on holding elected officials accountable to the public.
Passage of the original 1972 Clean Water Act, with many of the law's most important parts drafted by Clean Water Action, has been followed by other major successes. They include enactment of the federal Safe Drinking Water Act in 1974 and subsequent changes in 1996 that strengthened the law. Clean Water Action's successful defense in 1977 of the Clean Water Act's wetlands protection program was won by a single vote in the U.S. Senate.
Paul Schwartz, Clean Water Action National Policy Coordinator
202-895-0420 ext. 105
Climate Zombies Now Run The House
, , The Wonk Room, (2011)


The incoming Republican chairs of the House of Representatives plan to send the United States back to the Stone Age with respect to climate policy. All of them opposed the climate legislation supported by President Barack Obama, and now oppose limits on global warming pollution under the Clean Air Act. Several have accused climate scientists of doctoring data and suppressing dissent; the others merely claim climate policy is actually a conspiracy to destroy the American economy. Meet the climate zombies who will be in charge of developing all federal legislation for the next two years:
SENATE
HOUSE
See: Grist. Dec. 29, 2010. "Upton argues Obama plans to destroy America in the name of global warming."
Coal mining companies fight back against permit veto
, , The Great Beyond | Science.com, (2011)

US coal mining companies have scored some points in their fight against the Environmental Protection Agency's tough stance on mountaintop mining. A federal judge has ruled (PDF) in a preliminary decision that the EPA may have overstepped its legal authority by imposing strict new environmental standards on mining permits (via New York Times). The move comes just one day after the agency vetoed a permit for what would have been the country's largest mountaintop coal mine in Appalachia, West Virginia (see Nature's blog here).
See: Ken Ward Jr. "Breaking news: EPA vetoes Spruce Mine permit." Coal Tattoo. Jan. 13, 2011.
Committee Democrats Release New Report Detailing Hydraulic Fracturing Products: Chemicals Used in Hydraulic Fracturing
, , Washington, D.C., p.1-32, (2011)

Apr 16, 2011
Today Energy and Commerce Committee Ranking Member Henry A. Waxman, Natural Resources Committee Ranking Member Edward J. Markey, and Oversight and Investigations Subcommittee Ranking Member Diana DeGette released a new report that summarizes the types, volumes, and chemical contents of the hydraulic fracturing products used by the 14 leading oil and gas service companies.
The report contains the first comprehensive national inventory of chemicals used by hydraulic fracturing companies during the drilling process.
"Hydraulic fracturing has helped to expand natural gas production in the United States, but we must ensure that these new resources don't come at the expense of public health," said Rep. Waxman.
"This report shows that these companies are injecting millions of gallons of products that contain potentially hazardous chemicals, including known carcinogens. I urge EPA and DOE to make certain that we have strong protections in place to prevent these chemicals from entering drinking water supplies."
See: U.S. Congress. Committee on Energy and Commerce. Minority Staff (Henry Waxman, Edward Markey, Diana DeGette). "Chemicals Used in Hydraulic Fracturing". Washington, D.C. April 2011. (PDF)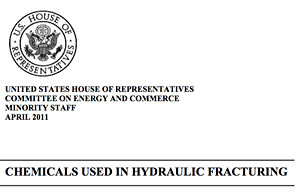 Universal Well Services, for example, told the Committee that it "obtains hydraulic fracturing products from third-party manufacturers, and to the extent not publicly disclosed, product composition is proprietary to the respective vendor and not to the Company."31
Complete Production Services noted that the company always uses fluids from third-party suppliers who provide an MSDS for each product. Complete confirmed that it is "not aware of any circumstances in which the vendors who provided the products have disclosed this proprietary information" to the company, further noting that "such information is highly proprietary for these vendors, and would not generally be disclosed to service providers" like Complete.32
Key Energy Services similarly stated that it "generally does not have access to the trade secret information as a purchaser of the chemical(s)."33
Trican also told the Committee that it has limited knowledge of "off the shelf" products purchased from a chemical distributor or manufacturer, noting that "Trican does not have any information in its possession about the components of such products beyond what the distributor of each product provided Trican in the MSDS sheet."34
In these cases, it appears that the companies are injecting fluids containing unknown chemicals about which they may have limited understanding of the potential risks posed to human health and the environment.
VI. CONCLUSION
Hydraulic fracturing has opened access to vast domestic reserves of natural gas that could provide an important stepping stone to a clean energy future. Yet questions about the safety of hydraulic fracturing persist, which are compounded by the secrecy surrounding the chemicals used in hydraulic fracturing fluids.
This analysis is the most comprehensive national assessment to date of the types and volumes of chemical used in the hydraulic fracturing process.
It shows that between 2005 and 2009, the 14 leading hydraulic fracturing companies in the United States used over 2,500 hydraulic fracturing products containing 750 compounds. More than 650 of these products contained chemicals that are known or possible human carcinogens, regulated under the Safe Drinking Water Act, or listed as hazardous air pollutants.
31. Letter from Reginald J. Brown to Henry A. Waxman, Chairman, Committee on Energy and Commerce, and Edward J. Markey, Chairman, Subcommittee on Energy and Environment (Apr. 16, 2010).
32. Letter from Philip Perry to Henry A. Waxman, Chairman, Committee Energy and Commerce, and Edward J. Markey, Chairman, Subcommittee on Energy and Environment (Aug. 6, 2010).
33. E-mail from Peter Spivack to Committee Staff (Aug. 5, 2010).
34. E-mail from Lee Blalack to Committee Staff (July 29, 2010).

by Ian Urbina:

Oil and gas companies injected hundreds of millions of gallons of hazardous or carcinogenic chemicals into wells in more than 13 states from 2005 to 2009, according to an investigation by Congressional Democrats.
..."Questions about the safety of hydraulic fracturing persist, which are compounded by the secrecy surrounding the chemicals used in hydraulic fracturing fluids," said the report, which was written by Representatives Henry A. Waxman of California, Edward J. Markey of Massachusetts and Diana DeGette of Colorado.
...Some of the ingredients mixed into the hydraulic fracturing fluids were common and generally harmless, like salt and citric acid. Others were unexpected, like instant coffee and walnut hulls, the report said. Many of the ingredients were "extremely toxic," including benzene, a known human carcinogen, and lead.
...Ms. Degette, and Representative Maurice D. Hinchey, Democrat of New York, recently reintroduced the FRAC Act, a bill that would require chemical disclosure from all drilling companies, including a provision that companies release proprietary information to health professionals if it is needed for treatment. The FRAC Act would also create an online registry of chemicals on a well-by-well basis, but it would require drillers to disclose what they plan to use before they fracture a well, as well as a post-fracturing report.
See: Urbina, Ian. "Millions of Gallons of Hazardous Chemicals Injected Into Wells, Report Says." The New York Times 16 Apr. 2011. Web. 17 Apr. 2011.
See also: Texas Oil and Gas Acciountability Project. The Dark Side of the Boom: How Natural Gas Drilling in Texas Threatens Public Health and Safety: Sen. Lon Burnam Joins Calling for 'Urgent' Reforms
Thursday, April 14, 2011

TEXAS OIL & GAS ACCOUNTABILITY PROJECT
FOR IMMEDIATE RELEASE: April 14, 2011
The Dark Side of the Boom: How Natural Gas Drilling in Texas Threatens Public Health and Safety: Sen. Lon Burnam Joins Calling for 'Urgent' Reforms
AUSTIN, TX, APRIL 14 – State, local and federal officials and regulatory agencies are failing to protect Texans from the health and safety risks of the natural gas boom, according to a report released today by the Texas Oil & Gas Accountability Project (OGAP).
Commonwealth of Pennsylvania DEP takes aggressive enforcement action against Cabot Oil
, , (2010)

Daniel T. Spadoni. Commonwealth of Pennsylvania Dept. of Environmental Protection (DEP) Press Release. 4/30/2010. "DEP Orders Cabot Oil & Gas Corp. to Remove Hibbard Well Pad Reserve Pit in Susquehanna County: Company Ignored DEP's Prior Written, Verbal Requests".
WILLIAMSPORT -- The Department of Environmental Protection today ordered Cabot Oil & Gas Corp. to close and remove an earthen pit in Susquehanna County that holds drilling fluids to determine whether it is contaminating nearby water resources.
The pit, known as a reserve pit, is located at the Hibbard well pad in Dimock Township. The company has 14 days to comply with the order.
DEP's North-central Regional Director Robert Yowell said today's more aggressive enforcement action was necessitated after the company ignored previous requests.
"DEP strongly advised Cabot to close and remove the reserve pit in an April 8 notice of violation letter and reiterated to Cabot's senior management the same message a few short days ago," said Yowell. "However, Cabot has not remedied the situation and its inaction demonstrates an arrogant disregard for Pennsylvania's oil and gas regulations and proper protection of our environment."
Dirty Energy Money
, , Dirty Energy Money | Oil Change International, (2011)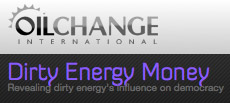 We've created maps of political campaign contributions from companies in the oil & gas and coal industries to congressional representatives. These are relationship map of the contribution network. That means that unlike a physical map, where points are positioned at a geographic location, the icons for the companies and representatives are placed so that they are as close as possible to whomever they contribute to or receive contributions from.
Think of it like a social networking site in which companies and politicians have become 'friends' by giving money.
This site is a project of Oil Change International, developed by Greg Michalec and Skye Bender-deMoll and designed by Diligent Creative. Earlier versions of the site were named 'Follow the Oil Money' and 'Follow the Coal Money'.
See: Budget Proposals Follow Energy Influence: Obama Goes After Producers, Sen. Paul Goes After Regulators | MAPLight.org - Money and Politics