Gasland: Drilling Isn't Safe
Publication Type:
Web Article
Source:
Drilling Isn't Safe (2010)
URL:
http://www.drillingisntsafe.org/
Keywords:
opinion
Notes: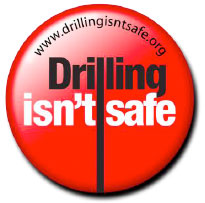 From Colorado to Pennsylvania, scientific data and documented cases have clearly shown that wherever fracking has occurred there is substantial risk of drinking water contamination, air pollution and severe illness among people and animals.
Hundreds of chemicals are used in fracking. Some 350 chemicals used to extract gas or found in gas wastes have been identified, among them known toxins like benzene. But the identity of hundreds of other chemicals used are kept secret by industry, as are their effects on human health.
Gasland is going a long way in spreading public awareness about gas drilling and the risks it poses on human and environmental health. Nationwide response to the film has been overwhelmingly positive. The Oil and Gas Industry's response: not so enthusiastic.
"Energy-In-Depth" is a PR Firm/Lobbying Group funded by the American Petroleum Institute. They are putting a misleading spin on information in Gasland to soothe and silence public curiosity about gas drilling.
The work of Energy-In-Depth lacks journalistic credibility and educated opinion. It's nothing short of an attack on truth. For public interest, we've prepared a response to their self-serving claims on gas drilling. Click here to learn more and pass along to friends.
See "Let's Talk About Cleavage", Energy In Depth. August 11, 2010.
Take Action. Adapt the film screening party to ongoing community benefits and information sharing. Download: Gasland HouseParty Guide (PDF) 2010-06-21
See: Mike Hale. NYT Review, "The Costs of Natural Gas, Including Flaming Water".
See: PBS Interview with Josh Fox, March 26, 2010.
See: the Water Portal page on SourceWatch with an excellent summary of the Gasland phenomenon. Robert Koehler of Variety referred to the film as "one of the most effective and expressive environmental films of recent years… "GasLand" may become to the dangers of natural gas drilling what Rachel Carson's "Silent Spring" was to DDT."
See: Josh Fox Interview with Jon Stewart on The Daily Show.