Marcellus Accountability Project (MAP)–Tompkins - News & Events
Publication Type:
Web Article
Source:
MAP - Tompkins (2010)
URL:
http://www.tcgasmap.org/default.asp?metatags_Action=Find(%27PID%27,%2710%27)
Keywords:
opinion
Notes: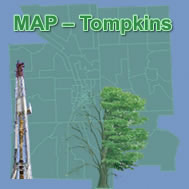 Informational site produced by Bill and Sandy Podulka and an all-volunteer group of local citizens "concerned about the effects of gas drilling on our health, safety, and quality of life." Background:Gas Drilling Information from a scientist's perspective covering issues such as Water Contamination, Waste Disposal, Private Water Testing Reccommendations, Noise, Economic and Social Impacts, Pending Legislation, What People Can Do, and more...
Click the map... to see a map of Tompkins County showing all the tax parcels with recent gas leases. You can zoom in on parts of the map and print a customized version. The data was gathered by volunteers concerned about the effects of gas drilling moving rapidly into our area.
Updated frequently. Links to Take Action; News and Upcoming Events in Tompkins County and surrounding areas including Chemung and Cortland County, Buffalo, New York; Archives, , Resources, Gas Drilling Primer, Map Data Details, View Map of Gas Leases, To Find More lease Info, and others.
Contact form on website.