Gasland | NOW on PBS
Publication Type:
Web Article
Source:
NOW on PBS (2010)
URL:
http://www.pbs.org/now/shows/613/index.html
Keywords:
press
Notes: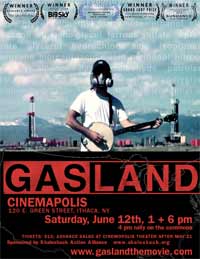 Abigail Leonard, producer.  Interview with Josh Fox, Gasland. Week of 3.26.10
Will the boom in natural gas drilling contaminate America's water supply?
This week, NOW (PBS) talks with filmmaker Josh Fox about "Gasland", his Sundance award-winning documentary on the surprising consequences of natural gas drilling. Fox's film—inspired when the gas company came to his hometown—alleges chronic illness, animal-killing toxic waste, disastrous explosions, and regulatory missteps.
See: Backlash: The Smear Campaign. Immediately upon the film's release, Energy In Depth issued a paper claiming to "debunk" the film's documentary evidence.
See: Mike Hale. The New York Times. June 21, 2010. The Costs of Natural Gas, Including Flaming Water.
Dave Shiflett. Bloomberg.com. June 21, 2010. Cook a Hamburger and Blow Up Your Polluted Fracking Town.
See: DEC Fracks NYC & Josh Fox of Water Under Attack's Responds
See also: Gasland Trailer 2010.
See: Drilling Isn't Safe.