Opinions
Fracking: Public Opinions For and Against Fracking
---
un-naturalgas.org
, , un-naturalgas.org, (2010)
because there is nothing natural about what the natural gas extraction process invented by Halliburton does to water, air, & living things
Includes extensive background information and petition.
See article on Eminent Domain.
See: Is Your Unleased Property Facing Compulsory Integration?
Site contains link to Dr. Ronald E. Bishop, Sustainable Otsego. "Beyond MSDS: A Review of Hazardous Materials Used by New York's Natural Gas Industry." Cooperstown, NY. September 18, 2009.
"The New York Department of Environmental Conservation (DEC), in response to a Freedom of Information Law request from the Committee to Preserve the Finger Lakes, sent material safety data sheets (MSDS's) for 48 products permitted for use in the drilling and development of natural gas wells in New York. These are posted online by the Finger Lakes chapter of the Sierra Club.
From these and many other documents, Steve Coffman of the Committee to Preserve the Finger Lakes, developed a wonderful article: "The Safety of Fracturing Fluids – A Quantitative Assessment".
Vincent Alabama Confidential
, , Vincent Alabama Confidential, (2010)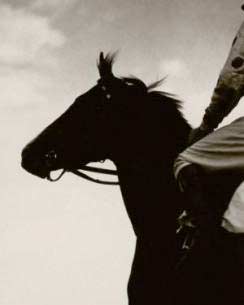 Alabama based blog, Vincent Alabama Confidential, by Max Shelby. Updated frequently featuring news and opinions on the relationship between the environment and political corruption.
Corruption, Politics, Big Business and the "New Mules" Still Kickin' the Environment
"At a time of universal deceit, telling the truth is a revolutionary act." --George Orwell
In the state of Alabama things are very, very wrong. Not only does our environment suffer constantly, but environmental racism/injustice seems to be rampant; if you're poor, minority or non-white you are forced to live with egregious corporate offenders on an every day basis.
What is most troubling is the state and legislature have turned a blind eye to their citizens and the environment. My story is their story and the attempt to affect change. The words of Robert Bullard: "No other community, rich or poor, urban or suburban, black, brown, red, white, or yellow should be allowed to become an environmental "sacrifice zone." I could not agree more. MAX
Water All Around … Or is There? | Activist's Corner
, , Workers World, (2010)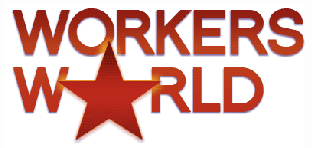 Much of the focus on the rapid expansion of natural gas extraction through hydrofracturing, or "fracking," has centered on methane leaks and chemical contamination of residential water wells. In Dimock, Pa., more than 15 residents sued Cabot Oil and Gas Corp., charging permanent damage to their wells.
However, another concern is the impact of fracking on renewable sources of fresh water. Some fear that this drilling process may be draining valuable and irreplaceable water resources.
See: Do the natural gas industry's surface water withdrawals pose a health risk?
WATER | Aurora Lights. Public Health & Coal Slurry - Water Quality ::: Journey Up Coal River
, , Aurora Lights, (2010)

"The West Virginia coalfields contain some of the highest quality water in the world. Aquifers in the coalfields often sit directly below seams of coal. When the coal seam is undisturbed, it acts as a giant carbon filter, leaving excellent water quality that West Virginians across the state rely on for drinking water.
When coal seams are disrupted, however, water quality quickly declines. The accounts of impaired water quality in the coalfields are abundant. As mining continues and practices such as slurry injections and impoundment sites become more prevalent, communities are seeing a decline in their water quality.
One woman from Hopkins Fork had her water tested when she moved into her home in 2002 and was told it was of spring water quality, as good as any you could buy. Today, she does not even use the water to brush her teeth...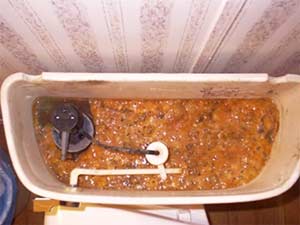 ...In total, several hundred million gallons of coal slurry were injected underground within 3 miles of the nearest well user. Some residents suspect that the heavy blasting at the Black Castle Surface mine cracked the geologic layers allowing the coal slurry to enter the water table.
Environmental Engineer Dr. Scott Simonton agrees this is a plausible scenario. Despite repeated requests by residents and citizens groups, the West Virginia Department of Environmental Protection still refuses to study the water in Prenter to determine the source of the contamination."
Aurora Lights supports locally-based projects that strengthen the connections within and between human communities and their natural environment by promoting environmental and social action. See also: Aurora Lights Home.
WATER | Clean Water Action
, , Clean Water Action, (2010)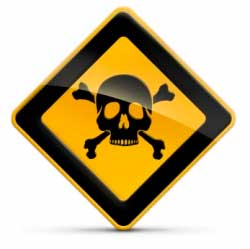 Environmental activist website. "For 36 years Clean Water Action has succeeded in winning some of the nation's most important environmental protections through grassroots organizing, expert policy research and political advocacy focused on holding elected officials accountable to the public."
WATER | Clean Water | TakePart Social Action Network: Important Issues, Activism, Environmental, Human Rights, Political News
, , TakePart Social Action Network, (2010)
"TakePart.com is an independent online community that connects its members directly to the issues that inspire them to engage, contribute and take action. Our team of editors, writers, and researchers curate and deliver actions in context with in-depth primers to the social, environmental, political and cultural issues of our day.
Our growing global community includes citizens, activists, and large and small non-profits. We invite local and community groups to interact, explore issues, share resources, develop campaigns and use our platform to promote the causes they care most about."
Welcome to Mr. Rogers Neighborhood
, , Appalachian Voices, (2011)



Kentucky ranks dead last in healthy behavior, and 49th in overall well-being, emotional health, and physical health (behind WV of course). More mountaintop removal will only make these problems with the health of Appalachian people even worse. Its hard to get worse than worst, but Hal Rogers is doing his darndest.
Yesterday the coal lobby added a litany of dangerous amendments to HR 1 that had nothing to do with spending, but instead are aimed at removing citizen protections from mountaintop removal.
Why Americans Should Oppose Rep Hal Rogers' Federal Budget (HR 1)
Appalachia saw several new threats arise in Congress yesterday, as Representatives of Congress introduced bad amendment after bad amendment after bad amendment to the already dangerous Budget Resolution (H.R. 1) that is due to be voted on as soon as tonight. In all, more than 400 amendments were filed yesterday and an additional 180 have been filed today. Many of them reflected Congressman Hal Rogers' own sentiments about how to govern – disregarding citizen protections and sound science, while encouraging the complete and utter deregulation of large polluting industries that are a threat to public health and well-being. We've seen what happens when Mr. Rogers' policies are put into place, as they have been in eastern Kentucky for decades.
Of the 435 Congressional districts, Rogers' district (KY-05) is #1 in mountaintop removal and stream damages by the coal industry. But it is also DEAD LAST in well being.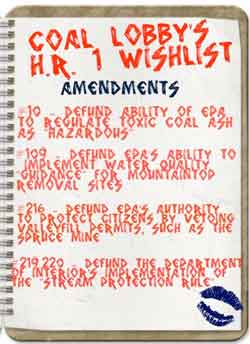 Hal Rogers' neighborhood may be "dead first" in mountaintop removal, but out of the 435 congressional districts in the United States, his ranks:
- 435th in life expectancy (dead last)
- 435th in physical health (dead last)
- 435th in overall well-being (dead last)
- 435th in emotional health (dead last)
See: iLoveMountains
See: GOP Budget Amendments Would Destroy Health, Economy, Planet.
West Virginia Blue: Dunkard Creek fish kill
, , West Virginia Blue, (2009)

It's really hard for me to read about the Dunkard Creek fish kill without getting very angry.
An ecosystem has been destroyed.
...the 38-mile creek is all but dead, its 161 species of fish, mussels, salamanders, crayfish and aquatic insects killed by mysterious pollutants coming from sources state and federal agencies have yet to pinpoint despite aggressive field work.
The investigation thus far indicates the most likely cause as oil and gas drilling wastewater. (There's more ability to generate wastewater from the Marcellus Shale drilling than there are wastewater treatment facilities in the area, so the incentive for rogue wastewater disposal is high.)
West Virginia Community Blog. The Best Blogging Community in West Virginia. Democratic politics, progressive policies, the good life and free living in Wild, Wonderful West Virginia.
West Virginia Surface Owners' Rights Organization (WVSORO)
, , West Virginia Surface Owners' Rights Organization (WVSORO), (2010)

Dave McMahon is a lawyer who wrote the West Virginia Surface Owner's Guide to Oil and Gas.
According to this website, he will respond to an e-mail, or spend 5 minutes or so with anyone who calls on the phone with a question about their individual problem, and perhaps refer them on to a private lawyer for representation.  See an example Gas Lease Checklist here.
Includes high-resolution image of a frack site. Permission to use may be obtained from WVSORO.
Western Organization of Resource Councils (WORC)
, , Western Organization of Resource Councils (WORC), (2010)

WORC is a regional network of seven grassroots community organizations that include 10,000 members and 45 local chapters. WORC helps its member groups succeed by providing training and coordinating issue work.
Our Member Organizations are:

WORC's mission is to advance the vision of a democratic, sustainable, and just society through community action. WORC is committed to building sustainable environmental and economic communities that balance economic growth with the health of people and stewardship of their land, water, and air resources.
See: Group: Survey shows ill health in Wyoming 'fracking' zone
Powder River Basin Resource Council and EARTHWORKS release a survey showing residents report respiratory problems from gas drilling. (Casper Star-Tribune, August 19, 2010)