Welcome to Mr. Rogers Neighborhood
, , Appalachian Voices, (2011)



Kentucky ranks dead last in healthy behavior, and 49th in overall well-being, emotional health, and physical health (behind WV of course). More mountaintop removal will only make these problems with the health of Appalachian people even worse. Its hard to get worse than worst, but Hal Rogers is doing his darndest.
Yesterday the coal lobby added a litany of dangerous amendments to HR 1 that had nothing to do with spending, but instead are aimed at removing citizen protections from mountaintop removal.
Why Americans Should Oppose Rep Hal Rogers' Federal Budget (HR 1)
Appalachia saw several new threats arise in Congress yesterday, as Representatives of Congress introduced bad amendment after bad amendment after bad amendment to the already dangerous Budget Resolution (H.R. 1) that is due to be voted on as soon as tonight. In all, more than 400 amendments were filed yesterday and an additional 180 have been filed today. Many of them reflected Congressman Hal Rogers' own sentiments about how to govern – disregarding citizen protections and sound science, while encouraging the complete and utter deregulation of large polluting industries that are a threat to public health and well-being. We've seen what happens when Mr. Rogers' policies are put into place, as they have been in eastern Kentucky for decades.
Of the 435 Congressional districts, Rogers' district (KY-05) is #1 in mountaintop removal and stream damages by the coal industry. But it is also DEAD LAST in well being.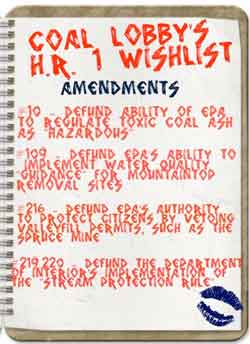 Hal Rogers' neighborhood may be "dead first" in mountaintop removal, but out of the 435 congressional districts in the United States, his ranks:
- 435th in life expectancy (dead last)
- 435th in physical health (dead last)
- 435th in overall well-being (dead last)
- 435th in emotional health (dead last)
See: iLoveMountains
See: GOP Budget Amendments Would Destroy Health, Economy, Planet.