Opinions
Fracking: Public Opinions For and Against Fracking
---
What happened to climate change?
, , EnergyVox | Citizen Energy, (2011)

One of the most glaring omissions during Obama's State of the Union address was the acknowledgement of climate change.  As the Senate and House return to Capitol Hill both sides are gearing up to attack the existing tool in place to address greenhouse gases – the Clean Air Act...
...Instead of addressing these threats to the Clean Air Act, Obama shifted the focus to the need for "clean energy" – stating the goal of an 80% clean energy sector by 2035 – a seemingly positive objective if the energy sources he referred to were actually clean.  But in this case, dirty energy by any other name is still dirty energy.  Obama's clean energy plan includes dirty technologies such as nuclear reactors, coal, natural gas and biomass.  Learn more here.

About Us
Corporations have their lobbyists in Washington, D.C.
The people need advocates too.
We have successfully challenged the abusive practices of the pharmaceutical, nuclear and automobile industries, and so many others. We are leading the charge against undemocratic trade agreements that advance the interests of mega-corporations at the expense of citizens worldwide.
We have five policy groups: our Congress Watch division, the Energy Program, Global Trade Watch, the Health Research Group and our Litigation Group. Learn more about them here.
What The Frack? Gas Industry's Multimillion-Dollar Campaign Demonizes Hydraulic Fracturing Bill
, , The Wonk Room, (2009)

"Rep. Diane DeGette's (D-CO) attempt to regulate fracking — underground hydraulic fracturing for natural gas extraction — is under attack by a multimillion-dollar lobbying and public-relations campaign from the oil and gas industry. Led by the American Petroleum Institute and the Independent Petroleum Association of America, dozens of industry organizations established the Energy in Depth front group to denounce fracking legislation as an "unnecessary financial burden on a single small-business industry, American oil and natural gas producers."
See: Lee Fuller. "HF 101: As Cornell Begins Study of Shale Gas Exploration, Energy In Depth Offers Itself Up as Resource for Ad Hoc Panel". Energy in Depth.
WolfeNotes | On the Threshold of a Fracking Nightmare
, , WolfeNotes.com, (2010)

New Jersey based blog, featuring excellent coverage of the September 2010 EPA public meeting in Binghamton, New York with photos, comments, and links.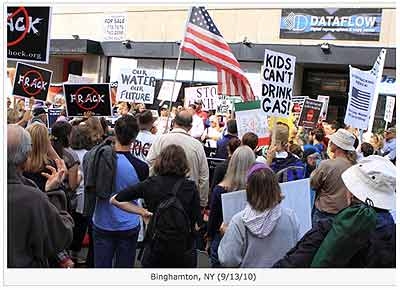 Mr. Wolfe knows when environmental officials are telling the truth. He is not about to give up his environmental activist's passion to correct our regulatory agencies and politicians.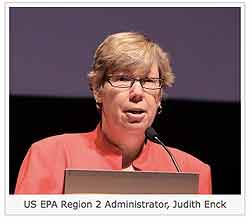 Judith Enck
In 1994, Mr Wolfe became a whistleblower when he disclosed a memoranda between Governor Whitman and the NJDEP Commissioner. The Whitman memo sought to downplay the public health significance of scientific research by the Philadelphia Academy of Natural Sciences that found high levels - statewide - of mercury in freshwater fish.
Whitman made false and misleading remarks to the press regarding mercury risks. Wolfe then learned that these were not inadveted errors, but were designed as a strategy to suppress, distort, fail-to-warn the public, and avoid aggressively responding to scientific research documenting high levels of mercury in NJ freshwater fish. As a result of this unauthorized disclosure, Wolfe was forced out of the Agency and later formed NJ PEER to protect consientious public employees.
In 2002, Governor McGreevey's NJDEP Commissioner Bradley M. Campbell invited Wolfe to rejoin DEP and serve as the "conscience of the Agency".
Mr. Wolfe has a Bachelor's degree in Environmental Science and Public Policy from SUNY Binghamton (1983) and attended Cornell University's Graduate School of City and Regional Planning (1983-1985).
Bill Wolfe. Nov. 22, 2010. "State Officials Block Open Testimony of DEP Nuclear Whistleblower"
DEP's Chief Nuclear Engineer removed and "put in a broom closet" for disclosing safety risks at the oldest US nuclear power plant.
NJ State officials blocked the open testimony of nuclear whistleblower Dennis Zannoni at a Friday State House hearing.
About Bill Wolfe: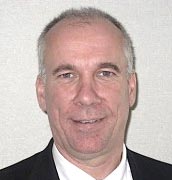 With Sierra Club, I worked with volunteers to kill the $240 million Mercer County garbage incinerator, block the Trenton/Hopewell sewer line; led the public campaign and authored the 1996 ballot question to amend the NJ Constitution to dedicate 4% of Corporate Business Tax proceeds (appx. $100 million/year) to environmental programs; authored the 1997 Watershed Management Act that established and funded NJ's watershed management planning program; provided testimony to the US Senate in opposition to Christie Whitman as EPA Administrator; and served on numerous Legislative and DEP regulatory stakeholder groups.
Read more at SourceWatch page.
Bill Wolfe has been Director of the NJ Chapter of Public Employees for Environmental Responsibility (PEER) since June 2005.
PEER is a national non-profit alliance of local, state and federal scientists, law enforcement officers, land managers and other professionals dedicated to upholding environmental laws and values.
See: The Government Accountability Project (GAP)