Opinions
Fracking: Public Opinions For and Against Fracking
---
Drill here, drill now, pay less : a handbook for slashing gas prices and solving our energy crisis
, , Washington DC, (2008)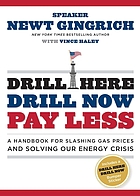 Gingrich, Newt, and Vince Haley. 2008. Drill here, drill now, pay less: a handbook for slashing gas prices and solving our energy crisis. Washington, DC: Regnery Pub.
Drill, Baby, Drill!: The chant of the political naif
, , Magiric, (2011)

From Magiric, Blog by South African freelance writer, Donald Paul.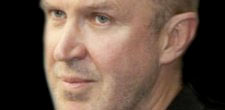 Donald Paul
Recently, the righteous voices of reason stepped into the fray regarding the use of hydraulic fracturing technology in prospecting for shale gas in the Karoo, One of the voices is journalist Ivo Vegter, who assumed the role of Devil's advocate. Such a role requires a modicum of intellectual rigour otherwise you end up playing God's advocate, endorsing that which you supposedly set out to question. It's an easy back slide and reveals a penchant for controversy over a desire for coherency.
Lewis Pugh, a critic of environmental degradation and a spokesman for Treasure the Karoo Action Group (TKAG), challenged Shell—and other gas and oil companies—about its plan to frack in the Karoo and in so doing made a speech that was widely reprinted and replayed on various digital channels. For some it was rousing. For others, it was "propaganda" and "alarming". The latter determined that what Pugh was saying was that there would be war over water...
The voices of reason fail to acknowledge the human rights dimension of this debate being more intent of disparaging—but not refuting—the arguments of those opposed to short-term corporate gains at the expense of the future...
The proponents of fracking cannot in any way show that fracking will not contaminate the Karoo aquifers. What they do say, repeatedly, is that there is "no known link" between fracking and aquifer and groundwater pollution. And they cite only their own expert testimony.
...The naivety continues. Vegter cited reams of outdated research regarding "signed statements from state officials representing Ohio, Pennsylvania, New Mexico, Alabama, and Texas, responding to these allegations [water contamination]. As a result of our regulatory review and analysis, the GWPC concluded that state oil and gas regulations are adequately designed to directly protect water resources".
This is so staggeringly naive it's unbelievable. It is also shoddy research. These legislators were making a political argument, not a scientific one—in other words, they were covering their backs. The reason why the USA's Environmental Protection Agency (EPA) is re-opening the debate on the use of hydraulic fracturing—hearings are being conducted as this is being written—is because whistle-blowers within EPA confirmed that political pressure had been brought to bear on the original reports. As Wes Wilson, one of the E.P.A. whistle-blowers, said in a recent interview about that report, five of the seven members of the study's peer review panel were current or former employees of the oil and gas industry.
Numerous complainants petitioned the USA government to get the EPA to review the earlier decision on hydraulic fracking. One of them, from Neil Zusman, Ithaca, NY, is particularly poignant:
I have read widely on this topic and it is of personal interest to me. I am not a scientist. I observe the events along the historical timeline that includes civil rights, anti-war protest, and the environmental movement....
Donald Paul is a freelance writer from South Africa.
See: Aragom Eloff. Ivo Vegter vs. the Fracking Fringe. 2011-04-18.
See: Julienned DuToit. Fracking the Karoo - The People Say No! 2011-01-31.
See: Lewis Pugh. Frack Off, Shell!. 2011-04-05
See: Robert Brand. South Africa Endorses Plans For Karoo Gas-Drill Freeze, Ending Shell Hopes - Bloomberg. 2011-04-21.
Drilling Marcellus Shale: Unlimited Natural Gas Company Contributions to Pennsylvania Politicians
, , Marcellus Money, (2010)

It's possible that there is $1 trillion worth of natural gas beneath the ground of Pennsylvania. With that kind of money at stake, out-of-state drilling companies are flocking to Pennsylvania and so are their lobbyists.
Use this site to find out which gas companies have been giving unlimited contributions to Pennsylvania politicians… and who's been taking them.
Common Cause Pennsylvania is a non-profit, non-partisan citizens' lobby organization. We are dedicated to restoring the core values of American democracy, reinventing an open, honest and accountable government that serves the public interest, and empowering ordinary people to make their voices heard in the political process.
We work to strengthen public participation and to ensure that the political process serves the public interest, rather than the special interest. Common Cause Pennsylvania conducted the data research available on this website as part of its "Deep Drilling, Deep Pockets" report, released in May of 2010.
Environment | Daily Yonder | Keep It Rural
, , Daily Yonder, (2011)

Lively and informative rural American blog based in Austin Texas. This section contains articles on the Environment.
The Daily Yonder's special reports also bring you overviews of the big issues now facing small communities -- health, employment, broadband access, education, and economic development.
The Daily Yonder brings issues and images of the rural U.S. to the fore. We welcome readers from all over to see what's working, failing or never been tried in small communities.
Dee Davis is president and founder of the Center for Rural Strategies, which publishes the Daily Yonder. He is the former executive producer of Appalshop Films/Headwaters Television. Read more about the staff here.
See: Abrahm Lustgarten. "Natural Gas's Climate Benefits Questioned." Daily Yonder. Jan. 25, 2011.
It was thought natural gas easily beat coal when it came to slowing climate change. The EPA finds that thinking needs a revision.
Environmental Dangers of Hydro-Fracturing
, , Lock Haven University, (2010)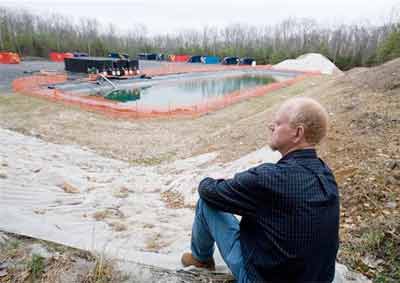 Photo By Kalim A. Bhatti, for USA Today. 4/28/2010.
Bob Myers, an avid hiker, in Lock Haven, Pa., has become concerned that state forests are being freely leased to drilling firms, leading to clear-cutting of forests, sludge pits and risks of accidents.
There have been many incidents of water contamination and even buildings exploding because of natural gas hydro-fracturing operations. The most common problem is methane migration due to defective casing.
According to the Pittsburgh Geological Society's article "Natural Gas Migration Problems in Western Pennsylvania" methane migration occurs when natural gas escapes "from the reservoir rock, coal seam, pipeline, gas well, or landfill. If the gas migrates through the bedrock and soil, it can result in an explosion capable of damaging property and causing loss of life."
Bob Myers has written an informed overview on the impact and consequences of hydraulic fracturing in Pennsylvania. In the section titled, "The Pennsylvania Natural Gas Industry Wall of Shame", he lists violations and pollution from 2009-2010.
Supporters of the gas industry often claim that we have nothing to fear from the big, reputable companies. But, the incidents listed above were caused by Cabot, Range Resources, Anadarko, Chesapeake, East Resources, Talisman, Fortuna. Who's left?"
Professor Myers received his Ph.D. from Penn State in 1991. He teaches American Literature, and has published a biography of the author Harold Frederic, as well as several articles on late-19th-century literature.
Frack Check WV (West Virginia)
, , Frack Check WV, (2011)

Frack off, Shell!
, , The Daily Maverick, (2011)

A moratorium on hydraulic fracturing has been under effect in South Africa since April, 2011.
On Friday 25 March, environmental activist Lewis Pugh delivered a passionate call to action at a public lecture in Cape Town. He implored South Africans to stand up for our rights – particularly the right to water, and the right to a healthy environment – and take on corporate bullies like Shell. If you care about the Karoo, if you care about our country, keep reading...
Ladies and gentlemen, that is what is at stake here today: our children's future. And that of our children's children.
There may be gas beneath our ground in the Karoo. But are we prepared to destroy our environment for five to ten years worth of fossil fuel and further damage our climate? Yes, people will be employed – but for a short while. And when the drilling is over, and Shell have packed their bags and disappeared, then what? Who will be there to clean up? And what jobs will our children be able to eke out?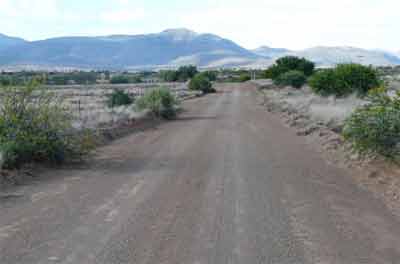 Now Shell will tell you that their intentions are honourable. That fracking in the Karoo will not damage our environment. That they will not contaminate our precious water. That they will bring jobs to South Africa. That gas is clean and green. And that they will help secure our energy supplies. When I hear this, I have one burning question. Why should we trust them? Africa is to Shell what the Gulf of Mexico is to BP.
Shell, you have a shocking record here in Africa. Just look at your operations in Nigeria. You have spilt more than 9 million barrels of crude oil into the Niger Delta. That's twice the amount of oil that BP spilt into the Gulf of Mexico. You were found guilty of bribing Nigerian officials, and to make the case go away in America, you paid an admission of guilt fine of $48 million. And to top it all, you stand accused of being complicit in the execution of Nigeria's leading environmental campaigner, Ken Saro-Wira, and eight other activists. If you were innocent, why did you pay $15.5 million to the widows and children to settle the case out of court?
Shell, the path you want us to take us down is not sustainable. I have visited the Arctic for seven summers in a row. I have seen the tundra thawing. I have seen the retreating glaciers. I have seen the melting sea ice. And I have seen the impact of global warming from the Himalayas all the way down to the low-lying Maldive Islands. Wherever I go, I see it.
Now is the time for change. We cannot drill our way out of the energy crisis. The era of fossil fuels is over. We must invest in renewable energy. And we must not delay.
Shell, we look to the north of our continent and we see how people got tired of political tyranny. We have watched as despots, who have ruled ruthlessly year after year, have been toppled in a matter of weeks. We too are tired. Tired of corporate tyranny. Tired of your short-term, unsustainable practices. We watched as Dr Ian Player, a game ranger from Natal, and his friends, took on Rio Tinto (one of the biggest mining companies in the world) and won. And we watched as young activists from across Europe, brought you down to your knees, when you tried to dump an enormous oil rig into the North Sea.
Shell, we do not want our Karoo to become another Niger Delta. Do not underestimate us. Goliath can be brought down. We are proud of what we have achieved in this young democracy, and we are not about to let your company come in and destroy it.
So let this be a call to arms to everyone across South Africa, who is sitting in the shadow of Goliath: stand up and demand these fundamental human rights promised to you by our Constitution. Use your voices – tweet, blog, petition, rally the weight of your neighbours and of people in power. Let us speak out from every hilltop. Let us not go quietly into this bleak future.
Let me end off by saying this: you have lit a fire in our bellies, which no man or woman can extinguish. And if we need to, we will take this fight all the way from your petrol pumps to the very highest court in this land. We will take this fight from the farms and towns of the Karoo to the streets of London and Amsterdam. And we will take this fight to every one of your shareholders. And I have no doubt, that in the end, good will triumph over evil. DM
Lewis Pugh is a lawyer and environmental activist. He belongs to the Treasure the Karoo Action Group.
See: Aragom Eloff. Ivo Vegter vs. the Fracking Fringe. 2011-04-18.
See: Julienned DuToit. Fracking the Karoo - The People Say No! 2011-01-31.
See: Robert Brand. South Africa Endorses Plans For Karoo Gas-Drill Freeze, Ending Shell Hopes - Bloomberg. 2011-04-21.
See: Donald Paul. Drill Baby Drill. 2011-04-18.
Fracked: Barnett Shale drilling chemicals found in blood and organs
, , Daily Kos, (2010)

Bob and Lisa were told by their doctor to move out of their home withing 48 hours because it was too dangerous for them to stay after they were diagnosed with drilling chemicals in their blood and organs.
Videos and posting by Bluedaze Sharon Wilson.
Brandon Evans. 9/27/2010. Fight for Survival. Wise County Messenger. Online Edition.
It doesn't have to be this way. There are affordable emission controls that industry could use to prevent 90% of the emissions. These are some of the best practices least destructive practices described in DRILL RIGHT TEXAS: Best oil & gas development practices for Texas. Industry refuses to use control technology unless it is mandated.
Before you go all weird and start attacking Texas, have a look at this map and know that they are finding more shale areas everyday, everywhere, all across the globe. Shale gas is the biggest scam ever played on the human race.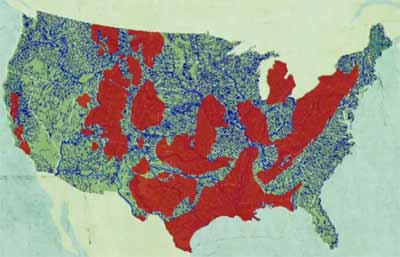 Keep drilling toxics out of our drinking water.
Fracking Canada
, , Fracking Canada, (2011)

Ontario has a new blog:
Stop Fracking Ontario is a web project to inform and promote activism against fracking in Ontario, and in the surrounding region, and elsewhere.
This project is an all-volunteer non-partisan effort that is not tied to any one organization. We will need a broad coalition of citizens to apply ongoing pressure which could stop the fracking industry.
We also need to support a range of positive alternatives, so we can phase out natural gas.
See: Nelson, Joyce. "Ugly Reality of Fracking." Greenmuze, April 19, 2011.
Fracking the Karoo - The People Say No!
, , Fracking the Karoo - The People Say No!, (2011)

"Do you know what fracking the Karoo is like?" demanded Esme Senekal of Somerset East. The people from Royal Dutch Shell and their consultants didn't reply, their faces impassive.
"It's like you coming and drilling holes in our mother, and then leaving us to look after her and take her to hospital. Leave the Karoo alone!
"This is the last piece of holy nature in this country. No money is worth this. You can't replace pristine nature with money."
The surrounding sunburnt Karoo farmers, not a group usually given to high emotion, loudly applauded her.
The public meeting, organised by Shell's consultants, Golder Associates (slogan: "Engineering Earth's development, protecting Earth's integrity"), was held at the Somerset East Town Hall, and started with a prayer to protect God's creation, nature.
Most of the attendees bowing their heads were farmers who face the possibility of losing everything if, heaven forbid, shale gas is found under their farms – or for that matter, anywhere in the Karoo.
See: Aragom Eloff. Ivo Vegter vs. the Fracking Fringe. 2011-04-18.
See: Donald Paul. Drill Baby Drill. 2011-04-18.
See: Lewis Pugh. Frack Off, Shell!. 2011-04-05
See: Robert Brand. South Africa Endorses Plans For Karoo Gas-Drill Freeze, Ending Shell Hopes - Bloomberg. 2011-04-21.