Contains the keyword press
Louisiana tells EPA that it should let Congress handle greenhouse gas regulation
, , NOLA.com | Times-Picayune, (2009)

By Mark Schleifstein, The Times-Picayune.  New Orlean, LA., December 18, 2009.
"The state Department of Environmental Quality has demanded that the federal Environmental Protection Agency rescind its recent finding that greenhouse gases endanger present and future generations, and take no action to require industries and small businesses to reduce greenhouse gas emissions."
Natural Gas Drilling: What We Don't Know
, , ProPublica, (2009)

Series: Buried Secrets: Gas Drilling's Environmental Threat.
Drilling companies assert that the destructive forces unleashed by the fracturing process, including the sometimes toxic chemicals that keep the liquid flowing, remain safely sealed as much as a mile or more beneath the earth, far below drinking water sources and the rest of the natural environment.
More than a year of investigation by ProPublica, however, shows that the issues are far less settled than the industry contends, and that hidden environmental costs could cut deeply into the anticipated benefits.
The technique used to extract the gas, known as hydraulic fracturing, has not received the same scientific scrutiny as the processes used for many other energy sources.
Pennsylvania Orders Cabot Oil and Gas to Stop Fracturing in Troubled County - ProPublica
, , ProPublica, (2009)

After three chemical spills in the past nine days, and following a history of environmental problems over the last year , Pennsylvania officials have ordered Cabot Oil and Gas, one of the most active natural gas companies in the state, to stop its hydraulic fracturing operations in Susquehanna County pending an intensive review.
"The department took this action because of our concern about Cabot's current fracking process and to ensure that the environment in Susquehanna County is properly protected," DEP north central regional Director Robert Yowell said in a news release distributed this morning.
Politicians choose sides in Marcellus Shale drilling debate
, , Press & Sun-Bulletin: pressconnects.com, Binghamton, NY, (2009)

State Assemblywoman Barbara Lifton wants to slow it down. Sen. Thomas Libous is for speeding it up. Assemblywoman Donna Lupardo is torn between extremes.
Elected officials taking a position on Marcellus Shale development are facing strident demands from stakeholders who could become rich, go broke or possibly abandon hope, depending on Albany's response...
...Deborah Goldberg, an attorney with Earthjustice, an environmental law firm, said the final SGEIS must include substantial changes to account for the cumulative effect of drilling thousands and perhaps tens of thousands of Marcellus wells in New York. If not, the firm will help spearhead a legal challenge, most likely in state Supreme Court in Albany.
That would involve filing an Article 78 Proceeding challenging the DEC's adherence to the State Environmental Quality Review Act.
Reporter's Notebook: Hydraulic Fracturing
, , (2009)
Abrahm Lustgarten of ProPublica takes FLYP readers on a journey through Sublette County, Wyoming to take a tour of the wells and hear the voices of residents and experts on the issue.
Anecdotal evidence has been criticized by Gas Industry advocates in the debate over the inadequately funded EPA study. There have been many anecdotal reports of fouled wells and air pollution, unknown risks to chemical exposure and hydrogen sulfide, and methane leaking from gas compressors captured on infrared film.
Cornell professor Robert Howarth has criticized claims that natural gas is "clean-burning". There have also been no studies on the cost benefits of gas drilling.
See: Drilling for Truth and other articles by Lustgarten.
Residents near gas leak still live in fear
, , Chagrin Valley Times The Solon Times, The Geauga Times Courier, Chagrin Falls. OH, (2009)

Residents near gas leak still live in fear.
You never know from day to day what is going to happen," Mrs. McGee said of their situation. "You have no idea how a gas well will affect your life."
Everything now, from shopping to doctors' appointments and vacations, have to be planned around what is happening with the gas-level readings in their home, she said. "Our lives are not our own."
They have 100 percent readings of the lower explosive levels every week, Mrs. McGee said. They are being told they are safe, as long as the house is vented but are worried about what would happen if the vents accidentally are blocked, she said.
When the McGees first experienced what they call a "black goo" in their water, she said, "they tried to convince us it was perfectly normal."
U.S. finds water polluted near gas-drilling sites
, , Reuters, (2009)

Editing by Daniel Trotta and Mohammad Zargham.
"U.S. government scientists have for the first time found chemical contaminants in drinking water wells near natural gas drilling operations, fueling concern that a gas-extraction technique is endangering the health of people who live close to drilling rigs."
WATER | That Tap Water Is Legal but May Be Unhealthy
, , The New York Times, (2009)
The quality of drinking water is an urgent concern for over forty million people who live in proximity to the Marcellus Shale.
"The 35-year-old federal law regulating tap water is so out of date that the water Americans drink can pose what scientists say are serious health risks — and still be legal.
Only 91 contaminants are regulated by the Safe Drinking Water Act, yet more than 60,000 chemicals are used within the United States, according to Environmental Protection Agency estimates. Government and independent scientists have scrutinized thousands of those chemicals in recent decades, and identified hundreds associated with a risk of cancer and other diseases at small concentrations in drinking water, according to an analysis of government records by The New York Times.
But not one chemical has been added to the list of those regulated by the Safe Drinking Water Act since 2000.
Other recent studies have found that even some chemicals regulated by that law pose risks at much smaller concentrations than previously known. However, many of the act's standards for those chemicals have not been updated since the 1980s, and some remain essentially unchanged since the law was passed in 1974."
WATER: Judge overturns Montana water rules for gas drilling
, , Billings Gazette, (2009)

A federal judge has overturned water quality rules that were meant to protect southeastern Montana cropland from natural gas drilling but were assailed by Wyoming as a threat to energy production.
The rules covered the Tongue and Powder rivers, which flow north from the rich gas fields of northeastern Wyoming into primarily agricultural land in Montana.
Drafted by Montana and approved by the Environmental Protection Agency, the rules limited how much salty water - a byproduct of drilling - could enter the rivers. State officials said the EPA had not yet begun to enforce the rules, in part because of a pending lawsuit.
In a judgment in that case issued Tuesday, U.S. District Judge Clarence Brimmer in Cheyenne, Wyo., annulled the rules and sent them back to the EPA to reconsider. Brimmer wrote that the EPA had failed to give the water quality standards a full review when it approved them in 2003 and 2008.
The lawsuit has pitted natural gas companies backed by the state of Wyoming against the EPA and Montana.
The case represents one of several running skirmishes between Montana and Wyoming over the rivers that flow north across their shared border.
With Natural Gas Drilling Boom, Pennsylvania Faces an Onslaught of Wastewater
, , ProPublica, (2009)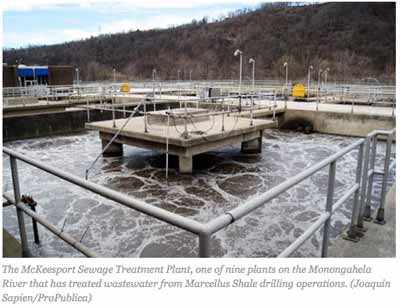 Workers at a steel mill and a power plant were the first to notice something strange about the Monongahela River last summer. The water that U.S. Steel and Allegheny Energy used to power their plants contained so much salty sediment that it was corroding their machinery. Nearby residents saw something odd, too. Dishwashers were malfunctioning, and plates were coming out with spots that couldn't easily be rinsed off.
See: Nicholas Kusnetz. "Pennsylvania's Drilling Wastewater Released to Streams, Some Unaccounted For." ProPublica. Jan. 5, 2011.
See: West Virginia Blue: Dunkard Creek fish kill
See: The Tragedy of the Commons
See: Do the natural gas industry's surface water withdrawals pose a health risk?
See: Center for Healthy Environments & Communities Homepage
See: The Case for a Truth and Reconciliation Commission on Toxic Hazards
See: Drilling Wastewater Disposal Options in N.Y. Report Have Problems of Their Own - ProPublica
See: The Effect of the United States Supreme Court's Eleventh Amendment Jurisprudence on Clean Water Act Citizen Suits: Muddied Waters | Mixplex
See: Lenape Resources, Inc. | Underground Injection of Wastewater
See: Rulings Restrict Clean Water Act, Foiling E.P.A.
See: Activists Block Entrance to DEP Headquarters, Condemn Failed Enforcement
See: Flow - The War Between Public Health and Private Interests