Drilling for Truth
Publication Type:
Web Article
Source:
Flypmedia (2009)
URL:
http://www.flypmedia.com/issues/21/#3/1/
Keywords:
press
Notes: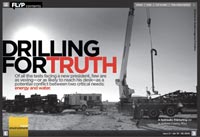 Abrahm Lustgarten.  Flypmedia. Issue 21. January 16-29, 2009. "Drilling for Truth". Page 11.
Includes photos, graphics and videos.
Experimental Flash based interactive online magazine.  Last updated Fall 2009.  On April 19, 2010, Flyp announced that it will close.
See: Drilling Wastewater Disposal Options in N.Y. Report Have Problems of Their Own - ProPublica