With Natural Gas Drilling Boom, Pennsylvania Faces an Onslaught of Wastewater
Publication Type:
Web Article
Source:
ProPublica (2009)
URL:
http://www.propublica.org/article/wastewater-from-gas-drilling-boom-may-threaten-monongahela-river
Keywords:
press
Notes: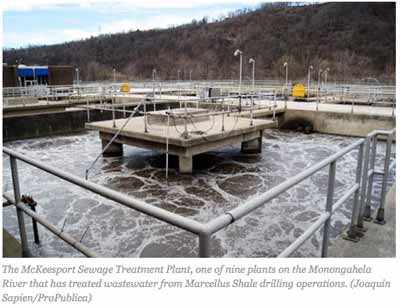 Workers at a steel mill and a power plant were the first to notice something strange about the Monongahela River last summer. The water that U.S. Steel and Allegheny Energy used to power their plants contained so much salty sediment that it was corroding their machinery. Nearby residents saw something odd, too. Dishwashers were malfunctioning, and plates were coming out with spots that couldn't easily be rinsed off.
See: Nicholas Kusnetz. "Pennsylvania's Drilling Wastewater Released to Streams, Some Unaccounted For." ProPublica. Jan. 5, 2011.
See: West Virginia Blue: Dunkard Creek fish kill
See: The Tragedy of the Commons
See: Do the natural gas industry's surface water withdrawals pose a health risk?
See: Center for Healthy Environments & Communities Homepage
See: The Case for a Truth and Reconciliation Commission on Toxic Hazards
See: Drilling Wastewater Disposal Options in N.Y. Report Have Problems of Their Own - ProPublica
See: The Effect of the United States Supreme Court's Eleventh Amendment Jurisprudence on Clean Water Act Citizen Suits: Muddied Waters | Mixplex
See: Lenape Resources, Inc. | Underground Injection of Wastewater
See: Rulings Restrict Clean Water Act, Foiling E.P.A.
See: Activists Block Entrance to DEP Headquarters, Condemn Failed Enforcement
See: Flow - The War Between Public Health and Private Interests