Contains the keyword background
Hydraulic Fracturing Applicability of the Safe Drinking Water Act and Clean Water Act Science Advisory Board Discussion.
, , Washington, D.C., (2010)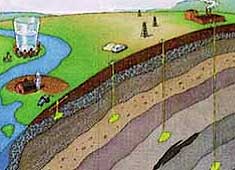 Summary Points:
EPA's central authority to protect drinking water is drawn from the Safe Drinking Water Act (SDWA).
The SDWA requires EPA to set legal limits on the levels of certain contaminants in drinking water.
The Safe Drinking Water Act (SDWA) also requires EPA to protect underground sources of drinking water (USDWs) from contamination caused by underground injection.
§1421 provides minimum standards for underground injection.

§1422 provides for state primary enforcement authority.

§1425 provides for alternative showing of effectiveness of program by state Underground Injection Control (UIC) Programs (Oil and Gas wells only).

§1431 contains provisions to address imminent and substantial endangerment.
Activities not regulated under Safe Drinking Water Act (SDWA) Provisions for UIC (Sections 1421, 1422, and 1425).
Oil and gas production activities.

Hydraulic fracturing (except use of diesel) per 2005 Energy Policy Act.

Natural gas storage.
States may choose to regulate these activities.

Surface water discharges are regulated under the Clean Water Act (CWA).
See: Safe Drinking Water Act (SDWA) | Safe Drinking Water Act | US EPA
See: Coalbed Methane Development: The Costs and Benefits of an Emerging Energy Resource
See: WATER | Safe Drinking Water Act - Wikipedia, the free encyclopedia
See: History of Litigation Concerning Hydraulic Fracturing to Produce Coalbed Methane. LEAF (Legal Environmental Assistance Foundation) and The Hydraulic Fracturing Decisions.
Hydraulic Fracturing of Oil and Gas Wells
, , Earthworks, (2010)

Hydraulic fracturing is a common technique used to stimulate the production of oil and natural gas. Typically, fluids are injected underground at high pressures, the formations fracture, and the oil or gas flows more freely out of the formation. Some of the injected fluids remain trapped underground.
A number of these fluids, such as diesel fuel, qualify as hazardous materials and carcinogens, and are toxic enough to contaminate groundwater resources. Read more details in the Oil and Gas Accontability Project's (OGAP) basic primer on hydraulic fracturing.
Washington, D.C. based environmental advocacy group.  Website includes link to video, Fracking and the Environment: Natural Gas Drilling, Hydraulic Fracturing and Water Contamination, from Democracy Now! It includes an interview with ProPublica's Abrahm Lustgarten. 9/3/09.
Hydraulic Fracturing: History of an Enduring Technology
, , Journal of Petroleum Technology (JPT) Online, (2010)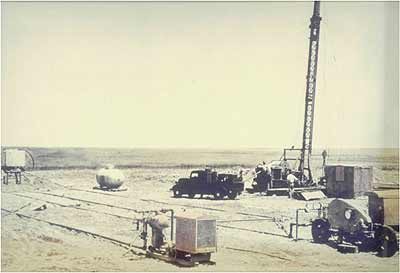 Fig. 1—In 1947, Stanolind Oil conducted the first experimental fracturing in the Hugoton field located in southwestern Kansas. The treatment utilized napalm (gelled gasoline) and sand from the Arkansas River.
Since Stanolind Oil introduced hydraulic fracturing in 1949, close to 2.5 million fracture treatments have been performed worldwide. Some believe that approximately 60% of all wells drilled today are fractured. Fracture stimulation not only increases the production rate, but it is credited with adding to reserves—9 billion bbl of oil and more than 700 Tscf of gas added since 1949 to US reserves alone—which otherwise would have been uneconomical to develop.
In addition, through accelerating production, net present value of reserves has increased. Fracturing can be traced to the 1860s, when liquid (and later, solidified) nitroglycerin (NG) was used to stimulate shallow, hard rock wells in Pennsylvania, New York, Kentucky, and West Virginia. Although extremely hazardous, and often used illegally, NG was spectacularly successful for oil well "shooting." The object of shooting a well was to break up, or rubblize, the oil-bearing formation to increase both initial flow and ultimate recovery of oil. This same fracturing principle was soon applied with equal effectiveness to water and gas wells.
In the 1930s, the idea of injecting a nonexplosive fluid (acid) into the ground to stimulate a well began to be tried. The "pressure parting" phenomenon was recognized in well-acidizing operations as a means of creating a fracture that would not close completely because of acid etching. This would leave a flow channel to the well and enhance productivity. The phenomenon was confirmed in the field, not only with acid treatments, but also during water injection and squeeze-cementing operations.
But it was not until Floyd Farris of Stanolind Oil and Gas Corporation (Amoco) performed an in-depth study to establish a relationship between observed well performance and treatment pressures that "formation breakdown" during acidizing, water injection, and squeeze cementing became better understood. From this work, Farris conceived the idea of hydraulically fracturing a formation to enhance production from oil and gas wells.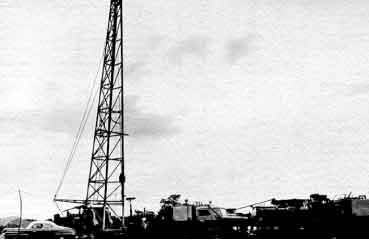 Fig. 2—On 17 March, 1949, Halliburton conducted the first two commercial fracturing treatments in Stephens County, Oklahoma, and Archer County, Texas.

See: Carl T. Montgomery and Michael B. Smith. "Hydraulic Fracturing: History of an Enduring Technology." Journal of Petroleum Technology (JPT). 2010. (PDF 2.1 MB)


At the 2006 SPE Annual Technical Conference and Exhibition (ATCE), SPE honored nine pioneers of the hydraulic fracturing industry as Legends of Hydraulic Fracturing. Claude E. Cooke Jr., Francis E. Dollarhide, Jacques L. Elbel, C. Robert Fast, Robert R. Hannah, Larry J. Harrington, Thomas K. Perkins, Mike Prats, and H.K. van Poollen were recognized as instrumental in developing new technologies and contributing to the advancement of the field through their roles as researchers, consultants, instructors, and authors of groundbreaking journal articles.
This CD includes more than 150 papers published by these industry legends; it also includes an overview of the history of hydraulic fracturing, along with personal reflections from a number of the Legends and their colleagues.
Hydrafrac (1946)
See: Search for hydrafrac on Google Scholar.
See: Gow, Sandy, and Bonar Alexander Gow. Roughnecks, rock bits and rigs: the evolution of oil well drilling technology in Alberta, 1883-1970. University of Calgary Press, 2005. Web.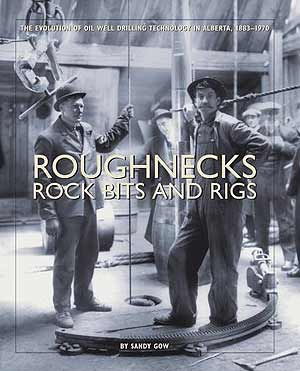 This book is a comprehensive study of the evolution of the component aspects of drilling technology in Alberta, from the evolution of power sources and drill bit designs to the composition of drilling muds and the use of fishing tools. Included are explanations of the costs and risks of oil well drilling and of the larger issue of industrial technology -- how it evolves and under what conditions. The author draws extensively from original source material such as interviews, photographs, and appendices from both the Glenbow Archives and the Devon-Leduc Petroleum Hall of Fame and Interpretive Centre.
The Stanolind patent (1946), p. 268, was the first patent issued for hydraulic fracturing. You may preview this page by clicking on the snippet in the link I've provided.
See: George C. Howard. "Well Completion Process." Stanolind Oil and Gas Company. Tulsa, OK. June 29, 1949. U.S. Patent number: 2667224, Filing date: Jun 29, 1949, Issue date: Jan 1954.
See also: Erle P. Halliburton. "Method and Apparatus for Drilling Wells, Such As Oil Wells." New Wilson, OK. U.S. Patent number: 1703234, Filing date: Nov 4, 1920, Issue date: Feb 1929.
See: Google Labs Books Ngram Viewer of the historical usage of the term "hydraulic fracturing". Try the word frack or fracking.
Industrial Scars
, , Industrial Scars, (2010)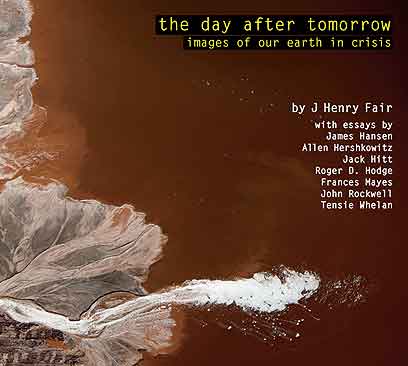 The Day After Tomorrow, (available 2/8/2011) takes readers on a journey to bear witness to the environmental destruction that is currently plaguing our planet; from a forest in West Virginia devastated by mountaintop removal mining, to a region in Florida left in ruins by the phosphate mining industry, J. Henry Fair presents hard evidence that our unchecked consumerism is leading the way in the destruction of our planet, one natural resource at a time.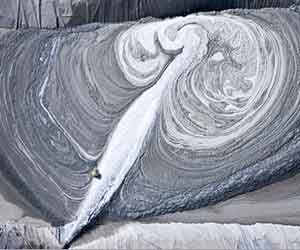 Overspray of drilling slurry at hydro-fracing drill site. Waste pit of drilling mud (byproduct from mining operations including rock debris, drill bit lubricants, and possibly residual radioactive material.)
The type of waste being produced indicates that exploration is still in progress. The overspray at the top is a violation and a danger to any water bodies downhill.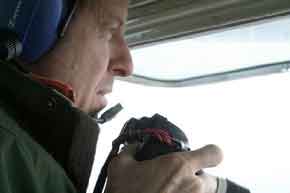 Photographer J Henry Fair is best known for his Industrial Scars series, in which he researches our world's most egregious environmental disasters and creates images that are simultaneously stunning and horrifying.
Leveling Appalachia: The Legacy of Mountaintop Removal Mining
, , Yale Environment 360, (2010)

Mountaintop removal and slickwater drilling for natural gas both have been challenged by experts for the environmental damages that occur. The pollution has been well documented in public testimony and observation and has proceeded without input from peer-reviewed scientific studies, making the people who live near these extraction processes human experiments in methods unproven to be safe in the long term. (Neil Zusman, 2010-11-10.)
During the last two decades, mountaintop removal mining in Appalachia has destroyed or severely damaged more than a million acres of forest and buried nearly 2,000 miles of streams. Leveling Appalachia: The Legacy of Mountaintop Removal Mining, a video report produced by Yale Environment 360 in collaboration with MediaStorm, focuses on the environmental and social impacts of this practice and examines the long-term effects on the region's forests and waterways.
At a time when the Obama administration is reviewing mining permit applications throughout West Virginia and three other states, this video offers a first-hand look at mountaintop removal and what is at stake for Appalachia's environment and its people.
Leveling Appalachia: The Legacy of Mountaintop Removal Mining, an e360 video examining the environmental and human impacts of this mining practice, won the award for best video in the 2010 National Magazine Awards for Digital Media. Watch the video.
See: Marsh Fork Elementary: Journey Up Coal River | A Community and Strip Mining
See: Mountaintop Removal (Film)
See: Tree spiker : from Earth First! to lowbagging: my struggles in radical environmental action
See: Bluedaze. Mountain Top Removal for Hydraulic Fracturing Sand
Marcellus Shale - Subject Guides at Binghamton University Libraries
, , Marcellus Shale Gas Drilling Research Guide, (2010)

Binghamton University. (2009). This research guide provides online, print, and database suggestions to research Marcellus Shale gas drilling. Last updated July 13, 2010.
Marcellus Shale Gas: New Research Results Surprise Geologists!
, , Geology.com, (2010)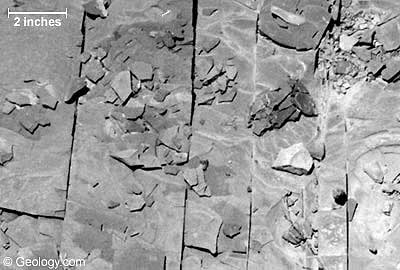 Geology.com. Marcellus Shale - Appalachian Basin Natural Gas Play.
New research results surprise everyone on the potential of this well-known Devonian black shale. Super Giant Field in the Appalachians? Includes charts and diagrams.
Natural Gas - Energy Explained, Your Guide To Understanding Energy
, , Energy Information Administration - EIA - Official Energy Statistics from the U.S. Government, (2010)

Natural Gas Informational Site by the U.S. Department of Energy (U.S. DOE). Includes articles on How Do We Get Natural Gas?, How Was Natural Gas Formed? Also article on Energy Explained, Use of Natural Gas, Delivery and Storage of Natural Gas, How Much Natural Gas Is Left.
Natural Gas Drillers Protest Nomination of Fracking Critics for EPA Review Panel
, , New York Times: Greenwire, (2010)

The Independent Petroleum Association of America sent a letter (pdf) to EPA today highlighting two critics on the list of 82 potential panelists.
"Unfortunately, a number of nominees' past comments betray a strong and unambiguous antipathy toward shale development in general, and hydraulic fracturing in particular," IPAA President and CEO Barry Russell wrote.
The letter singles out two critics -- Theo Colborn and Robert Howarth. It does not give their names, but IPAA's detailed complaints about the two identify them.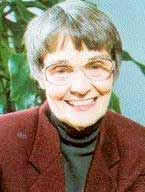 Colborn is a Colorado zoologist and pharmacist whose group, TEDX — The Endocrine Disruption Exchange, has sought to document the damage that fracturing can do to water and human health. IPAA said she authored a "white paper" that called for federal regulation of fracturing.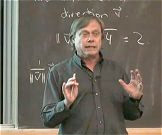 Howarth is a Cornell University professor who issued a three-page draft report in April saying that shale gas production and use may generate as much greenhouse gas emissions as production and use of coal. Russell's letter said it was "riddled with errors."
See: U.S. EPA Initiates Hydraulic Fracturing Study | Meeting | EPA Science Advisory Board (SAB)
See: 2011 EPA Hydraulic Fracturing Study Plan Review Panel Selections.
See: Cornell's Howarth Warns EPA on Shale Gas Greenhouse Footprint
Natural Gas: Not as clean as you think
, , The Wilderness Society, (2010)

But how clean is natural gas, really?
The Wilderness Society just released the new science and policy brief Doing it Right: Ensuring Responsible Natural Gas Development on Our Public Lands to address the question: How clean is natural gas?
Unfortunately, as the brief reveals, natural gas is not the panacea that its promoters would have us believe. Consider these facts:
Natural gas is only 30 to 50 percent cleaner burning than coal.
Natural gas is still a fossil fuel and our current use of it contributes about 20 percent of U.S. greenhouse gas emissions.
The processing, infrastructure, and burning of natural gas releases methane, a greenhouse gas 30 times more potent than carbon dioxide in terms of its heat-trapping ability.
Methane emissions from natural gas infrastructure are the third largest source of methane emissions in the United States, according to a September 2009 study by the Congressional Research Service.

Smog, or ground level ozone, has risen tremendously in areas with high levels of natural gas development. For example, in Sublette County, Wyo., after more than 3,100 gas wells were drilled in the past 10 years, ground-level ozone levels increased from background levels to those exceeding the Los Angeles basin in the winter of 2008.
The Wilderness Society is the leading American conservation organization working to protect our nation's public lands -- the 635 million acres collectively owned by the American people and managed by our government.
Find out about our current conservation campaigns and how you can get involved.
Read more about the founding, history and role of science at The Wilderness Society.