Mountaintop Removal
Publication Type:
Web Article
Source:
Haw River Films | IMDB (2007)
URL:
http://www.imdb.com/title/tt1100902/
Keywords:
legal
Notes: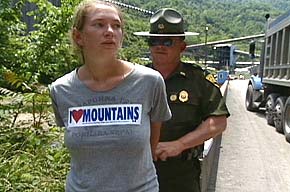 Michael C. O'Connell reveals how strip-mining in West Virginia is impacting local communities in the heart of coal-mining country.

While the demolition of the ancient mountain tops alters the state's natural landscape, the transportation of the mountain debris to adjacent valleys is creeping into natural resources used by area residents.
Filmed over a two-year period, Mountain Top Removal features citizen activists, such as Ed Wiley, Larry Gibson, Julia Bonds, Maria Gunnoe, and Mountain Justice Summer volunteers, in their efforts to stop the destruction of Southern Appalachia's natural landscape.
The film also includes commentary from Jeff Goodell, author of Big Coal: The Dirty Secret Behind America's Energy Future, geologists Dr. William Schlesinger and Dr. Peter Taft from Duke University's Nicholas School of the Environment and Earth Sciences, and also Bill Raney, President of the West Virginia Coal Association.
See: Mike Roselle clip 2-from the Southern Regional Jail West Virginia
See: Code Black: Coal's Assault on America's Health Campaign | PSR
See: Marsh Fork Elementary: Journey Up Coal River | A Community and Strip Mining
See: Two held on $100,000 bails for non-violent protest; Demand Bail Reduction: Call Magistrate Snodgrass 304-369-7360