Hydraulic Fracturing Applicability of the Safe Drinking Water Act and Clean Water Act Science Advisory Board Discussion.
Publication Type:
Government Report
Source:
Washington, D.C. (2010)
URL:
http://yosemite.epa.gov/sab/sabproduct.nsf/5DEE6115FCA43661852576FD006B8460/$File/EPA+Presentation+Materials+4-6-10+for+EEC+Apr+7-8+2010+Meeting.pdf
Keywords:
background
Notes: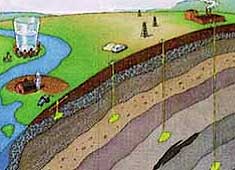 Summary Points:
EPA's central authority to protect drinking water is drawn from the Safe Drinking Water Act (SDWA).
The SDWA requires EPA to set legal limits on the levels of certain contaminants in drinking water.
The Safe Drinking Water Act (SDWA) also requires EPA to protect underground sources of drinking water (USDWs) from contamination caused by underground injection.
§1421 provides minimum standards for underground injection.

§1422 provides for state primary enforcement authority.

§1425 provides for alternative showing of effectiveness of program by state Underground Injection Control (UIC) Programs (Oil and Gas wells only).

§1431 contains provisions to address imminent and substantial endangerment.
Activities not regulated under Safe Drinking Water Act (SDWA) Provisions for UIC (Sections 1421, 1422, and 1425).
Oil and gas production activities.

Hydraulic fracturing (except use of diesel) per 2005 Energy Policy Act.

Natural gas storage.
States may choose to regulate these activities.

Surface water discharges are regulated under the Clean Water Act (CWA).
See: Safe Drinking Water Act (SDWA) | Safe Drinking Water Act | US EPA
See: Coalbed Methane Development: The Costs and Benefits of an Emerging Energy Resource
See: WATER | Safe Drinking Water Act - Wikipedia, the free encyclopedia
See: History of Litigation Concerning Hydraulic Fracturing to Produce Coalbed Methane. LEAF (Legal Environmental Assistance Foundation) and The Hydraulic Fracturing Decisions.