Opinions
Fracking: Public Opinions For and Against Fracking
---
Catskill Mountainkeeper | Working Together to Protect the Catskills
, , Catskill Mountainkeeper, (2010)

Catskill Mountainkeeper is a member based advocacy organization dedicated to preserving and protecting the long term health of the six counties of the Catskill Region. Up to date news about gas drilling, boating, bears, stories, and more.
See: People's Stories
Clean Water Not Dirty Drilling
, , Clean Water Not Dirty Drilling, (2010)

New York's drinking water is under threat from dirty drilling made possible by "hydraulic fracturing" -- but it doesn't have to be.
We can take a drilling "time-out" -- to learn the hard-won lessons of drilling-polluted communities in Pennsylvania, Colorado, and everywhere drillers pushed ahead without adequate regulation and enforcement.
Clifford Krauss: propagandist par excellence
, , Louis Proyect: The Unrepentant Marxist, (2010)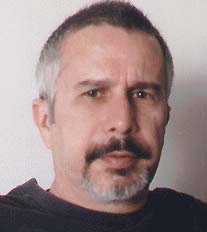 After having seen the powerful documentary Gasland that shows the impact of "fracking" on households across the United States, including flammable tap water and cancer clusters that are the inevitable outcome of natural gas drilling byproducts, I have begun to pay closer attention to news coverage, including my hometown papers in Upstate NY where energy companies are attempting to buy support from impoverished land owners.
So with that in mind, I read the article "When a Rig Moves In Next Door" by Clifford Krauss and Tom Zeller Jr. in the Business section of today's NY Times with keen interest.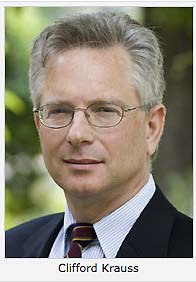 As is so often the case with the newspaper of record, it has to maintain the illusion of objectivity, so necessary for its market niche: college-educated professionals who vote Democrat, watch PBS, listen to NPR, drive a Lexus, and donate money to the ACLU or mainstream environmentalist organizations. It simply would not suffice for Krauss and Zeller Jr. to write the sort of thing that you would hear from Rupert Murdoch hirelings, even if it amounts to the same thing more or less.
I especially enjoyed his reporting on how some environmentalists are for gas drilling despite the inflammatory water faucets and cancer clusters:
"Some environmentalists support fracking and other means of extracting natural gas because gas emits a fraction of the carbon of either oil or coal. They also prefer it because it could replace coal as the nation's principal source of electricity and provide a lower-carbon bridge before renewable energy sources can be developed on a larger scale."
You don't have to be working at FAIR to ask the question which environmentalists?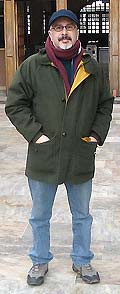 I am the moderator of the Marxism mailing list, where my various articles first appear.
Coalition to Protect New York | Let's Live Frack Free!
, , Coalition to Protect New York, (2011)

CPNY is a coalition of individuals and groups dedicated to halting the dangerous, destructive practice of high-volume hydrofracking for methane gas in our region.
This unconventional method of gas extraction is a huge and looming intrusion that signifies the industrialization of our area now rich in tourism, agriculture, recreational areas, wineries, and open spaces. We must defeat fracking to protect our families, the environment, our property values — indeed, our very way of life.
Our Vision: We say YES to that which promotes the health and vibrancy of our land, our resources, and ourselves. Our vision, like our work, is evolving.
Our Mission: Working together with other like-mined people and organizations, we aim to stop fracking before it gains a foothold in New York State. We inform, educate, and empower people to resist company directors, state and federal officials and all who frack our legislatures, and our public discourse.
We use the term "fracking" to mean all the processes involved in exploring, developing, extracting, disposing, storing, and distributing shale gas via high-volume, slick-water horizontal and vertical drilling, and secondarily but equally importantly to denote the "fracturing" of our health, environment, and communities.
We also do not use the term "natural" gas in regards to shale gas. The only natural state for gas trapped within shale rock deep in the ground underlying New York State is to remain where it is - serving as bedrock. The term "natural," like many other carefully chosen terms used by the extraction industry, is intended to give the false impression that shale gas is a benign and "clean, green" fuel, when in fact its extraction via this unconventional method, is as or more dirty than coal.
Decatur Texas: When Drilling Starts The Ruggiero's story from the Barnett Shale gas play in Wise County, Texas
, , Earthworks, (2010)

"I will start this story by saying that Aruba Petroleum has taken a great deal from my family, but they cannot take away our faith in God.  This story may sound like one of defeat, but we are not defeated.
My husband Tim, daughter Reilly, and I purchased 10 acres and a wonderful home in Wise County, TX about six years ago.  We thought that country life would be the best life for our daughter given her love of animals and nature.  We have lived a peaceful life, improving our home when we could and striving to provide the best childhood possible for Reilly.
Aruba Petroleum turned that life upside down on August 29th 2009 with no regard for property or human health. We learned shortly after that day that our 10 acres were, unfortunately, a part of the 920 acre Wright lease held by Aruba Petroleum."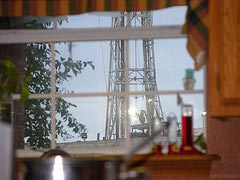 The view from the Ruggiero's kitchen window.
Deep Down | Film on Mountaintop Mining | PBS
, , Independent Lens | PBS, (2010)
Beverly May and Terry Ratliff grew up like kin on opposite sides of a mountain ridge in eastern Kentucky. Now in their fifties, the two find themselves in the midst of a debate dividing their community and the world: who controls, consumes, and benefits from our planet's shrinking supply of natural resources?
While Beverly organizes her neighbors and leads a legal fight to stop Miller Brothers Coal Company from advancing into her hollow, Terry considers signing away the mining rights to his backyard-a decision that could destroy not only the two friends' homes, but the peace and environment surrounding their community.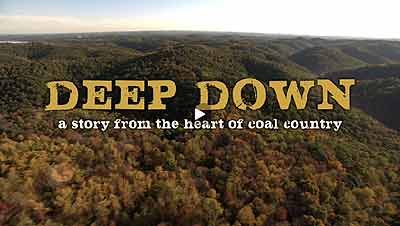 Co-Director/Cinematographer
JEN GILOMEN is Director of Public Media Strategies at the Bay Area Video Coalition (BAVC).
Co-Director/Editor
SALLY RUBIN is a documentary filmmaker and editor based in Los Angeles.
See: Shnayerson, Michael. 2008. Coal River. 1st ed. Farrar, Straus and Giroux, January 8.
See: Robert F. Kennedy, Jr. Mobilizes on Mountaintop Removal
See: Crimes against nature: how George W. Bush and his corporate pals are plundering the country and high-jacking our democracy
See: Marsh Fork Elementary: Journey Up Coal River | A Community and Strip Mining
See: Mountaintop Removal (Film)
See: Mike Roselle clip 2-from the Southern Regional Jail West Virginia
See: Tree spiker : from Earth First! to lowbagging: my struggles in radical environmental action
See: Leveling Appalachia: The Legacy of Mountaintop Removal Mining
Delaware Riverkeeper Network
, , Delaware Riverkeeper Network, (2010)

Shale gas drilling is looming in the Upper Delaware River Watershed in NY and PA.
Why is this a threat to our water supplies?
What are the risks involved ?

Established in 1988 upon the appointment of the Delaware Riverkeeper, the Delaware Riverkeeper Network (DRN) is a nonprofit 501(c)(3) membership organization. DRN's professional staff and volunteers work throughout the entire Delaware River Watershed including portions of Pennsylvania, New Jersey, Delaware and New York.
See Delaware River Keeper. (2009). "Natural Gas Well Drilling and Production in the Upper Delaware River Fact Sheet".
"...An increased risk of stillbirths linked to the flaring of natural gas with high levels of hydrogen sulfide has been reported in cattle in Canada. Incidents in Texas are increasingly reported, especially in the Fort Worth region.
There is a need for thorough study of the environmental and health impacts of well drilling and development; there is very little on record. For instance, in Colorado a Health Impact Assessment has been called for as part of an Environmental Impact Statement due to documented pollution problems from natural gas development in Garfield County that require scientific analysis.
To date, research has been impeded because fracking fluids are protected from disclosure by federal protections granted to the oil and gas industry despite health and environmental impacts..."
Dimock Natural Gas Drilling
, , YouTube, (2009)
Natural gas drilling in the Marcellus Shale Formation is threatening our health, and our water quality. Local resident gives her account of drilling in her community.
Don't Give Up
, , YouTube, (2008)
If You Give Up, They Give Up - Stop Global Warming.