Decatur Texas: When Drilling Starts The Ruggiero's story from the Barnett Shale gas play in Wise County, Texas
Publication Type:
Web Article
Source:
Earthworks (2010)
URL:
http://earthworksaction.org/cv_DecaturTX_ruggiero.cfm
Keywords:
opinion
Notes:

"I will start this story by saying that Aruba Petroleum has taken a great deal from my family, but they cannot take away our faith in God.  This story may sound like one of defeat, but we are not defeated.
My husband Tim, daughter Reilly, and I purchased 10 acres and a wonderful home in Wise County, TX about six years ago.  We thought that country life would be the best life for our daughter given her love of animals and nature.  We have lived a peaceful life, improving our home when we could and striving to provide the best childhood possible for Reilly.
Aruba Petroleum turned that life upside down on August 29th 2009 with no regard for property or human health. We learned shortly after that day that our 10 acres were, unfortunately, a part of the 920 acre Wright lease held by Aruba Petroleum."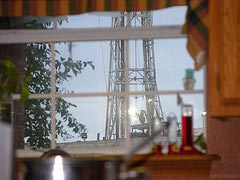 The view from the Ruggiero's kitchen window.