Environmental Dangers of Hydro-Fracturing
Publication Type:
Web Article
Source:
Lock Haven University (2010)
URL:
http://www.lhup.edu/rmyers3/marcellus.htm
Keywords:
opinion
Notes: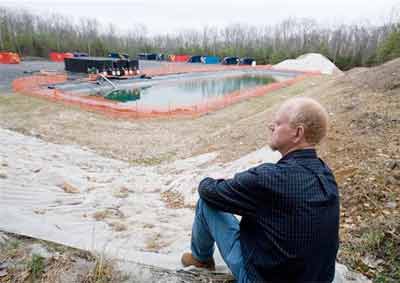 Photo By Kalim A. Bhatti, for USA Today. 4/28/2010.
Bob Myers, an avid hiker, in Lock Haven, Pa., has become concerned that state forests are being freely leased to drilling firms, leading to clear-cutting of forests, sludge pits and risks of accidents.
There have been many incidents of water contamination and even buildings exploding because of natural gas hydro-fracturing operations. The most common problem is methane migration due to defective casing.
According to the Pittsburgh Geological Society's article "Natural Gas Migration Problems in Western Pennsylvania" methane migration occurs when natural gas escapes "from the reservoir rock, coal seam, pipeline, gas well, or landfill. If the gas migrates through the bedrock and soil, it can result in an explosion capable of damaging property and causing loss of life."
Bob Myers has written an informed overview on the impact and consequences of hydraulic fracturing in Pennsylvania. In the section titled, "The Pennsylvania Natural Gas Industry Wall of Shame", he lists violations and pollution from 2009-2010.
Supporters of the gas industry often claim that we have nothing to fear from the big, reputable companies. But, the incidents listed above were caused by Cabot, Range Resources, Anadarko, Chesapeake, East Resources, Talisman, Fortuna. Who's left?"
Professor Myers received his Ph.D. from Penn State in 1991. He teaches American Literature, and has published a biography of the author Harold Frederic, as well as several articles on late-19th-century literature.