Companies
Fracking:
Gas Drilling Companies and Businesses
---
Tennessee Gas Pipeline
, , Tennessee Gas Pipeline, (2010)
Tennessee Gas Pipeline Company, a subsidiary of El Paso Corporation, plans to increase the capacity of its 300 Line to transport new diversified natural gas supplies, including newly accessed Appalachian and Marcellus shale gas to serve the growing demand for interstate natural gas transmission service in the northeastern United States.
The BP Oil Spill (2010) has demonstrated that safety concerns in the drilling of oil and gas were not adequately regulated offshore.  Onshore accidents pose a risk that needs further study and monitoring.
St. Petersburg Times. Monday, July 26, 2010. "Oil companies' gulf spill history is a dirty secret."
The oil and gas industry's offshore safety and environmental record in the Gulf of Mexico has become a key point of debate over future drilling, but that record has been far worse than is commonly portrayed by many industry leaders and lawmakers.
See Also: Tennessee Gas Pipeline Fire
Bay St. Louis, MS - EPA Region IV
At approximately 1630 hrs. on 7/6/04 an AST containing 2370 gallons of waste oil was directly struck by a lightning bolt causing the tank to explode and igniting a neighboring tank containing 3700 gallons of petroleum distillants. The waste oil tank was later located approximately 175 yards away from it's pad. The waste oil was consumed in the fire.
Tennessee Gas Pipeline (Tennessee) is one of the five interstate pipelines that make up El Paso Corporation's Pipeline Group. Tennessee is comprised of approximately 14,200 miles and 1.4mm certificated horsepower.
The pipeline stretches from the Mexican border to Canada. Tapping supply regions in the Gulf of Mexico, Texas, Appalachia, and Canada, the Tennessee system serves markets across the Midwest and mid-Atlantic regions, including major metropolitan centers such as Chicago, New York, and Boston.
The Case of Chevron
, , Friends of the Earth, (2011)
According to the EPA's National Emission Inventory, Chevron was responsible for 4,030,422.95 pounds of green house gas emission pollution in Plaquemines Parish, Louisiana in 2002.
Chevron was the first international oil company to operate in Nigeria and has, for almost 40 years of operations there, practiced the wasteful process of burning off of gas associated with oil drilling.
This gas flaring has resulted in the flaring of billions of cubic feet of natural gas. These flares have and are wrecking havoc on the air and water quality in the Niger Delta. Communities living near the flares are suffering from a myriad of health issues and are more likely to get cancer and suffer from asthma as a result of breathing flare smoke. Many flares have been burning for over 20 years and in locations only a few hundred yards from the center of the nearest village.
According to the Canadian Public Health Association, gas flares contain as many as 250 toxins and their smoke emits particulate matter---including sulfur dioxide, nitrogen dioxides and carcinogenic substances as well as unburned fuel components, including benzene, toluene, xylene, and hydrogen sulfide. Exposure to benzene and its metabolites causes acute nonlymphocytic leukemia and a variety of other blood-related disorders in humans.
According to the US Environmental Protection Agency Flare smoke can cause aggravated asthma, increases in respiratory symptoms like coughing and difficult or painful breathing, chronic bronchitis, decreased lung function, and premature death.
Gas Flaring also causes acid rain, corroding roofs, acidifying lakes and streams and damaging vegetation. This acid rain, combined with frequent oil spills--totaling more than 10 Exxon Valdez spills--and dumping of toxic drilling waters into rivers has severely depleted fish stocks, which the people of the Delta rely on.
See: Chevron Human Energy Stories | Addressing Climate Change
See: Poison Fire
See: Rancho Los Malulos | A satirical view from the McGill Brothers Lease
See: Natural gas: the commodity world's ugly duckling
See: Controversial gas 'fracking' extraction headed to Europe
See: As You Sow - Corporate Accountability, Shareholder Action, and ToxicsReduction
The Warriors of Qiugang: 仇岗卫士 A Chinese Village Fights Back
, , Yale Environment 360, (2011)


Like many villages in China's industrial heartland, Qiugang — a hamlet of nearly 1,900 people in Anhui province — has long suffered from runaway pollution from nearby factories.
In Qiugang's case, three major enterprises with little or no pollution controls churned out chemicals, pesticides, and dyes, turning the local river black, killing fish and wildlife, and filling the air with foul fumes that burned residents' eyes and throats and sickened children.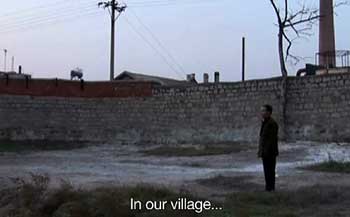 This exclusive e360 video report, "The Warriors of Qiugang" — co-produced by Yale Environment 360 — tells the story of how the villagers fought to transform their environment, and, in the process, found themselves transformed as well.
The 39-minute video focuses on an unlikely hero — farmer Zhang Gongli, now almost 60, who leads the village's fight to shut down the chemical plant. Soft-spoken and easy-going, but with a backbone of steel, Zhang — who has only a middle-school education — quickly learns how to use China's more stringent federal environmental laws to put pressure on the factory owners and their cronies in local and regional government.
"We are sorry to be born in this place," says Zhang, "but we had no choice. This was forced upon us."
The camera follows Zhang as he deals with threats from local thugs, rallies his neighbors, and travels to Beijing, where he attends a heady meeting of China's emerging environmental movement. Zhang — like so many other Chinese — finds himself plunged into a new and wholly unfamiliar world.
The Warriors of Qiugang, was nominated for a 2011 Academy Award for Best Documentary (Short Subject).
See: A Life's Value May Depend on the Agency, but It's Rising
Triana Energy
, , Triana Energy, (2010)

In the class-action Tawney case (2009), in West Virginia, people who sold natural gas to Chesapeake and its predecessors — Triana Energy, NiSource Inc. and Columbia Natural Resources — alleged they were cheated out of some of their royalty payments, and the jury agreed.
Morgan Stanley PE committed funding to Henry Harmon's Marcellus-shale-focused start-up Triana Energy LLC roughly a year ago, shortly before Kohlberg Kravis Roberts invested $350 million in Terrence Pegula's Marcellus-focused East Resources.
Triana Energy is involved in the ongoing development of new energy resources in the Appalachian Basin.
Triana Energy and Marathon Oil Corporation Join Forces to Develop Marcellus Acreage
CHARLESTON, WV, February 3, 2011 Triana Energy, LLC and Marathon Oil Corporation (NYSE: MRO), through a wholly owned subsidiary, have joined forces to develop approximately 82,000 acres of Marcellus prospects in Fayette County, Pennsylvania and several counties in northern West Virginia.
Triana Energy Investments, LLC is an independent, privately held oil and gas exploration and production company headquartered in Charleston, West Virginia. Marathon is an integrated international energy company engaged in exploration and production; oil sands; integrated gas; and refining, marketing and transportation operations. Marathon, which is based in Houston, has principal operations in the United States, Angola, Canada, Equatorial Guinea, Indonesia, Iraqi Kurdistan Region, Libya, Norway, Poland, and the United Kingdom.
See: Jim Balow. "Doth Chesapeake protest too much?". The Charleston Gazette. March 12, 2009.
See: Ken Ward Jr. "Roane Gas Royalties Deal OKd, NiSource, Chesapeake to Pay $380 Million, Drop Federal Appeals." IStockAnalyst.com. Oct. 25, 2008.
U.S. Energy Development Corporation
, , U.S. Energy Development Corporation | Strive for Excellence, (2010)
Meadville, Pa. —The Department of Environmental Protection has issued a cease and desist order to U.S. Energy Development Corp. of Getzville, N.Y., for persistent and repeated violations of environmental laws and regulations.
The order prohibits the company from conducting all earth disturbance, drilling and hydro-fracturing operations throughout Pennsylvania.
The 302 violations that serve as the basis for the order were documented over a period of two years, beginning in August 2007.
Buffalo News. "Protesters picket company looking to drill in Allegany State Park". Apr 16, 2010.
AMHERST -- About 50 protesters demonstrated this afternoon in front of the headquarters of the company that wants to drill for oil in Allegany State Park.
The demonstrators, most of whom were college-age, spoke out against U.S. Energy Development Corp.'s proposal to harvest gas and oil from mineral deposits below sections of the park.
U.S. Energy Development Corporation is "one of the largest drillers in both New York and Pennsylvania."
Universal Well Services, Inc.
, , Universal Well Services, (2010)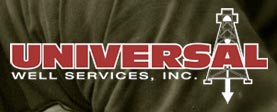 Universal Well Services is one of the large companies being investigated by the U.S. House Energy and Commerce Committee to see if the gas extraction method known as hydraulic fracturing, or fracking, is a hazard to groundwater drinking supplies.
According to its website, Universal is a premier source for hydraulic fracturing, cementing, nitrogen and acidizing services in the Appalachian Basin.
With its corporate headquarters in Meadville, Pa, Universal Well Services, Inc has grown from 200 employees in 2002, to over 800 employees at the end of 2007. Universal Well Services is a division of Patterson-UTI, and the parent company of Eastern Reservoir Services.
Universal's services in the Appalachian Basin include hydraulic fracturing, as well as acidizing, cementing and nitrogen services. Specialty services include engineering, chemical cleaning, jetting and high pressure pumping.