As You Sow - Corporate Accountability, Shareholder Action, and ToxicsReduction
Publication Type:
Web Article
Source:
As You Sow (2010)
URL:
http://www.asyousow.org/
Keywords:
companies
Notes: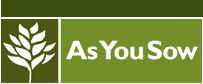 As You Sow is promoting corporate accountability through shareholder action and toxics reduction using innovative legal strategies and community grantmaking. We are transforming corporate behavior and creating a more socially and environmentally just society.
See: David O. Williams. May 26, 2011. "Major bloc of Chevron, Exxon shareholders vote to look closer at fracking." Washington Independent.
See: Fracking at Exxon and Ultra