Companies
Fracking:
Gas Drilling Companies and Businesses
---
Norse Energy Corporation
, , Norse Energy Corporation, (2010)
Norwegian based company with operations in the US. They own and operate pipeline systems in the northeastern US for gathering and transmission of natural gas. The CEO is Øivind Risberg.
On Aug. 5, 2010, the New York State Senate approved a proposal to suspend hydraulic fracturing of gas reservoirs in New York State until May 15, 2011.
"This proposed bill does not affect Norse's strategy of developing our estimated 500 Bcf Herkimer field. Actually, if anything, it could improve our strategic position as I anticipate a time limited moratorium on hydraulic fracturing shale permits would extend our lease term under the force majeure clause and allow us to hold more land with our ongoing Herkimer activity.
Our Herkimer drilling program is fully financed and as we now get back to drilling on our 3D seismic locations in the second half of the year, we anticipate our reserve based lending to further improve our financial position and allow for an acceleration of our Herkimer activity into 2011," said Øivind Risberg, CEO of Norse Energy.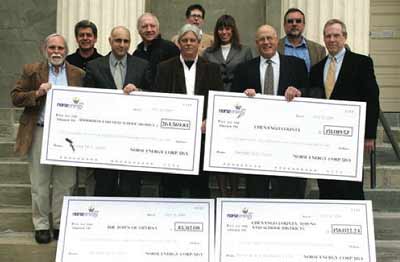 See: Tyler Murphy and Melissa DeCordova. The Evening Sun. May 14-15, 2010. "Pro-natural gas drilling concerns say:We're in the money"
Picture on the front page shows Norse Energy Vice President Stephen Keyes, City of Norwich Mayor Joseph Maiurano, Village of Sherburne Mayor Bill Acee, Realtor Bruce Beadle, Town of Smyrna Supervisor James Bays, County Planning Director Donna Jones, Commerce Chenango President Maureen Carpenter, County Treasurer William Evans, County Consultant Steve Palmatier and Nornew spokesman Dennis Holbrook receiving $656,923 worth of "symbolic checks".
The municipality [Norwich, NY] is one of the first in Chenango County to reap the financial benefits of natural gas development on an unprecedented local scale.
Norse Energy Inc., the Norwegian-based parent company of Nornew, has drilled 23 wells in the county, 13 in the Town of Smyrna since 2007.
The check's amounts were based on the numbers released by the Chenango County Office of Real Property Services on May 1 and reflect the estimated assessed value using last year's tax rates.
Oil150, 1859-2009: Celebrating the Story- Progress from Petroleum
, , Oil150, 1859-2009: Celebrating the Story- Progress from Petroleum, (2010)
The Oil Region Alliance of Business, Industry & Tourism (ORA) administers the Oil 150. The ORA is the manager of the Oil Region National Heritage Area.
The mission of ORA is to increase the prosperity and population of the Oil Region National Heritage Area, through the preservation, promotion, development and support of destinations within the Oil Region National Heritage Area.
This project was financed in part by a Pennsylvania Heritage Parks Program Grant from the Pennsylvania Department of Conservation and Natural Resources, Bureau of Recreation and Conservation, via Oil Region Alliance of Business, Industry & Tourism. Additional funding was furnished by the National Parks Service, the Oil Region Alliance, and the Petroleum History Institute.
Range Resources
, , Range Resources, (2010)

It was reported by Lowell Brown of the Denton Record Chronicle on April 23, 2010 that Range Resources had a spill of drilling mud in Denton, Texas. "Rayzor spill raises a stink. Residents cry foul; officials say mud dump an accident."
Sharon Wilson, Bluedaze blogger, has called this incident "Doodygate". The postings are listed with most recent on top, so to follow the postings, scroll down to the bottom and work your way up. At Bluedaze, click on the keyword, "Range Resources" to read more of her postings. Range is becoming more active, investing more money to acquire leases and develop drill sites in the Marcellus Shale.
Range Resources is an independent oil and gas company operating in the Southwestern, Appalachian and Gulf Coast regions of the United States. "The past five years, however, have represented a period of un- precedented growth. Our reserves have tripled, while our stock price has increased almost 1,000% on a stock-split-adjusted basis."
Christopher Helman. "Range Resources Is King Of The Marcellus Shale". Forbes Magazine. August 09, 2010.
The BP oil spill has created its share of victims, but it's creating opportunities for others. Among them, Range Resources ( RRC - news - people ), the Fort Worth, Tex. company that owns a big chunk of the gas-filled Marcellus Shale rock formation that stretches from New York across Pennsylvania and into West Virginia. With offshore drilling costs sure to go up and with spill liabilities unlimited, oil and gas finders are already looking to redirect capital spending to onshore plays. Range shares have doubled in five years, outpacing even Google but Chief Executive John Pinkerton says, "The bloom hasn't even opened yet."
Sanjel Corporation
, , Sanjel Corporation :: A Specialized Energy Service Company, (2010)
Sanjel is one of the companies the U.S. House Committee on Energy and Commerce is investigating on the potential environmental impacts from hydraulic fracturing.
"Sanjel Corporation is a privately owned, Canadian-based, international oilfield service company with over two and a half decades of industry experience. As a major competitor in the global oil and gas market and the largest privately owned oilfield service company in Canada, Sanjel offers five specialized service lines including Acidizing, Cementing, Coiled Tubing, Fracturing and Nitrogen."
Schlumberger
, , Schlumberger, (2010)


Schlumberger is one of the large companies being investigated by the U.S. House Energy and Commerce Committee to see if the gas extraction method known as hydraulic fracturing, or fracking, is a hazard to groundwater drinking supplies.
Schlumberger employs over 77,000 people of more than 140 nationalities working in approximately 80 countries.
Reuters reported on May 19, 2010 that personnel from oilfield giant Schlumberger left BP's Deepwater Horizon only hours before it exploded. Read the article here.
Although "Flaring" was used extensively in the Gulf of Mexico aftermath of the BP Deepwater Horizon explosion in April, 2010, Schlumberger published a 2002 report that recommends zero flaring in the Middle East.
The World Bank estimates that over 150 billion cubic metres of natural gas are flared or vented annually, an amount worth approximately 30.6 billion dollars, equivalent to 25 percent of the United States' gas consumption or 30 percent of the European Union's gas consumption per year. See World Bank, December 14, 2009. "World Bank, GGFR Partners Unlock Value of Wasted Gas".
See: Renee Schoof and Marisa Talylor. June 11, 2010. McClatchy. "Plan to burn excess oil from BP well raises health questions."
See: Energy & Commerce Committee Investigates Deepwater Horizon Rig Oil Spill
"Schlumberger Mississippi Canyon Block 252 Timeline". (PDF)
On April 18, 2010, a Schlumberger wireline cased hole crew arrives on Transocean Deepwater Horizon. Specifically, BP contracted with Schlumberger to be available to perform a cement bond log and set a bridge plug and/or cement retainer, should BP request those services.
At approximately 7:00 a.m., BP informs Schlumberger crew that no wireline cased hole services will be requested and BP sends Schlumberger crew home.
At approximately 11 :15 a .m., on April 20, 2010, the day of the BP well explosion, the Schlumberger crew departed Transocean Deepwater Horizon on regularly scheduled BP helicopter flight.
At 10:56 EDT, the fire on Deepwater Horizon started. It burned for more than a day and sank April 22, leading to 11 deaths and the largest oil spill in U.S. history.
Schlumberger failed to advise public officials on how BP's actions, declining a wireline cased hole service might have prevented this disaster.
How can government regulators require that private contractors in the oil and gas industry blow the whistle on potentially global disasters? (Neil Zusman, 2010-08-13.)
See: Publication: Middle East & Asia Reservoir Review
Volume: No. 3, 2002
Publication Date: 01/01/2002
An important issue in protecting the environment of the Gulf, which is no less fragile than elsewhere in the world, is the effect of hydrocarbon flaring from oil production operations. This causes many forms of pollution – noise, toxic gases, soot, acid rain and the production of carbon dioxide, the latter is one of the primary causes of global warming. In this article, Alp Tengirsek and Nashat Mohamed explain the progress of a project in Abu Dhabi that has already eliminated oil flaring during testing and production, with the ultimate aim of eliminating all hydrocarbon flaring within a year.
See: Stanley Reed. "The Stealth Oil Giant: Why Schlumberger, long a hired gun in oil-field services, is becoming a major force and scaring Big Oil". Business Week. 2008-01-03
Shell Oil Company
, , Wikipedia, the free encyclopedia, (2010)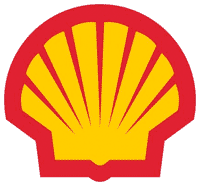 On May 28, 2010, Bloomberg.com reported that Royal Dutch Shell Plc agreed to buy closely held East Resources Inc., for about $5 billion.
East Resources will no longer be a U.S. corporation.
Author Ken Saro-Wiwa was a member of the Ogoni people, an ethnic Nigerian minority whose hometown, Ogoniland, in the Niger Delta has been targeted for crude oil extraction since the 1950s and which has suffered extreme and unremediated environmental damage from decades of indiscriminate oil waste dumping. Saro-Wiwa, initially as spokesperson, and then as President, of the Movement for the Survival of the Ogoni People (MOSOP), led a nonviolent campaign against environmental degradation of the land and natural waters of Ogoniland by the operations of multinational oil companies, especially Shell.
At the peak of his non-violent campaign, Saro-Wiwa and the other members of the Movement for the Survival of the Ogoni People were arrested, hastily tried by a special military tribunal, and hanged in 1995 by the Nigerian military government of General Sani Abacha, all on charges widely viewed as entirely politically motivated and completely unfounded. Their executions provoked international outrage and resulted in Nigeria's suspension from the Commonwealth of Nations.
Shell has been brought on trial in New York with the accusation of having collaborated with the military executions, and in June 2009, it has settled out of court for US $15 million to bring the case to an end.
See: Ed Pilkington. "Shell pays out $15.5m over Saro-Wiwa killing." The Guardian. June 9, 2009.
See: Jad Mouawad. "Shell to Pay $15.5 Million to Settle Nigerian Case." NYT. June 8, 2009.
Why the delay in remediation?
See: Shell Oil statement. Flaring in Nigeria.
The gas gathering programme has been delayed by funding shortfalls from the major government shareholder and security concerns which meant it was not safe for staff to work in large parts of the delta for long periods of time.
However, Shell Petroleum Development Company of Nigeria Limited (SPDC) and its partners continue to invest in reducing flares and have resumed work on many delayed projects and started new ones. SPDC is currently improving or installing associated gas gathering (AGG) facilities at 19 flowstations.
In late 2009, projects were sanctioned to install AGG facilities at a further seven flowstations. In total these projects represent an investment of over $2 billion. When all this work is completed it will cover more than 75% of SPDC's production potential.
Shell and Hydraulic Fracturing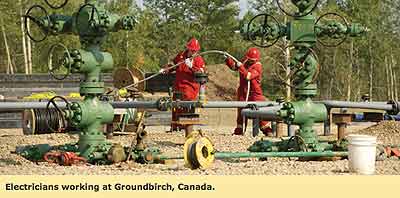 At Shell we have decades of experience with this technology and we continue to follow strict measures to protect drinking water supplies.
South Africa Endorses Plans For Karoo Gas-Drill Freeze, Ending Shell Hopes
, , Bloomberg.com, (2011)

South Africa's Cabinet endorsed the Department of Mineral Resources' decision to declare a moratorium on natural-gas drilling in the Karoo region, halting plans by Royal Dutch Shell Plc (RDSA), Europe's largest oil company.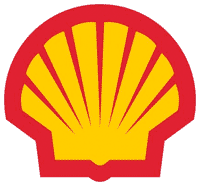 The department will lead an investigation into the implications of hydraulic fracturing, or fracking, that will include assessing the environmental effects, government spokesman Jimmy Manyi told reporters in Pretoria today.
"Cabinet has made it very clear that a clean environment together with all the ecological aspects will not be compromised," Manyi said. The cabinet is aware of the "urgency that is required in this respect," he added.
Royal Dutch Shell applied for permission to drill about 24 wells in an area of about 90,000 square kilometers (34,749 square miles). The company faces opposition in the sheep- and game-farming region, an arid stretch across northwest South Africa, from the Treasure the Karoo Action Group, which fears environmental damage.
See: Aragom Eloff. Ivo Vegter vs. the Fracking Fringe. 2011-04-18.
See: Julienned DuToit. Fracking the Karoo - The People Say No! 2011-01-31.
See: Lewis Pugh. Frack Off, Shell!. 2011-04-05
See: Donald Paul. Drill Baby Drill. 2011-04-18.
Statoil
, , Statoil – a leading energy company in oil and gas production, (2010)
Statoil is one of the large companies being investigated by the U.S. House Energy and Commerce Committee to see if the gas extraction method known as hydraulic fracturing, or fracking, is a hazard to groundwater drinking supplies.
Statoil is a multinational energy corporation based in Norway. In 2008, Statoil acquired a 32.5% interest in the Marcellus shale gas acreage from Chesapeake Energy Corporation.
See: Marcellus Shale Gas
Superior Well Services - Products - Fracturing Systems
, , Superior Well Services - Products - Fracturing Systems, (2010)

Superior Well Services is one of the large companies being investigated by the U.S. House Energy and Commerce Committee to see if the gas extraction method known as hydraulic fracturing, or fracking, is a hazard to groundwater drinking supplies.
After the announcement to take over Superior Well Services, Inc. (NASDAQ:SWSI) by Nabors Industries Ltd. an investigation on behalf of current investors of Superior Well Services, Inc. (Public, NASDAQ:SWSI) over possible shareholder claims based on breach of fiduciary duty by certain members of the Superior Well Services board of directors in connection with their attempt to sell Superior Well Services, Inc. (NASDAQ:SWSI) was announced.
If you are a current investor in Superior Well Services, Inc. (NASDAQ:SWSI) shares, who purchased your SWSI stock prior to Monday, August 09, 2010, and/or have information relating to the investigation, you have certain options and you should contact the Shareholders Foundation, Inc by email at mail@shareholdersfoundation.com or call +1 (858) 779 - 1554.
Fracturing Systems: Hydraulic fracturing is a process of pumping water, oil, and/or gases with a proppant at sufficient pressure to create a fracture in a chosen formation. The goal is to create and prop open the fracture.
Talisman Energy USA Inc. - Home
, , Talisman Energy USA Inc., (2010)

On Aug. 2, 2010, Pennsylvania officials fined Talisman Energy USA, formerly Fortuna Energy, of Horseheads, N.Y., $15,506 for the November 2009 spill at the Klein gas well in Troy, PA.
DEP Officials say the spill of fluids used in the fracturing process polluted a small waterway.
"DEP's investigation in late November 2009 determined that Talisman spilled between 4,200 to 6,300 gallons of fracking flowback fluids when a pump failed and sand collected in a valve," said DEP North-Central Oil and Gas Program Manager Jennifer Means.
The fluids flowed off the well pad and toward a wetland, and a small amount ultimately discharged to an unnamed tributary to Webier Creek, which drains into the upper reaches of the Tioga River, a cold water fishery.
Talisman successfully completed DEP's Act 2 process for spill cleanup activities.
Talisman Energy USA had 65 violations over the past 2 1/2 years, the fifth highest in the state of Pennsylvania, as reported in a a report released Monday by the Pennsylvania Land Trust Association, which identified the Marcellus drillers with the most violations in Pennsylvania from Jan. 1, 2008 to June 25, 2010.
"Since 2002, Fortuna/TEUSA has invested in the Twin Tiers and become New York's most successful natural gas producer.  On January 1, 2010 Fortuna Energy became Talisman Energy USA."