Contains the keyword legal
History of Litigation Concerning Hydraulic Fracturing to Produce Coalbed Methane. LEAF (Legal Environmental Assistance Foundation) and The Hydraulic Fracturing Decisions.
, , (2009)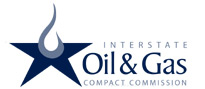 This paper reviews the history of litigation concerning hydraulic fracturing.
LEAF Petitions EPA to Withdraw Primacy—1994
In 1994, an organization known as Legal Environmental Assistance Foundation (hereinafter referred to as "LEAF") petitioned EPA to initiate proceedings to withdraw approval of the Alabama UIC program.
LEAF alleged that the Alabama program was deficient because it did not regulate hydraulic fracturing activities associated with coalbed methane gas production and the federal Safe Drinking Water Act (hereinafter referred to as "SDWA").
LEAF further alleged that the SDWA required regulation under federal guidelines over hydraulic fracturing operations. In 1995, EPA denied the petition because it determined that hydraulic fracturing did not fall within the definition of "underground injection" under the SDWA.
EPA had concluded that methane gas production wells, which are also used for hydraulic fracturing of the coalbeds, are not required to be regulated under the SDWA because the principal function of these wells is not the underground emplacement of fluids; their principal function is to produce coalbed methane gas.
See: IADC. "Alabama lawsuit poses threat to hydraulic fracturing across U.S." Drilling Contractor. Jan/Feb. 2000.
See: Affirming Gasland
Northeast Ohio faction fights uphill battle over oil and gas well drilling laws | cleveland.com
, , The Plain Dealer, Cleveland, Ohio, (2009)
"A faction of Northeast Ohio residents and lawmakers fighting for stricter regulations on oil and gas well drilling are getting outmuscled in the Ohio Senate and are turning their attention to the House.  The state's powerful oil and gas industry, Gov. Ted Strickland's administration and lawmakers from outside greater Cleveland have teamed up to produce a set of rules its critics say don't do enough to protect homeowners living near wells."
Pennsylvania lawsuit says drilling polluted water
, , Reuters, (2009)

Pennsylvania lawsuit says drilling polluted water
A Pennsylvania landowner is suing an energy company for polluting his soil and water in an attempt to link a natural gas drilling technique with environmental contamination.
George Zimmermann, the owner of 480 acres in Washington County, southwest Pennsylvania, says Atlas Energy Inc. ruined his land with toxic chemicals used in or released there by hydraulic fracturing.
(Editing by Mark Egan and Philip Barbara)
See: Benzene Leukemia Law Blog. Burke and Eisner. PA Suit Claims Drilling Causing Water Contamination
Priscilla Summers v. Earth Island Institute Supreme Court Decision : ACOEL
, , American College of Environmental Lawyers (ACOEL), (2009)

In a 5-4 decision, the Supreme Court held that environmentalists' lacked standing to challenge a Forest Service regulation limiting public involvement in timber sales decisions. Priscilla Summers v. Earth Island Institute, et al.,__U.S.__(No. 07-463, March 3, 2009).
The decision found that respondents' argument that they have standing because they suffered procedural injuryi.e., they have been denied the ability to file comments on some Forest Service actions—fails because such a deprivation without some concrete interest affected thereby is insufficient to create Article III standing.
Justice Scalia, writing for the majority, stated "Accepting an intention to visit the National Forests as adequate to confer standing to challenge any Government action affecting any portion of those forests would be tantamount to eliminating the requirement of concrete, particularized injury in fact."
The following is a link to the Court's opinion: http://www.supremecourtus.gov/opinions/08pdf/07-463.pdf
Tim DeChristopher | Bidder70
, , Bidder70, (2009)


Tim is facing ten years in prison on two felony charges for derailing an illegal sale of public land from the outgoing Bush administration to private oil and gas developers.
A full year after I disrupted the BLM oil and gas auction, I still have no regrets for my actions. The legal case against me continues.
This kind of trial is nothing but intimidation-- and the best answers to intimidation are joy and resolve. That's what we'll need in Utah.
Read joint letter explaining the urgent need for solidarity on February 28.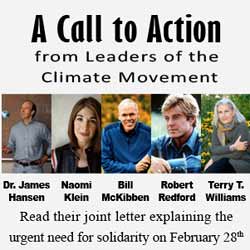 See: "Student Disrupts Government Auction of 150,000 Acres Of Wilderness For Oil & Gas Drilling."
See: As climate crime continues, who are we sending to jail? Tim DeChristopher?

Tree spiker : from Earth First! to lowbagging: my struggles in radical environmental action
, , New York, (2009)
Roselle—cofounder of the Rainforest Action Network and Earth First!—offers a memoir of his career in radical activism—from teenage Yippie to career environmentalist, who admits he shares his generation's complicity in creating the mess we are in today and is now fighting against mountaintop-removal coal mining in Appalachia.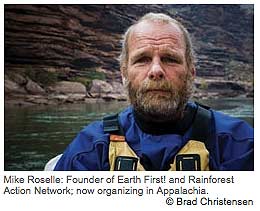 Video excerpt from interview by Michael C O'Connell (hawriverfilms) of Mike Roselle, from a jail cell in West Virginia. Mr. Roselle has protested mountaintop removal coal mining in West Virginia. Interview shot for upcoming project by Haw River Films.
Non-Violent Civil Disobedience has been an option for citizens to attempt to change laws that are considered unfair or are not being enforced by government regulatory agencies.
See: Student Disrupts Government Auction of 150,000 Acres Of Wilderness For Oil & Gas Drilling.
See: U.S. Fines Mine Owner $20 Million for Pollution
See: Gas Drillers Plead Guilty to Felony Dumping Violations
See: Criminalising civil disobedience
See: Two held on $100,000 bails for non-violent protest; Demand Bail Reduction: Call Magistrate Snodgrass 304-369-7360
Untested Waters: The Rise of Hydraulic Fracturing in Oil and Gas Production and the Need to Revisit Regulation
, , Fordham Environmental Law Review, Volume 20, Issue Number 1, p.115 - 169, (2009)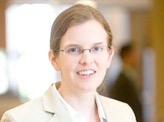 Abstract:
As the hunt for important unconventional gas resources in America expands, an increasingly popular method of wringing resources from stubborn underground formations is a process called hydraulic fracturing – also described as hydrofracturing, fracking, or fracing – wherein fluids are pumped at high pressure underground to fracture a formation and release trapped oil or gas.
Operators have fraced wells for more than fifty years, but the practice has recently grown rapidly in areas like the Barnett Shale of North Central Texas and the Marcellus Shale beneath Pennsylvania, New York, and other Appalachian states.
This Article describes the process of hydraulic fracturing, existing studies of the environmental effects of hydraulic fracturing, and the laws and regulations that apply to the practice. It argues that there is no direct federal regulation of the fracing process (the pumping of fluids into a wellbore), that court guidance in this area is limited, and that state regulations differ substantially.
Although other general regulations apply to the practice, the Article argues that in light of the dearth of regulation specific to fracturing in some areas, more study of the potential environmental and human health effects of fracing is needed in order to determine whether current regulation is sufficient. The EPA completed a partial study in 2004, but this Article focuses on the deficiencies of that study and calls for a new, national, scientific study of the practice.
Conclusion:
...no one knows the full range of effects because they have not been adequately researched. The EPA's report is the most comprehensive to date, but was part of a highly-charged political process and was never completed, because the EPA concluded, perhaps prematurely, that further study was unnecessary.
Furthermore, the report investigated fracing in only one type of formation – coalbeds – and assessed the impacts of one stage of fracing, failing to seriously consider concerns such as groundwater depletion and surface disposal of fracing waste.
The highest regulatory priority for fracing should be the instigation of a federal, scientifically rigorous report prepared by the National Academy of Sciences or a similar "neutral" body and a simultaneous regulatory risk-limiting mechanism.
Next, based on the data contained within this report, and given the risks of certain types of fracing, Congress should consider reversing its 2005 exemption of fracing from the Safe Drinking Water Act; it should not wait to commence this process pending the completion of the report, although the report will be essential for future statutory and regulatory decisions.
...In the rush to extract essential resources, a process which itself contributes to human wellbeing, other aspects of human wellbeing – the quality of the environment and public health – must not be cast aside as a mere impediment to progress.
See: Oil & Gas Accountability Project (OGAP)
See also: Pew Campaign for Responsible Mining
Climate Ground Zero
, , Climate Ground Zero, (2010)

Climate Ground Zero started out as a campaign against oil and tar sands in Montana and Canada. Upon requests by local activists working to end mountaintop removal coal mining, Climate Ground Zero moved to Rock Creek, West Virginia.
Coal River Mountain was the last mountain to remain untouched by mountaintop removal mining in the Coal River Valley. Climate Ground Zero's direct action campaign took off when Coal River Mountain was clear-cut in preparation for mountaintop removal in February of 2009. Since then over 150 people have been arrested in various actions on Coal River Mountain and other mountaintop removal sites in West Virginia.
Climate Ground Zero is not an environmental organization; it is an ongoing campaign of non-violent civil resistance in southern West Virginia to end mountaintop removal. Here at Climate Ground Zero we believe that the irrevocable destruction of the mountains of Appalachia and its accompanying toll on the air, water, and lives of Appalachians necessitates continued and direct action.
In West Virginia, an overwhelming majority of residents are opposed to mountaintop removal mining. However, political interests are highly invested in the coal industry and the EPA and the West Virginia DEP refuse to take real action to protect the environment and the people of West Virginia.
In order to stop mountaintop removal, we need to awaken the country to the devastation that mountaintop removal inflicts on one of the most biodiverse regions in the world, Appalachia, and its people. Since Climate Ground Zero came to West Virginia in 2009, hundreds of activists have come to the coalfields and stood with the residents of West Virginia to demand an end to the destruction.
Climate Ground Zero is a project of the American Forest Alliance and works in cohesion with Mountain Justice, a regional network of organizations in Kentucky, Tennessee, Virginia, and West Virginia, that seek the abolition of mountaintop removal in Appalachia and throughout the country.
July 25, 2009
Dish Mayor Calvin Tilman Testifies at Railroad Commission - Oil and Gas Lawyer Blog
, , Oil and Gas Lawyer Blog, (2010)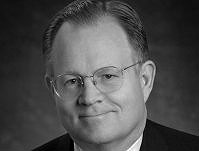 The Mayor of tiny Dish, Texas, north of Fort Worth, continues to stir up controversy with his claims of air pollution from oil and gas activities causing health concerns in his community. The mayor appeared at the RRC's January 12 open hearing. You can watch his testimony here (go to item 17 on the agenda).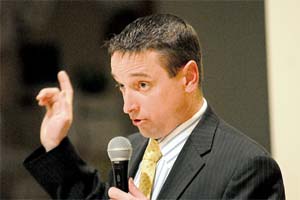 The mayor's appearance was prompted by an item placed on the agenda by Commissioner Michael Williams, which in turn had been prompted by a letter sent to the Commissioners by State Rep. Ron Burnam. Rep. Burnam's letter asked the RRC to place a moratorium on permits for wells in the Barnett Shale around Fort Worth until the Texas Commission on Environmental Quality (TCEQ) has finished its investigation of air quality in the area.
In response, Commissioner Williams proposed that the Commissioners write a letter to the Texas Attorney General asking for a formal opinion whether the RRC has authority to issue such a moratorium. (Rep. Burnam has also asked the City of Fort Worth to issue a similar moratorium on well permits in the city limits.) I have written about the controversy concerning the town of Dish in a previous post.
John McFarland is a shareholder at Graves, Dougherty, Hearon & Moody in Austin Texas specializing in representation of landowners and mineral owners in oil and gas matters in Texas.
See: Health Issues Follow Natural Gas Drilling In Texas
See: How Should We Do the Mountain?: Who the heck is Calvin Tilman?
Earthjustice
, , Earthjustice: Environmental Law: Because the Earth Needs a Good Lawyer, (2010)

Earthjustice Fast Facts
Did you know? We've provided legal representation at no cost to more than 700 clients, from the Natural Resources Defense Council and the Wilderness Society to community-based coalitions. Here are some more facts about us:
Founded in 1971 as the Sierra Club Legal Defense Fund
Name changed to Earthjustice in 1997
Headquartered in Oakland, CA
Number of employees: ~150
President: Trip Van Noppen