Tim DeChristopher | Bidder70
Publication Type:
Web Article
Source:
Bidder70 (2009)
URL:
http://www.peacefuluprising.org/climate-trial
Keywords:
legal
Notes:


Tim is facing ten years in prison on two felony charges for derailing an illegal sale of public land from the outgoing Bush administration to private oil and gas developers.
A full year after I disrupted the BLM oil and gas auction, I still have no regrets for my actions. The legal case against me continues.
This kind of trial is nothing but intimidation-- and the best answers to intimidation are joy and resolve. That's what we'll need in Utah.
Read joint letter explaining the urgent need for solidarity on February 28.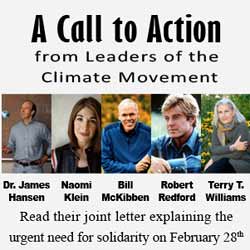 See: "Student Disrupts Government Auction of 150,000 Acres Of Wilderness For Oil & Gas Drilling."
See: As climate crime continues, who are we sending to jail? Tim DeChristopher?