Contains the keyword government
Energy & Commerce Committee Investigates Potential Impacts of Hydraulic Fracturing
, , U.S. Congress. Committee On Energy and Commerce, (2010)


There are now two websites for the House Energy and Commerce Committee- one for the Republicans and one for the Democrats. For citizens in the U.S., we are still living a Reaganesque "con", an obvious "tell" that Washington is more broken and redundant than ever.
In the David Mamet film, House of Games | Human Nature is a Sucker Bet (1987), Mike and his men [pulling a con job on Margaret] ...see that the jig is up, and nonchalantly pack up the con. Mike apologizes, saying it was "only business … nothing personal." Margaret puts the pieces together. She spies on the con men--among whom is the "dead" cop/mark--and confirms that everything was a ruse to swindle her out of $80,000...
...Margaret pulls out her gun and dares Mike to beg for his life. He refuses and she shoots him repeatedly until he dies.
Much later, we see that Margaret has gone on with her life, a changed woman, now able to "forgive herself." She shows no sign of guilt or remorse for murdering Mike. She steals a gold lighter out of the purse of another woman in a restaurant and relishes the acquisition.
The energy business and its minions are fighting an undeclared war on the EPA, The Clean Water Act and public saftey. We are all being dragged into this con job. Their argument: the Clean Water Act does not directly address groundwater contamination. Groundwater protection provisions are included in the Safe Drinking Water Act, Resource Conservation and Recovery Act and the Superfund act.
Sounds redundant to me... just give me a cool drink of water 'fore i diiie. (Neil Zusman, 2011-02-02.)
Angelou chose "Just Give Me a Cool Drink of Water 'fore I Diiie" as the book's title because of her interest in "unconscious innocence," which she says is "even lovelier than trying to remain innocent." The title is a reference to her belief that "we as individuals ... are still so innocent that we think if we asked our murderer just before he puts the final wrench upon the throat, 'Would you please give me a cool drink of water?' and he would do so."Angelou has said that, if she "didn't believe that, [she] wouldn't get up in the morning." (Angelou, Maya; Elliot, Jeffrey M. (1989), Conversations with Maya Angelou, University Press of Mississippi, ISBN 0-87805-361-1.)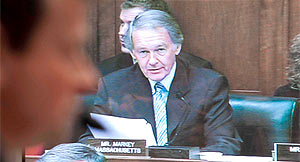 Rep. Edward Markey
Update February 2, 2011
See: Andrew Schenkel. "Fracking finger-pointing starts as drinking water violations roll in." Mother Nature Network. 2011-02-01.
A report linking the fracking industry to violations of the Safe Drinking water Act is putting the biggest names in the fracking industry on the defensive. Democrats in the House Energy and Commerce Committee released a report on Monday (2011-01-31) that claims 12 companies in several states dumped more than 30 million gallons of diesel fuel as part of a scheme to extract natural gas from underground space.
See: Tom Zeller Jr. "Diesel Use in Gas Drilling Cited as Violation of Safe-Water Law." NYT. 2011-02-01.
No permits for diesel-based fracking have been sought or granted since the Safe Drinking Water Act was amended in 2005.
Lee Fuller, a vice president for government relations with the Independent Petroleum Association of America, said that was because the E.P.A. had never followed up by creating rules and procedures for obtaining such permits and submitting them for public comment.
The agency did quietly update its Web site last summer with language suggesting that fracking with diesel was, indeed, covered as part of the underground injection program, which would suggest that permits should have been obtained. But Mr. Fuller's organization, along with the U.S. Oil and Gas Association, has gone to court to challenge the Web posting, arguing that it amounted to new rule-making that circumvented administrative requirements for notice and public commentary.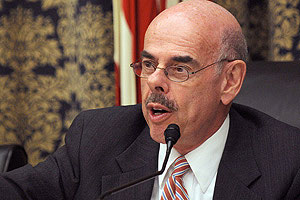 Rep. Henry Waxman
Thursday, February 18, 2010. "Chairman Henry A. Waxman and Subcommittee Chairman Edward Markey today sent letters to eight oil and gas companies that use hydraulic fracturing to extract oil and natural gas from unconventional sources in the United States. The Committee is requesting information on the chemicals used in fracturing fluids and the potential impact of the practice on the environment and human health."
As Chairman of the Committee on Oversight and Government Reform in the last Congress, Rep. Waxman requested and received information from the largest hydraulic fracturing companies - Halliburton, BJ Services, and Schlumberger - on the chemicals used in their fracturing fluids.
According to this data, two of these companies used diesel fuel in their fracturing fluids between 2005 and 2007, potentially violating a voluntary agreement with EPA to cease using diesel. Halliburton reported using more than 807,000 gallons of seven diesel-based fluids. BJ Services reported using 2,500 gallons of diesel-based fluids in several fracturing jobs. Halliburton and BJ Services also indicated that they used other chemicals - such as benzene, toluene, ethylbenzene, and xylene - that could pose environmental risks in their fracturing fluids.
Today Chairmen Waxman and Markey sent letters seeking additional information from Halliburton, BJ Services, and Schlumberger on these and related issues. The Chairmen requested similar information from five smaller fracturing companies that comprise a growing share of the market: Frac Tech Services, Superior Well Services, Universal Well Services, Sanjel Corporation, and Calfrac Well Services. In addition, the Chairmen sent a memo to Members of the Subcommittee on Energy and Environment detailing the background on the issue, including EPA's recent work on hydraulic fracturing, the Committee on Oversight and Government Reform's investigative findings, and the need for additional oversight and investigation."
Documents included: Examining the Potential Impact of Hydraulic Fracturing, Feburary 18, 2010
Letter to Andrew Gould
Letter to Roger Willis
Letter to David J. Lesar
Letter to Douglas R. Ramsay
Letter to Darin MacDonald
Letter to J.W. Stewart
Letter to Dan Wilks
Letter to David E. Wallace
See: Sabrina Shankman. "Congress Launches Investigation Into Gas Drilling Practices." ProPublica. 2010-02-19.
See: Abrahm Lustgarten. "Clearing the Air on ProPublica's Drilling Pollution Story." ProPublica. 2011-01-31
See: Candice O'Grady. "Newsweek Greenwashes the Oil Lobby for Real." FAIR. Feb. 2010.
See: Committee Democrats Release New Report Detailing Hydraulic Fracturing Products
See: House committee votes to deny climate change
See: Action Center | Republicans for Environmental Protection (REP America)
Energy Policy Act of 2005-Critique
, , Wikipedia, the free encyclopedia, (2010)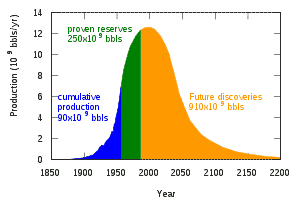 A logistic distribution shaped production curve, as originally suggested by M. King Hubbert in 1956.
See the U.S. Department of Energy (DOE), International Energy Outlook, for information on energy trends.
The Energy Policy Act of 2005 (Pub.L. 109-58) is a bill passed by the United States Congress on July 29, 2005, and signed into law by President George W. Bush on August 8, 2005, at Sandia National Laboratories in Albuquerque, New Mexico. The act, described by proponents as an attempt to combat growing energy problems, changed US energy policy by providing tax incentives and loan guarantees for energy production of various types.
Criticisms
The Washington Post contended that the spending bill is a broad collection of subsidies for United States energy companies; in particular, the nuclear and oil industries.
..."House Majority Leader Tom DeLay (R-Tex.) also managed to insert at least $500 million in subsidies over a 10-year period -- with the option to double the amount -- for research into deep-water oil and gas drilling, a grant that many lawmakers expect to go to the Texas Energy Center in DeLay's home town of Sugar Land. The bill also includes royalty relief for deep-water drilling projects, a strategy that helped jump-start production in the Gulf during the 1990s..."
Senator Hillary Rodham Clinton made the bill an issue in the 2008 Democratic Primary by criticizing Senator Barack Obama's two votes supporting the bill, calling it the "Dick Cheney lobbyist energy bill."
This bill exempted fluids used in the natural gas extraction process of Hydraulic fracturing from protections under the Clean Air Act, Safe Drinking Water Act, and CERCLA. The proposed Fracturing Responsibility and Awareness of Chemicals Act would repeal these exemptions.
Please note that information taken from Wikipedia should be verified using other, more reliable sources. It is a good place to start research, but because anyone can edit Wikipedia, we do not recommend using it in research papers or to obtain highly reliable information.
Extraction-tax and campaign donations
, , Philly.com, (2010)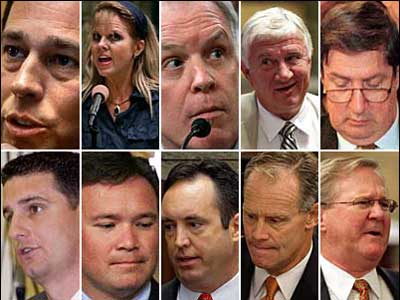 Between now and October 1st, the state legislature will debate a new tax on natural gas extraction. But because of a loophole in the state's campaign finance laws, legislators will likely cast their votes before disclosing recent donations. That means the gas industry and environmental groups can flood Harrisburg with contributions without anyone knowing where the money is going.
That's why "It's Our Money" and Common Cause have teamed up to create a place where lawmakers can report contributions in real time: Marcellus Shale Money Watch.
Pennsylvania's environmental destruction is not limited to gas drilling. See: Coalfield Justice Blog, "What Could Be Worse?
Here is what could be worse: all the concern about shale gas has made the public unaware of other continuing problems. Big coal continues to destroy houses and streams. No one is demanding that the long overdue Act 54-required study of longwall mining be released. Big coal is continuing to do as it will with coal ash. With budget cuts in DEP, longwall enforcement, which has never been adequate, will be even worse.
Fueling Washington
, , OpenSecrets.org, (2010)


The Center for Responsive Politics today launches "Fueling Washington," a week-long series of reports exploring the oil and gas industry's evermore intimate relationship with the federal government and the people elected to make the nation's laws.
With a president promising comprehensive climate change legislation and a massive oil spill in the Gulf of Mexico, the fossil fuels industry has dominated political discourse this year in ways it never before has.
And such debate comes at a time when the most interested of parties -- environmentalists, alternative energy producers, the oil and gas industry itself -- are pouring record amounts of money into national politics in an attempt to bend rules, regulations and politicians their way.
Using the tools of our "Fueling Washington" series, you can investigate the tide of influential cash from these deep-pocketed -- and sometimes not so deep-pocketed -- special interest groups. Below, we specifically highlight contributions and lobbying of three special interests with significant stakes in Congress' post-oil spill debates about climate change, greenhouse gas emissions, energy policy and jobs.
Celebrating our 25th anniversary in 2008, the Center for Responsive Politics is the nation's premier research group tracking money in U.S. politics and its effect on elections and public policy.
Nonpartisan, independent and nonprofit, the organization aims to create a more educated voter, an involved citizenry and a more transparent and responsive government.
Global Warming Frequently Asked Questions
, , Global Warming Frequently Asked Questions, (2010)

David Easterling, NOAA Satellite and Information Services: National Environmental Satellite, Data, and Information Service. (2008). One of the most vigorously debated topics on Earth is the issue of climate change, and the National Environmental Satellite, Data, and Information Service (NESDIS) data centers are central to answering some of the most pressing global change questions that remain unresolved. The National Climatic Data Center contains the instrumental and paleoclimatic records that can precisely define the nature of climatic fluctuations at time scales of a century and longer.
Internationally, the Intergovernmental Panel on Climate Change (IPCC), under the auspices of the United Nations (UN), World Meteorological Organization (WMO), and the United Nations Environment Program (UNEP), is the most senior and authoritative body providing scientific advice to global policy makers. The IPCC met in full session in 1990, 1995, 2001 and in 2007. They address issues such as the buildup of greenhouse gases, evidence, attribution, and prediction of climate change, impacts of climate change, and policy options.
See: Global Warming | The Pew Center on Global Climate Change.
See: Tales from the Ice: Explaining Rapid Climate Change
See: Exxon Confronts Nuns, Calpers Over Global Warming Plans, Boskin
See: Climate Zombies Now Run The House
See: Beware The Green Dragon! | Right Wing Watch
See: Sixty Lame Minutes
See: U.S. Greenhouse Gas Inventory Report (2010 Draft) | Climate Change - Greenhouse Gas Emissions | U.S. EPA
Graham Pulls Support for Major Senate Climate Bill
, , The New York Times, (2010)

In a move that may derail a comprehensive climate change and energy bill in the Senate, one of the measure's central architects, Senator Lindsey Graham, has issued an angry protest over what he says are Democratic plans to give priority to a debate over immigration policy.
Mr. Graham, Republican of South Carolina, said in a sharply worded letter on Saturday that he would no longer participate in negotiations on the energy bill, throwing its already cloudy prospects deeper into doubt. He had been working for months with Senators John Kerry, Democrat of Massachusetts, and Joseph I. Lieberman, independent of Connecticut, on the a legislation, which they were scheduled to announce with considerable fanfare on Monday morning. That announcement has been indefinitely postponed.
In his letter to his two colleagues, Mr. Graham said that he was troubled by reports that the Senate Democratic leader, Harry Reid of Nevada, and the White House were planning to take up an immigration measure before the energy bill. Mr. Graham has worked with Democrats in the past on immigration matters and was expected to be an important bridge to Republicans on that issue, as well as on energy.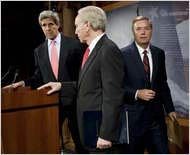 Brendan Smialowski for The New York Times
Senator Lindsey Graham, right, with Senators John Kerry and Joseph I. Lieberman at a news conference in November about proposed energy legislation. Mr. Graham sent his two colleagues a letter Saturday saying he would no longer participate in negotiations on the bill.
Keystone XL Pipeline - Issues
, , U.S. Senator Mike Johanns for the State of Nebraska, (2010)

Our country's need for energy is a top priority and oil is among the energy sources that will help us meet this need. An oil pipeline, known as the Keystone XL Pipeline, has been proposed by TransCanada Corporation to deliver oil from its source in Canada through Nebraska to refineries in Oklahoma and Texas.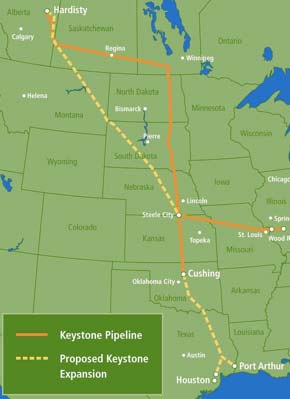 This pipeline has the potential to help our country meet our critical need for energy. However, I am concerned that the Federal review of the proposed pipeline has been inadequate, particularly in regard to the protection of the Ogallala Aquifer.
As your U.S. Senator, it is my duty to review federal actions that might impact resources critical to the State of Nebraska. I have repeatedly raised my concerns with federal regulators to urge the involvement of the correct agencies and experts in the permit review. We must ensure that regulatory actions related to this application safeguard the irreplaceable natural resource of the Ogallala Aquifer. During a Congressional hearing about pipeline safety, I asked numerous questions about the involvement of Federal pipeline experts in the review of this application. I also outlined my concerns about a potential lack of full Federal interagency coordination in a July 23, 2010 letter to the Department of State.
The Keystone XL Pipeline is a proposed 1,980 mile-long project with the capacity to carry up to 900,000 barrels a day of dirty tar sands oil from Canada to refineries on the Texas Gulf Coast -- with stops along the way in various other states.
See: Johanns Counters Latest Pipeline Claims. Nov. 4, 2010.
Sen. Mike Johanns today sent a letter to Secretary of State Hillary Clinton directly addressing statements opposing the consideration of additional alternative routes for the Keystone XL pipeline proposed by TransCanada Corporation. Johanns also reiterated his request for a Supplemental Draft Environmental Impact Statement.
A copy of the letter can be found here.
Earthworks
The pipeline will provide a conduit for the dirty tar sands oil of northeastern Alberta to reach United States markets. Tar sands oil is the dirtiest kind of oil currently available on the market -- both because of its climate change impacts, and because of its local environmental impacts.
In Canada the pipeline will extend approximately 327 miles from Hardisty, Alberta southeast through Saskatchewan before entering the United States in Morgan, Montana, where it will continue on southeast for 836 miles through South Dakota and Nebraska.
In Steele City, Nebraska the pipeline will connect to the 296-mile long Keystone Pipeline before resuming in Cushing Oklahoma, where it will continue on to its final destination at existing terminals in Nederland, Texas.
Both Hinchey and Johanns have been rebuffed by the President and the State Department. Might this be telling us about the direction the Administration is taking in regards to its Energy Policy? (Neil Zusman, 2010-11-01.)
See: Johanns asks Clinton for additional review of pipeline
See: Aleysha Rascoe. "Senators raise concerns on oil sands pipeline". Reuters. Oct. 29, 2010. Reposted by John Donovan. Royal Dutch Shell plc.com. 2010-10-31.
See: N.Y. Democrat Fires Back at Obama Admin in Fight Over Shale Drilling
See: Baucus Urges Fast Approval Of Keystone XL Pipeline
See: New Tar Sands Oil Pipeline Will Lock U.S. into Dangerous Consequences
See: H2Oil: An Explanation of the Tar Sands in Alberta
See: Staying Hooked on a Dirty Fuel - Why Canadian Tar Sands Pipelines Are a Bad Bet for the United States
Legislating Under the Influence
, , (2010)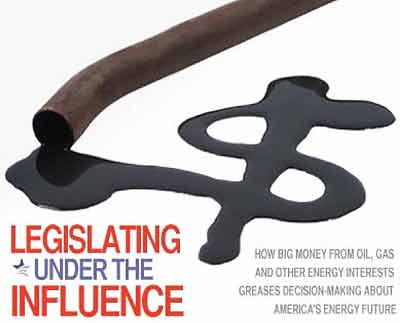 The energy industry's money floods Congress and regulatory agencies.
Executive Summary
Long before BP's Deepwater Horizon well began belching oil into the Gulf of Mexico, BP and the rest of the energy industry had turned loose a gusher of cash in Washington, saturating Congress and the federal government's regulatory apparatus.
In the last decade alone, big energy has pumped more than $2.9 billion into electing and lobbying federal officials and candidates, according to campaign finance and lobbying disclosure reports.
That's about $5.5 million for each of the 535 seats in the House and Senate.
As energy dollars flow freely in Washington, the development of alternative energy sources proceeds slowly, at best, and the nation's reliance on energy produced overseas grows deeper. Meanwhile, at the industry's urging, a 27-year moratorium on oil and gas drilling off the east coast has been allowed to expire and legislation to cap carbon emissions, pushing oil-gulping industries to find new energy sources and use petroleum more efficiently, has stalled in Congress.
See: Dirty Energy Money
See: Big Money Drives Up the Betting on the Marcellus Shale
See: Opponents to Fracking Disclosure Take Big Money From Industry
See: Fueling Washington
Lisa P. Jackson, EPA (lisapjackson) on Twitter
, , Lisa P. Jackson, EPA (lisapjackson) on Twitter, (2010)

Lisa Jackson's Twitter feed is one of the ways the Environmental Protection Agency communicates with the public. She has 13,000 followers and follows Barack Obama, Greenversations, the official Blog of the U.S. Environmental Protection Agency, among others. I don't know if she's read many of the eco-blogs covered on this site, but she's not following them on Twitter.
Public meetings have been the traditional way that the EPA has defensively communicated with the public in the past. Molly Ivins has written about Bob Spiegel's 1992 videotapes on the Edison Wetlands (New Jersey) in Bushwhacked.
I attended a meeting on hydraulic fracturing in Binghamton last year. The EPA seemed to do a great job. Judith Enck was a good listener. Bill Wolfe has a report on that meeting at WolfeNotes.com, "On the Threshold of a Fracking Nightmare".
Is our contact with EPA an outcome of a new transparency? How is it going?
Despite calls for transparency from Republicans (Sen. Johanns) and Democrats, (Rep. Hinchey); the Obama administration has signalled that the U.S. is intending to develop natural gas and promote Tar Sands development before environmental impact studies have been completed. There have been no social impact assessments (Freudenburg, 1986) on this development rush, just a lot of public gushing over the new Shalellionaires.
Despite the recent (1/11/11) announcement of a $7 million dollar EPA grant to fund cumulative human health risk assessment research, EPA science still emphasizes engineering over socioeconomic studies in both their selection of reviewers for the upcoming study of hydraulic fracturing and their communication with the public about toxic threats close to home.
Last year, a USGS (U.S. Geological Society) "fish" scientist was one of the co-authors of a study reported by Coal Tattoo:
West Virginians who live near streams polluted by coal mining are more likely to die of cancer, according to a first-of-its kind study published by researchers at West Virginia University and Virginia Tech.
Both the EPA and the USGS have many scientists doing research that cross over their specific areas of responsibility. The list of media contacts found below leaves me wondering how I would react if I were a West Virginian stream dweller. What about the stream by the school? What about our animals? Who can I call?
I have not found a Hydraulic Fracturing media representative as of 1/11/11. Hydraulic Fracturing deserves a subject area and its own media representative from this Federal Agency. (Neil Zusman, 2011-01-11.)
See: "Seven Priorities for EPA's Future", a Memorandum from Lisa P. Jackson, Administrator to all EPA Employees. (Jan. 12, 2010).
Air Quality
Chemical Risk Management
Children's Health
Climate Change
Drinking Water
Drinking Water Security
Emergency Response
Endocrine Disruptors
Enforcement
Enforcement Advisory
Environmental Education
Environmental Information
Environmental Justice
Federal advisory committees
FOIAs (Freedom of Information Acts)
Fuels
Ground Water
Hazardous Waste
Health Risk Assessments
Homeland Security
Radiation
Recycling
Solid Waste
Superfund
Toxics
Tribal Issues
Underground Storage Tanks
Wastes
Wastewater
Water
Watersheds
Wetlands
Yucca Mountain
Ms. Jackson maintains a blog and this Twitter feed and is the person responsible for the Office of the Administrator. Press releases may be received by email automatically here:
Find contacts for specific topics in the table on the Media Contacts link above or call the general phone line: 202-564-4355.
See: EPA in the Crosshairs | Mixplex