Graham Pulls Support for Major Senate Climate Bill
Publication Type:
Newspaper Article
Source:
The New York Times (2010)
ISBN:
0362-4331
URL:
http://www.nytimes.com/2010/04/25/us/politics/25graham.html?ref=earth
Keywords:
government
Notes:

In a move that may derail a comprehensive climate change and energy bill in the Senate, one of the measure's central architects, Senator Lindsey Graham, has issued an angry protest over what he says are Democratic plans to give priority to a debate over immigration policy.
Mr. Graham, Republican of South Carolina, said in a sharply worded letter on Saturday that he would no longer participate in negotiations on the energy bill, throwing its already cloudy prospects deeper into doubt. He had been working for months with Senators John Kerry, Democrat of Massachusetts, and Joseph I. Lieberman, independent of Connecticut, on the a legislation, which they were scheduled to announce with considerable fanfare on Monday morning. That announcement has been indefinitely postponed.
In his letter to his two colleagues, Mr. Graham said that he was troubled by reports that the Senate Democratic leader, Harry Reid of Nevada, and the White House were planning to take up an immigration measure before the energy bill. Mr. Graham has worked with Democrats in the past on immigration matters and was expected to be an important bridge to Republicans on that issue, as well as on energy.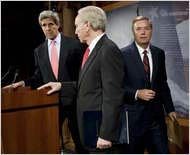 Brendan Smialowski for The New York Times
Senator Lindsey Graham, right, with Senators John Kerry and Joseph I. Lieberman at a news conference in November about proposed energy legislation. Mr. Graham sent his two colleagues a letter Saturday saying he would no longer participate in negotiations on the bill.