Biblio
K
Keystone XL Pipeline - Issues
, , U.S. Senator Mike Johanns for the State of Nebraska, (2010)

Our country's need for energy is a top priority and oil is among the energy sources that will help us meet this need. An oil pipeline, known as the Keystone XL Pipeline, has been proposed by TransCanada Corporation to deliver oil from its source in Canada through Nebraska to refineries in Oklahoma and Texas.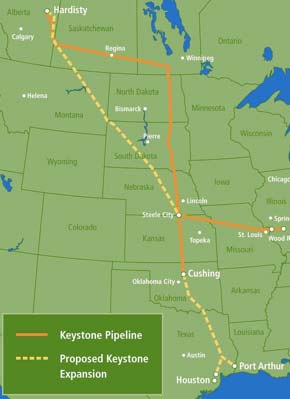 This pipeline has the potential to help our country meet our critical need for energy. However, I am concerned that the Federal review of the proposed pipeline has been inadequate, particularly in regard to the protection of the Ogallala Aquifer.
As your U.S. Senator, it is my duty to review federal actions that might impact resources critical to the State of Nebraska. I have repeatedly raised my concerns with federal regulators to urge the involvement of the correct agencies and experts in the permit review. We must ensure that regulatory actions related to this application safeguard the irreplaceable natural resource of the Ogallala Aquifer. During a Congressional hearing about pipeline safety, I asked numerous questions about the involvement of Federal pipeline experts in the review of this application. I also outlined my concerns about a potential lack of full Federal interagency coordination in a July 23, 2010 letter to the Department of State.
The Keystone XL Pipeline is a proposed 1,980 mile-long project with the capacity to carry up to 900,000 barrels a day of dirty tar sands oil from Canada to refineries on the Texas Gulf Coast -- with stops along the way in various other states.
See: Johanns Counters Latest Pipeline Claims. Nov. 4, 2010.
Sen. Mike Johanns today sent a letter to Secretary of State Hillary Clinton directly addressing statements opposing the consideration of additional alternative routes for the Keystone XL pipeline proposed by TransCanada Corporation. Johanns also reiterated his request for a Supplemental Draft Environmental Impact Statement.
A copy of the letter can be found here.
Earthworks
The pipeline will provide a conduit for the dirty tar sands oil of northeastern Alberta to reach United States markets. Tar sands oil is the dirtiest kind of oil currently available on the market -- both because of its climate change impacts, and because of its local environmental impacts.
In Canada the pipeline will extend approximately 327 miles from Hardisty, Alberta southeast through Saskatchewan before entering the United States in Morgan, Montana, where it will continue on southeast for 836 miles through South Dakota and Nebraska.
In Steele City, Nebraska the pipeline will connect to the 296-mile long Keystone Pipeline before resuming in Cushing Oklahoma, where it will continue on to its final destination at existing terminals in Nederland, Texas.
Both Hinchey and Johanns have been rebuffed by the President and the State Department. Might this be telling us about the direction the Administration is taking in regards to its Energy Policy? (Neil Zusman, 2010-11-01.)
See: Johanns asks Clinton for additional review of pipeline
See: Aleysha Rascoe. "Senators raise concerns on oil sands pipeline". Reuters. Oct. 29, 2010. Reposted by John Donovan. Royal Dutch Shell plc.com. 2010-10-31.
See: N.Y. Democrat Fires Back at Obama Admin in Fight Over Shale Drilling
See: Baucus Urges Fast Approval Of Keystone XL Pipeline
See: New Tar Sands Oil Pipeline Will Lock U.S. into Dangerous Consequences
See: H2Oil: An Explanation of the Tar Sands in Alberta
See: Staying Hooked on a Dirty Fuel - Why Canadian Tar Sands Pipelines Are a Bad Bet for the United States
Know Your Enemy | John Cole Cartoons
, , The Times-Tribune, Scranton, PA, (2010)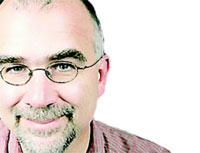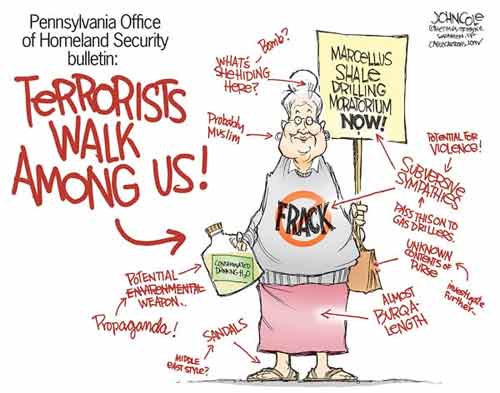 2010-09-18. Perhaps it's the case that there aren't enough real terrorists to track in the Keystone State.
John Cole has been The Times-Tribune's editorial cartoonist since April 2005. He draws five to seven full-color cartoons weekly.
See: Gas Wells Are Not Our Friends | Endless Mountains Visitors Guide: New Attraction in PA - Visit a Well Pad
See: Proposed gas drilling ban in city wins friends, foes such as Tom Ridge
See: Homeland Security in Cahoots with Fracking Gas Corporations
See: Pa. Governor Apologizes for Tracking Enviro Extremists, but Questions Remain - ProPublica