Proposed gas drilling ban in city wins friends, foes such as Tom Ridge
Publication Type:
Newspaper Article
Source:
Pittsburgh Post-Gazette (2010)
URL:
http://www.post-gazette.com/pg/10230/1080789-53.stm
Keywords:
press
Notes: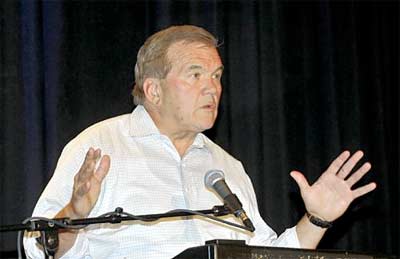 Former Pennnsylvania Governor Tom Ridge speaks at the Pittsburgh Business Times Energy Conference about Marcellus Shale drilling.
Diametrically opposed viewpoints on the Marcellus Shale boom competed for attention Tuesday with Pittsburgh City Councilman Doug Shields seeking a citywide ban on natural gas drilling and former Gov. Tom Ridge hailing the industry's "transformative opportunity" for Pennsylvania.
Despite questions about the legality of a ban, Mr. Shields unveiled a bill that would prohibit gas extraction anywhere in the city, even if drilling companies have already acquired leases from property owners. Speaking at a morning news conference at the City-County Building, Mr. Shields said drilling hearkened a return to Pittsburgh's polluted industrial past...
Last month, Mr. Ridge and his two consulting firms received a one-year, $900,000 contract to serve as strategic advisers to the Marcellus Shale Coalition, a Cecil-based trade group. However, the former two-term governor said he was approaching the job with the interests of his former constituents in mind...
...Mr. Shields described drillers as "quick-buck artists"; criticized their "paid mouthpieces," including Mr. Ridge; and said the city wouldn't be treated like a "colony" of a state government that puts the drilling industry's interests ahead of the people's. He also lashed out at Mayor Luke Ravenstahl, who opposes a citywide ban because of the economic development potential of gas extraction.
"I understand every government is strapped for cash, but that's not a reason to degrade the quality of life in our city and in our neighborhoods," he said.
See: Know Your Enemy | John Cole Cartoons
See: Pa. Governor Apologizes for Tracking Enviro Extremists, but Questions Remain - ProPublica