Contains the keyword companies
Exxon Confronts Nuns, Calpers Over Global Warming Plans, Boskin
, , Bloomberg.com, (2007)

Exxon Mobil Corp., the world's largest oil company, faces growing criticism from investors who say it's lagging behind competitors in addressing global warming.
The Sisters of Saint Dominic, a Roman Catholic order in New Jersey, want shareholders at today's annual meeting to approve a proposal for setting targets on greenhouse-gas reductions. The California Public Employees' Retirement System, the biggest U.S. public pension fund, seeks to oust Michael Boskin, the Exxon director who runs the board committee responsible for environmental issues.
...``Exxon's the industry laggard when it comes to climate change,'' said Laura Shaffer, manager of shareholder activities at the New York-based Nathan Cummings Foundation, which oversees $535 million.
``Given their market capitalization and their earnings, they shouldn't be lagging anybody on this issue.''
The foundation is part of an investor group that backs a proposal to force Exxon to boost spending on ethanol and other non-petroleum fuels.
Shareholders who attend the meeting at the Symphony Center in Dallas will also vote on a measure that seeks to rein in share buybacks, which have tripled in the past three years, in favor of a one-time dividend. Another would limit compensation for the company's top five executives, including Tillerson, to $500,000 a year.
Haynesville Shale Natural Gas Fracturing Job
, , YouTube, (2008)
Announcer: Paul Bison agreed back in March to let Chesapeake drill a well on his 80 acres in Keithville.
Paul Bison: Nobody in the section, in the neighborhood is gonna ever benefit unless somebody lets 'em drill and when we leased three years ago, we knew what it was for, we took the money and now it's time for somebody to step up to the plate and help em let it happen.
Natural Capitalism: The Next Industrial Revolution
, , (2008)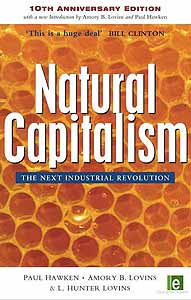 Hawken (The Ecology of Commerce) and Amory and Hunter Lovins of the Rocky Mountain Institute, an environmental think tank, have put together an ambitious, visionary monster of a book advocating "natural capitalism."
The short answer to the logical question (What is natural capitalism?) is that it is a way of thinking that seeks to apply market principles to all sources of material value, most importantly natural resources. The authors have two related goals: first, to show the vast array of ecologically smart options available to businesses; second, to argue that it is possible for society and industry to adopt them.
--Publishers Weekly
See: Paul Hawken. "Natural Capitalism | We can create new jobs, restore our environment, and promote social stability. The solutions are creative, practical, and profitable." Mother Jones. Mar/Apr97.
Chevron Human Energy Stories | Addressing Climate Change
, , YouTube, (2009)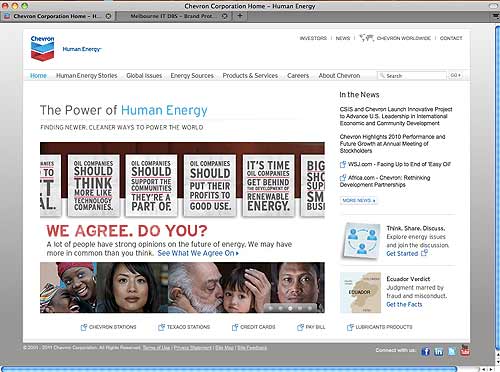 At Chevron, our businesses work in concert to provide the energy that drives human progress. Explore Chevron's companies to learn how we use our global resources, determination and ingenuity to meet today's complex energy challenges.
According to the EPA's National Emission Inventory, Chevron was responsible for 4,030,422.95 pounds of green house gas emission pollution in Plaquemines Parish, Louisiana in 2002.
Chevron was the first international oil company to operate in Nigeria and has, for almost 40 years of operations there, practiced the wasteful process of burning off of gas associated with oil drilling. [1]
Exxon Mobil Corp., ConocoPhillips, Chevron Corp. and Royal Dutch Shell Plc are as ill-prepared as BP Plc to halt and clean up an offshore oil spill because they all use "carbon copy" disaster plans, lawmakers said.
"The oil company response plans are great for public relations but these plans are virtually worthless in the event of a spill," said Representative Bart T. Stupak, a Michigan Democrat. "It could be said that BP is the one bad apple in the bunch, but unfortunately, they appear to have plenty of company." [2]
[1] Friends of the Earth. "The Case of Chevron." Friends of the Earth, 2011. http://action.foe.org/content.jsp?key=3493.
[2] Jim Efstathiou Jr. and Joe Carroll. Jun 15, 2010. "Exxon, Others Slammed for Carbon-Copy Oil-Spill Plans". Bloomberg News.
A Satirical Tale of Two Chevrons
The Power of Chevron (2009)
Chevron is working to reduce greenhouse gas (GHG) emissions while expanding its energy supply portfolio to meet the world's energy needs.
Chevron climate change advisor Arthur Lee is an expert in carbon capture and storage. He has participated in industry workshops and the Intergovernmental Panel on Climate Change's (IPCC) Report on Carbon Dioxide Capture and Storage.
The Power of Chevron's Human Energy (2008)
The Power of Chevron's Human Energy (2008)
Video mashup by Jonathan Mcintosh | rebelliouspixels.com.
This is an identity correction remix that turns Chevron's multi-million dollar Human Energy greenwashing PR blitz on its head.
Though the video targets Chevron Oil and their Orwellian "Human Energy" campaign, it also focuses more broadly on corporate control of global oil supplies and the connection to aggressive American foreign policy.
In this corrected commercial the company's true nature is exposed for what it is, a heartless profit-driven oil machine. The Chevron corporation is not only an ecological catastrophe around the world but still does business with the Burma dictatorship, has oil contracts in war-torn Iraq and is responsible for human rights atrocities in the Niger Delta, among other unpleasant and nasty things.
This Political Remix Video is a critical and transformative work that constitutes a Fair Use in accordance with Title 17 U.S.C. Section 107. Source footage from Chevron TV ads, US Army ad, BBC News, Future Weapons, CSI and several other short clips recorded off television.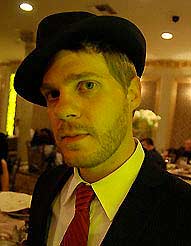 See: About Jonathan McIntosh | Rebellious Pixels - Digital Home of Jonathan McIntosh
Update:
Date: Mon, 06 Jun 2011 21:52:53 -0400
From: neil zusman <zusman@earthlink.net>
To: ChevronBPS <ChevronBPS@melbourneitdbs.com>
Subject: Re: Unauthorized Chevron Logo usage in your site - (http://frack.mixplex.com/content/chevron-corporation-human-energy)
- 1st Notice
On 6/6/11 5:31 PM, ChevronBPS wrote:
> Melbourne IT DBS Inc.
A recent review of your web site
*(http://frack.mixplex.com/content/chevron-corporation-human-energy)* indicated
that you are using one of Chevron's registered trademarks.
Chevron does not allow such use of its trademarks without express
written permission. We are advised that Chevron has no record of
such permission being granted.
If permission was granted from Chevron, please forward a copy of the
permission letter to Chevronbps@melbourneitdbs.com for their files.
If you did not receive permission from Chevron to post the logo on
your web site above, please remove the logo from your web site and
from all other locations where it is being used.
Thank you for your interest in my website. The piece needed editing.
As Chevron has requested, I removed the logo you are inquiring about and
replaced it with a screen shot of Chevron's website to ensure my
readers the clarity of context. The analysis of media and corporate
responsibility by energy sector companies are important to me. If you
wish to consider this matter further, I look forward to discussing your
concerns about Chevron's trademark rights in my representation of
Chevron as well as my Fair Use rights under Title 17 U.S.C. Section 107.
I welcome a productive and healthy relationship with Chevron and its
subsidiaries in the consideration of environmental issues and prudent
government regulation and trust that our covenant with the Earth will be
of mutual benefit.
Sincerely,
Neil Zusman
Fracking Resource Guide
See: News Updates on Chevron. 2011-06-06.

See: The Case of Chevron
See: BP Deepwater Horizon Committee Hears From Oil Industry Executives. 9-26-2010.
See: Poison Fire
See: Rancho Los Malulos | A satirical view from the McGill Brothers Lease
See: Natural gas: the commodity world's ugly duckling
See: Controversial gas 'fracking' extraction headed to Europe
See: As You Sow - Corporate Accountability, Shareholder Action, and ToxicsReduction
See: The Yes Men | Climate Pledge of Resistance
See: Heather Clancy. "Shareholder flack flies over fracking". SmartPlanet. June 3, 2011.
EnCana Buries Hydraulic Fracturing Pit Sludge in Unlined Pit May 14, 2009
, , YouTube, (2009)
Twenty-three days after EnCana completed hydraulic fracturing operations on the F11E, the liner is removed, some of the sludge is pumped out and the remainder - perhaps 70 barrels or more - is dozed in.
For over a year, at Journey of the Forsaken., I've been documenting EnCana's aggressive and irresponsible development of 60 natural gas wells around our home and the infamous area of the 2004 West Divide Creek natural gas blowout.
Lisa Bracken. 2009.
"If one of the pumper trucks had overturned on the county road, spilling this stuff into the environment, a hazardous materials unit would have responded, sequestered the area, potentially evacuated citizens and employed measures to safeguard first responders, citizens and the environment.
But because this is a hydraulic fracturing waste pit, out of sight of the public and on private land (owned, coincidently, by EnCana) it is simply covered up."
See: Lisa Bracken. Journey of the Forsaken.
A Fracking First in Pennsylvania: Cattle Quarantine
, , ProPublica, (2010)

Agriculture officials have quarantined 28 beef cattle on a Pennsylvania farm after wastewater from a nearby gas well leaked into a field and came in contact with the animals.
The state Department of Agriculture said the action was its first livestock quarantine related to pollution from natural gas drilling. Although the quarantine was ordered in May, it was announced Thursday.
Carol Johnson, who along with her husband owns the farm in north-central Pennsylvania, said she noticed in early May that fluids pooling in her pasture had killed the grass. She immediately notified the well owner, East Resources Inc.
"You could smell it. The grass was dying," she said. "Something was leaking besides ground water."
The Johnsons' farm sits atop the Marcellus Shale, a layer of rock that lies under swaths of West Virginia, Pennsylvania, New York and Ohio. As ProPublica has reported, reports have proliferated of groundwater pollution, spills and other impacts of hydraulic fracturing, a drilling technique that injects massive amounts of water, sand and chemicals underground to break up the formations that hold the gas.
America's Natural Gas Alliance
, , America's Natural Gas Alliance, (2010)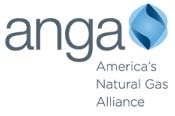 America's Natural Gas Alliance exists to promote the economic, environmental and national security benefits of greater use of clean, abundant, domestic natural gas.
We represent 34 of North America's largest independent natural gas exploration and production companies and the leading developers of the shale plays now transforming the clean energy landscape.
See ANGA's rebuttal of Josh Fox's Gasland.
American Association of Petroleum Geologists
, , American Association of Petroleum Geologists, (2010)

The membership of American Association of Petroleum Geologists (AAPG) includes geologists, geophysicists, CEOs, managers, consultants, students and academicians. The purpose of the organization is to foster scientific research, advance the science of geology, promote technology and inspire high professional conduct.