Natural Capitalism: The Next Industrial Revolution
Publication Type:
Book
Source:
Earthscan (2008)
ISBN:
9781844071708
URL:
http://books.google.com/books?id=KiepOn7khp0C&printsec=frontcover&dq=natural+capitalism&hl=en&ei=Lae1TJvxE8v9nAfYlcVq&sa=X&oi=book_result&ct=result&resnum=1&ved=0CDAQ6AEwAA#v=onepage&q&f=false
Keywords:
companies
Notes: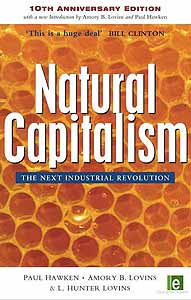 Hawken (The Ecology of Commerce) and Amory and Hunter Lovins of the Rocky Mountain Institute, an environmental think tank, have put together an ambitious, visionary monster of a book advocating "natural capitalism."
The short answer to the logical question (What is natural capitalism?) is that it is a way of thinking that seeks to apply market principles to all sources of material value, most importantly natural resources. The authors have two related goals: first, to show the vast array of ecologically smart options available to businesses; second, to argue that it is possible for society and industry to adopt them.
--Publishers Weekly
See: Paul Hawken. "Natural Capitalism | We can create new jobs, restore our environment, and promote social stability. The solutions are creative, practical, and profitable." Mother Jones. Mar/Apr97.