Exxon Confronts Nuns, Calpers Over Global Warming Plans, Boskin
, , Bloomberg.com, (2007)

Exxon Mobil Corp., the world's largest oil company, faces growing criticism from investors who say it's lagging behind competitors in addressing global warming.
The Sisters of Saint Dominic, a Roman Catholic order in New Jersey, want shareholders at today's annual meeting to approve a proposal for setting targets on greenhouse-gas reductions. The California Public Employees' Retirement System, the biggest U.S. public pension fund, seeks to oust Michael Boskin, the Exxon director who runs the board committee responsible for environmental issues.
...``Exxon's the industry laggard when it comes to climate change,'' said Laura Shaffer, manager of shareholder activities at the New York-based Nathan Cummings Foundation, which oversees $535 million.
``Given their market capitalization and their earnings, they shouldn't be lagging anybody on this issue.''
The foundation is part of an investor group that backs a proposal to force Exxon to boost spending on ethanol and other non-petroleum fuels.
Shareholders who attend the meeting at the Symphony Center in Dallas will also vote on a measure that seeks to rein in share buybacks, which have tripled in the past three years, in favor of a one-time dividend. Another would limit compensation for the company's top five executives, including Tillerson, to $500,000 a year.
Exxon's Oozing Texas Oil Pits Haunt Residents as XTO Deal Nears - BusinessWeek
, , Bloomberg.com, (2010)

--Editors: Flynn McRoberts, Susan Warren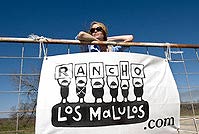 This article examines the lawsuit against Exxon filed by Texas rancher Elizabeth Burns.
See: Rancho Los Malulos | A satirical view from the McGill Brothers Lease
Oil's 'Ugly Side'
"This isn't something the states are proud to advertise," said Philip Dellinger, chief of the groundwater section in the Austin, Texas, office of the Environmental Protection Agency. "It's the ugly side of the oil and gas business."
The EPA says it has no authority to force companies to address contamination on active fields and must defer to Texas regulators, who let oil companies determine if sites need cleanup.
...Pollution from decades-old wells and waste pits isn't isolated to their ranch or Exxon. There are more than 100,000 old wells in Texas that haven't been capped and thousands of defunct gas-processing plants, compressor stations and related equipment that have never been dismantled, according to the Texas Land and Minerals Owners Association, which represents 1,200 ranchers, farmers and individuals who own stakes in oil and gas fields.
Contamination Migrates
The contamination may have migrated from a defunct oilfield on the north end of town, where sludge and other waste from wells was dumped in open dirt pits for decades, said J.T. Garcia, president of the Duval County Conservation and Reclamation District. He doesn't know who operated the field, which stopped pumping crude in the 1970s.
The Burns's ranch, which covers an area equal to the size of Brooklyn, is just one example of the lingering environmental damage across swaths of south, west and east Texas from what were once regarded as acceptable oilfield practices, said Patterson, the commissioner with the Texas General Land Office, which oversees oil leases that help fund the state's schools and universities.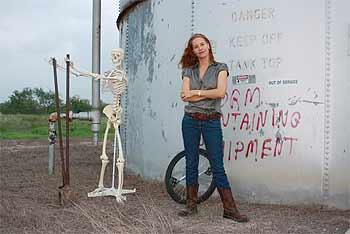 Mrs. Burns | Photo by Sharon Wilson
"They'd just dig a pit and put the oil in it and then they'd haul it off later, or maybe they wouldn't haul it off later, depending on the price of oil at the time," said Patterson. "That was the norm, and nobody said anything about it."
...Although lighter-weight hydrocarbons can degrade naturally in 40 or 50 years, the heavier molecules "are more persistent and pretty toxic," said Gregory Miller, project manager at Icon Environmental Services Inc., a Port Allen, Louisiana-based company that cleans up old oilfields. "You have no idea how bad some of these sites are."
Daunting Task
Patterson said cleaning up a tract as large as the Encinitos Ranch is impossible. Instead, the best solution may be to fence it off and monitor the pollution to ensure it doesn't migrate underground to other ranches...
..."Exxon's walked away from a lot of this stuff they built here, but the evil lurks," said Burns, who had planned to raise organic vegetables when she and her husband moved to the ranch with their sons five years ago. "You'd hope your kids can do something with this land, but now it's worthless."