Property Rights and Drilling
Publication Type:
Newspaper Article
Source:
Tompkins Weekly, Ithaca, NY, p.1, 14 (2011)
URL:
/frack_files/heavenrich_41811.pdf
Keywords:
press
Notes:

[At the Cornell 2011 Energy Conference]...Ithaca attorney Helen Slottje, from the Community Environmental Defense Council, addressed the nature of property rights.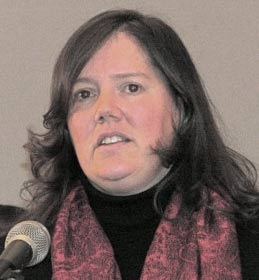 Helen Slottje
"People often say, 'It's my property and I can do anything I want to,'" she said, adding that there is an overarching understanding of public welfare. In addition, property ownership does not grant a person the right to use his property in a manner that interferes with another's use of his land.
"Each landowner has the right to quiet enjoyment of his property," Slottje said. And the rights property owners have over activities conducted on their land change with time.

"A very fundamental property right is the right to exclude," Slottje said. But New York law allows compulsory integration: the pooling of unleased landowners into drilling units when 60 percent of the land in a unit is leased.
When drilling into conventional reservoirs, where gas and oil flow from unleased land to the well, compulsory integration makes sense. But in shale, drillers must break the rock to release gas and that, said Slottje, involves a trespass.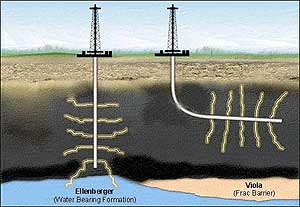 This diagram, from Petrocasa, explains the widely held gas industry view, "Horizontal drilling also has less impact on the environment. With horizontal drilling, it's possible to extract gas from property adjacent to the well. That means that natural gas can be removed from under property without being on the surface of the land." (Neil Zusman 2011-04-20). For property owners who don't lease, how is this a good thing?
"When you are integrated, you are left with no right to exclude," Slottje said. "You are left with toxic compounds beneath your land and you are not even compensated at market value." [At this time integrated landowners are not paid for use of the land and receive the lowest possible royalty, 12.5 percent.]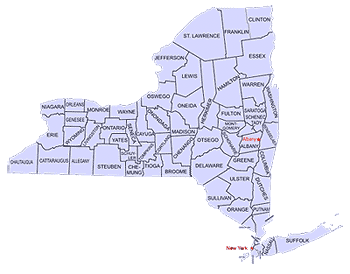 Slottje warned municipal officials to avoid getting trapped into thinking they have to provide road use agreements. In a 1969 case, the courts found that a corporation's claim to the right to profit was not greater than the residents' right to not be impacted. What that means, she explained, is that no corporation has the right to use local residential roads for high-impact industrial traffic. New York law implies that communities can say "no" to heavy trucks, preserving residential roads for local use.
The biggest problem Slottje sees facing municipalities is the increased erosion of enforcement of environmental regulations. "So we're swinging back to protecting the environment through property rights and home rule," she said.
See: Cornell 2011 Energy Conference (New!)
See: Spectra Energy Watch
See: State Decision Blocks Drilling for Gas in Catskills
See: There's Gas in Those Hills
See: Cornell Cooperative Extension (CCE): Landowner Information
See: Proposed gas drilling ban in city wins friends, foes such as Tom Ridge