There's Gas in Those Hills
Publication Type:
Newspaper Article
Source:
The New York Times (2008)
ISBN:
0362-4331
URL:
http://www.nytimes.com/2008/04/08/business/08gas.html?_r=1
Keywords:
press
Notes:
HUGHESVILLE, Pa. — At first, Raymond Gregoire did not want to listen to the raspy voice on his answering machine offering him money for rights to drill on his land. They want to ruin my land, he thought. But he called back anyway a week later to hear more.
By the end of February, he had a contract in hand for $62,000, and he pulled together a group of 75 neighbors who signed $3 million in deals.
"It's a modern-day gold rush in our own backyard," Mr. Gregoire said.
Kalim A. Bhatti for The New York Times.
Property owners at a seminar in Clarks Summit, Pa., on negotiating with gas lease companies.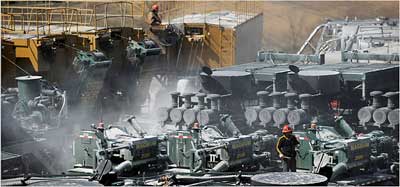 Jeff Swensen for The New York Times.
Fracture drilling workers run machinery on a farm outside of Pittsburgh. Companies are risking big money on rural Pennsylvania, producing billions of dollars' worth of natural gas.