Contains the keyword experts
Raising Elijah: Protecting Our Children in an Age of Environmental Crisis
, , (2011)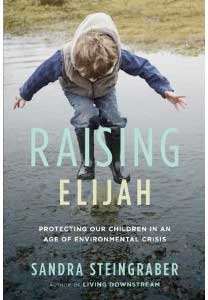 In the absence of federal policies that are protective of child development and the ecology of the planet on which our children's lives depend, we serve as our own regulatory agencies and departments of the interior...
Thoughtful but overwhelmed parents correctly perceive a disconnect between the enormity of the problem and the ability of individual acts of vigilance and self-sacrifice to fix it.
Environmental awareness without corresponding political changes leads to paralyzing despair...We feel helpless in our knowledge, and we're not sure we want any more knowledge.
You could call this well-informed futility syndrome. And soon enough, we are retreating into silent resignation rather than standing up for abolition now.
--Sandra Steingraber. Raising Elijah. 2011.
"We shouldn't wreck this place down, right, Mom?"
--Elijah, age six,the author's son.
"Eco-biologist, cancer survivor, activist, mother of two, and author of books about environmental hazards and their effects (including Living Downstream and Having Faith), Steingraber applies her knowledge and philosophy to the challenge of raising children in our toxic, climate-threatened world. She connects many child health issues, including asthma, behavioral problems, intellectual impairments, and pre-term birth to hormone-disrupting, brain-damaging, and otherwise dangerous environmental factors. Chapters tackle weighty problems–diminished fertility; how chemicals infiltrate mothers' milk; air quality and the ozone hole; neurotoxicology; hydraulic fracturing–and how they affect children and families. Two major themes emerge: first, current environmental policies must change to safeguard and support the health of children and, second, we must end our dependence on toxic fossil fuels. Less a guidebook for conscientious parents than an alarming and sobering human rights polemic, the book's narrative is nevertheless a persuasive, personal call to action." —Publisher's Weekly
See: Living Downstream: An Ecologist's Personal Investigation of Cancer and the Environment
See: Mira's Story: My Amazing Daughter's Fight Against Cancer
See: Poisoned profits : the toxic assault on our children
See: The Case for a Truth and Reconciliation Commission on Toxic Hazards
See: Fracking: Implications for Human and Environmental Health
See: Food and Water Watch
Scientific Study Links Flammable Drinking Water to Fracking
, , OnEarth Magazine, (2011)

For the first time, a scientific study, has linked natural gas drilling and hydraulic fracturing with a pattern of drinking water contamination so severe that some faucets can be lit on fire.
The peer-reviewed study, published today in the Proceedings of the National Academy of Sciences, stands to shape the contentious debate over whether drilling is safe and begins to fill an information gap that has made it difficult for lawmakers and the public to understand the risks...
They were alarmed by what they described as a clear correlation between drilling activity and the seepage of gas contaminants underground, a danger in itself and evidence that pathways do exist for contaminants to migrate deep within the earth.
"We certainly didn't expect to see such a strong relationship between the concentration of methane in water and the nearest gas wells. That was a real surprise," said Robert Jackson, a biology professor at Duke and one of the report's authors.
See: U.S. Congress. Committee on Space, Science, and Technology. "Hearing Highlights Lack of Objectivity in Draft EPA Fracking Study--No Evidence of Drinking Water Contamination from Fracking, Witnesses Say". May 11, 2011
Methane Fouls Water
See also: Ritter, Stephen K., and Glenn Hess. "Methane Fouls Well Water." Chemical & Engineering News, May 16, 2011.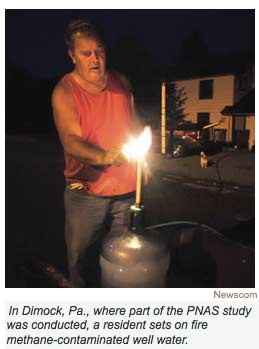 A study by Duke University researchers provides the first scientific confirmation of a link between natural gas drilling in organic-rich shale deposits and methane-contaminated residential well water. The study's release has rekindled the debate among the oil and gas industry, environmental advocacy groups, and lawmakers over health and safety concerns about natural gas drilling methods, which are largely unregulated.
When environmental chemist Robert B. Jackson and coworkers at Duke University sampled 68 residential wells in south central New York and northeastern Pennsylvania, they found no evidence that chemicals used in hydraulic fracturing—or fracking, the most widely used drilling method to extract methane from shale beds—had percolated into drinking water, as some fear.
The scientists instead found that water wells within 1 km of active gas extraction sites had methane levels of 19.2 mg/L on average, compared with 1.1 mg/L on average in wells in inactive areas farther from drilling sites (Proc. Natl. Acad. Sci. USA, DOI: 10.1073/pnas.1100682108). The federal methane action level is 10 mg/L, above which ventilation is recommended for safety...
Full Text:

Osborn, Stephen G., Avner Vengosh, Nathaniel R. Warner, and Robert B. Jackson. "Methane contamination of drinking water accompanying gas-well drilling and hydraulic fracturing." Proceedings of the National Academy of Sciences 108, no. 20 (May 17, 2011): 8172 -8176.
Snubbing Skeptics Threatens to Intensify Climate War, Study Says
, , The New York Times | Climatewire, (2011)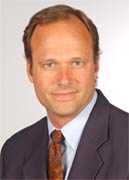 Listening to climate change doubters, and not dismissing them, might avert a "logic schism" similar to the political stalemate on abortion, according to a new paper involving research on skeptics.
The paper (pdf) portrays doubters as being at a disadvantage. The majority of climate research comes from the fields of physical science, engineering and economics -- largely depicting rational outcomes in a world dominated by the view that the Earth is warming, and that something needs to be done about it.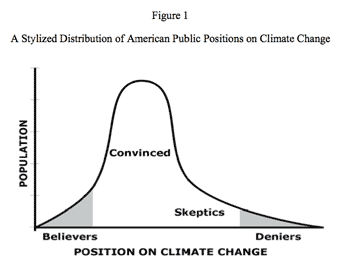 What's missing, the research says, are studies that seek to understand the cultural responses of people who question those findings. It's no surprise, after all, that a large segment of humans resist the majority opinion -- on nearly every topic.
Most skeptical writers haven't accepted the scientific underpinnings of rising temperatures, while advocates for action are promoting policies to address the findings.
See: Global Warning | The environment and national security.
See: Hoffman, Andrew J. "Talking Past Each Other? Cultural Framing of Skeptical and Convinced Logics in the Climate Change Debate." Ann Arbor 1001 (2011): 48109.
See: Kate. (Blog). ClimateSight | Climate Science and the Public. 2011.
Kate is a B.Sc. student and aspiring climatologist from the Canadian Prairies.
She became interested in climate science several years ago, and increasingly began to notice the discrepancies between scientific and public knowledge on climate change. She started writing [ClimateScience] when she was sixteen years old, simply to keep herself sane, but she hopes she'll be able to spread accurate information far and wide while she does so.
Systems Approach to Energy Transitions: Watkins Glen Conference, March 30-31
, , Cornell | Systems Approach to Energy Transitions, (2011)


A Systems Approach to Energy Transitions
Presentations from the Conference held on March 30-31, 2011 in Watkins Glen, NY.
Marcellus Shale: Economic Development Implications
Timothy W. Kelsey, Ph.D., State Program Leader, Economic & Community Development, Penn State University
Marcellus Shale Gas Drilling: What Should We Plan For?
Susan Christopherson, Dept. of City and Regional Planning, Cornell University
Energy Planning in New York State
John Williams, Director of Energy Analysis, NYSERDA
Albert R. George, Ph.D., Mechanical , Aerospace & Systems Engineering, Cornell University
Natural Gas, Wind and Biofuels
Jeffrey Jacquet, Ph.D. candidate, Dept. of Natural Resources, Cornell University
Supplies of Sustainably Produced Biomass in New York
Timothy A. Volk, Sr. Research Associate, SUNY Environmental School of Forestry
Pennsylvania Energy Impacts Assessment
Nels Johnson, Deputy State Director, The Nature Conservancy, Pennsylvania Chapter
Planning for Energy Transitions
Daniel A. Spitzer, Partner, Hodgson Russ LLP