Living Downstream: An Ecologist's Personal Investigation of Cancer and the Environment
Publication Type:
Book
Source:
Da Capo Press (2010)
ISBN:
0306818698
URL:
http://www.amazon.com/gp/reader/0375700994/ref=sib_dp_pt#reader-link
Keywords:
experts
Notes: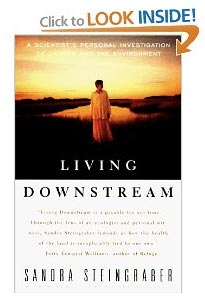 First Edition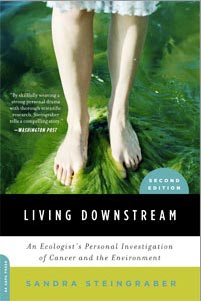 Second Edition
Directed primarily at pregnant and nursing women and babies, Living Downstream discusses the effects that pollution and toxins have on us through our interconnected food chain.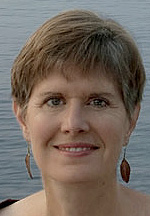 Sandra Steingraber is an internationally recognized expert on the environmental links to cancer and reproductive health. She lives in Ithaca, New York. Read More
Over the past nine weeks, the President's Cancer Panel report has been provoking passionate responses from across the country. In a recent editorial, the Los Angeles Times praised the report for broadening the discussion of cancer to include environmental carcinogens and for pointing out how woefully inadequate is our system of regulating them. Likewise, the National Council of Churches applauded the panel for its focus on children, who are more vulnerable to the harmful effects of chemical pollution and in whom cancer rates are rising.

By contrast, an editorial in Chemical & Engineering News condemned the report as alarmist, and the American Cancer Society called it "unbalanced."

It's easy to guess what the editor-in-chief of the American Chemical Society's weekly magazine might find objectionable—perhaps the report's conclusion entitled "Safer Alternatives to Many Currently Used Chemicals Are Urgently Needed." But an attack by the nation's leading cancer charity against a report that argues for cancer prevention via stronger environmental reform deserves a closer look. Especially since one of the report's authors, oncologist LaSalle Leffall, is a former national president of the American Cancer Society. (And it was George W. Bush who appointed both Leffall and his coauthor, immunologist Margaret Kripke, to their posts—hardly preconditions for a radical takeover.)
See: Living Downstream: The Film (2010)
Directed by Chanda Chevannes
See: Sandra Steingraber. "Shale Game". Orion Magazine. May/June 2010.
See: Sandra Steingraber. "The Whole Fracking Enchilada". Orion Magazine. Sept/Oct 2010.
See: Collaborative on Health and the Environment : Fracking: Implications for Human and Environmental Health