YES! Magazine | Partners
Publication Type:
Web Article
Source:
YES! Magazine (2010)
URL:
http://www.yesmagazine.org/about/partners
Keywords:
press
Notes: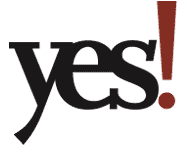 YES! Magazine reframes the biggest problems of our time in terms of their solutions. Online and in print, we outline a path forward with in-depth analysis, tools for citizen engagement, and stories about real people working for a better world.
Partners: