Dark Side of a Natural Gas Boom
, , The New York Times, (2009)
"Across vast regions of the country, gas companies are using a technology called hydraulic fracturing to produce natural gas from previously untapped beds of shale."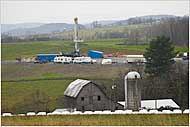 Fred R. Conrad/The New York Times
Environmental concern about hydraulic fracturing is creating political obstacles for gas drilling companies.
The most immediate hazard from the national drilling bonanza, it is clear, involves contamination of residential drinking water wells by natural gas. In Bainbridge, Ohio, an improperly drilled well contaminated groundwater in 2007, including the water source for the township's police station, according to a complaint filed this year. After building to high pressures, gas migrated through underground faults, and blew up one house.
Here in Dimock, about 30 miles north of Scranton, Pa., 13 water wells, including that of Ms. Switzer, were contaminated by natural gas. One of the wells blew up.
BP - For BP, a History of Spills and Safety Lapses
, , The New York Times, (2010)

After BP's Texas City, Tex., refinery blew up in 2005, killing 15 workers, the company vowed to address the safety shortfalls that caused the blast.
The next year, when a badly maintained oil pipeline ruptured and spilled 200,000 gallons of crude oil over Alaska's North Slope, the oil giant once again promised to clean up its act.
In 2007, when Tony Hayward took over as chief executive, BP settled a series of criminal charges, including some related to Texas City, and agreed to pay $370 million in fines. "Our operations failed to meet our own standards and the requirements of the law," the company said then, pledging to improve its "risk management."
Despite those repeated promises to reform, BP continues to lag other oil companies when it comes to safety, according to federal officials and industry analysts. Many problems still afflict its operations in Texas and Alaska, they say. Regulators are investigating a whistle-blower's allegations of safety violations at the Atlantis, one of BP's newest offshore drilling platforms in the Gulf of Mexico.
Now BP is in the spotlight because of the April 20 explosion of the Deepwater Horizon, which killed 11 people and continues to spew oil into the ocean. It is too early to say what caused the explosion. Other companies were also involved, including Transocean, which owned and operated the drilling rig, and Halliburton, which had worked on the well a day before the explosion.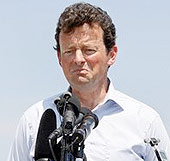 BP, based in London, has repeatedly asserted that Transocean was solely responsible for the accident.
See: BP to pay $15 million for Texas air pollution violations. Reuters. Sept. 30, 2010.
See: Cain Burdeau. "Scientists Find Damage to Coral Near BP Well." AP. Coastal Care. Nov. 6, 2010.