Dark Side of a Natural Gas Boom
Publication Type:
Newspaper Article
Source:
The New York Times (2009)
ISBN:
0362-4331
URL:
http://www.nytimes.com/2009/12/08/business/energy-environment/08fracking.html?_r=1
Keywords:
press
Notes:
"Across vast regions of the country, gas companies are using a technology called hydraulic fracturing to produce natural gas from previously untapped beds of shale."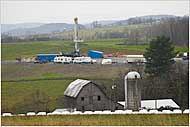 Fred R. Conrad/The New York Times
Environmental concern about hydraulic fracturing is creating political obstacles for gas drilling companies.
The most immediate hazard from the national drilling bonanza, it is clear, involves contamination of residential drinking water wells by natural gas. In Bainbridge, Ohio, an improperly drilled well contaminated groundwater in 2007, including the water source for the township's police station, according to a complaint filed this year. After building to high pressures, gas migrated through underground faults, and blew up one house.
Here in Dimock, about 30 miles north of Scranton, Pa., 13 water wells, including that of Ms. Switzer, were contaminated by natural gas. One of the wells blew up.