Flow - The War Between Public Health and Private Interests
, , (2008)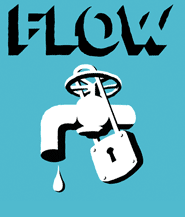 Irena Salina's award-winning documentary investigation into what experts label the most important political and environmental issue of the 21st Century - The World Water Crisis.
Salina builds a case against the growing privatization of the world's dwindling fresh water supply with an unflinching focus on politics, pollution, human rights, and the emergence of a domineering world water cartel.
Interviews with scientists and activists intelligently reveal the rapidly building crisis, at both the global and human scale, and the film introduces many of the governmental and corporate culprits behind the water grab, while begging the question "Can anyone really own water?"
Beyond identifying the problem, Flow also gives viewers a look at the people and institutions providing practical solutions to the water crisis and those developing new technologies, which are fast becoming blueprints for a successful global and economic turnaround.
See: Jeannette Catsoulis. Sept. 12, 2008. The New York Times. "The War Between Public Health and Private Interests".
See: Cory Doctorow . Apr 7, 2008. BoingBoing.net. "For Love of Water: infuriating and incredible documentary about world's water-crisis".
See: World-Renowned Scientist Dr. Theo Colborn on the Health Effects of Water Contamination from Fracking
WATER | Fracking and the Environment: Natural Gas Drilling, Hydraulic Fracturing and Water Contamination
See: Clean Water Action
See: WATER: Rulings Restrict Clean Water Act, Foiling E.P.A.
and Supreme Court Restricts Clean Water Act
See: WATER | That Tap Water Is Legal but May Be Unhealthy
See: WATER | FRONTLINE: Poisoned Waters
See: Drinking Water: Understanding the Science and Policy behind a Critical Resource
See: Connie Watson, CBC Radio | Feb. 4, 2003. "Sell the rain: How the privatization of water caused riots in Cochabamba, Bolivia".
See: SERC (State Environmental Resource Center). 2004. "The Meaning of Privatization."
Implications of Privatization of Water Utilities
[Provides] examples where privatized water utilities have posed risks of rate hikes, negative economic impacts, inadequate customer service, and harm to natural resources...