Wind Power Backbone Sought Off Atlantic Coast
Publication Type:
Newspaper Article
Source:
The New York Times (2010)
ISBN:
0362-4331
URL:
http://www.nytimes.com/2010/10/12/science/earth/12wind.html
Keywords:
press
Notes: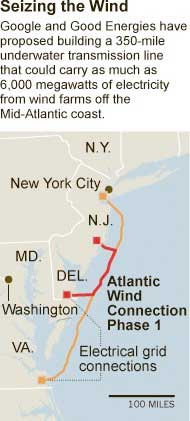 Google and a New York financial firm have each agreed to invest heavily in a proposed $5 billion transmission backbone for future offshore wind farms along the Atlantic Seaboard that could ultimately transform the region's electrical map.
The 350-mile underwater spine, which could remove some critical obstacles to wind power development, has stirred excitement among investors, government officials and environmentalists who have been briefed on it.
The system's backbone cable, with a capacity of 6,000 megawatts, equal to the output of five large nuclear reactors, would run in shallow trenches on the seabed in federal waters 15 to 20 miles offshore, from northern New Jersey to Norfolk, Va. The notion would be to harvest energy from turbines in an area where the wind is strong but the hulking towers would barely be visible.
See: Plug into a Greener Grid: RE<C
Google.org is working towards a clean energy future in a variety of ways: We're working on developing utility scale renewable energy cheaper than coal (RE<C) and accelerating the commercialization of plug-in vehicles through the RechargeIT project. Our over-arching vision is to one day transform the global economy from one running on fossil fuels to one largely based on clean energy. Our Clean Energy 2030 plan offers a potential path to do just that.
Google Earth platform to simplify siting of clean energy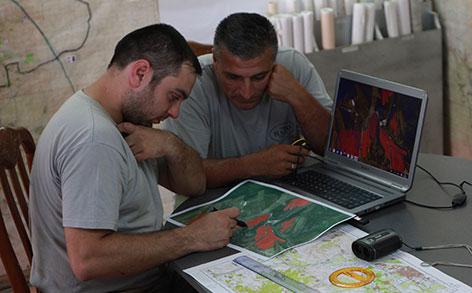 See: Google Earth Outreach Showcase
See: Appalachian Voices My Connection
See: Appalachian Mountaintop Removal Tour
See: Marsh Fork Elementary: Journey Up Coal River | A Community and Strip Mining
See: Mountaintop Removal (Film)
See: Tree spiker : from Earth First! to lowbagging: my struggles in radical environmental action