Republicans ask court to toss climate case
Publication Type:
Web Article
Source:
Politico (2011)
URL:
http://www.politico.com/news/stories/0211/49030.html
Keywords:
press
Notes: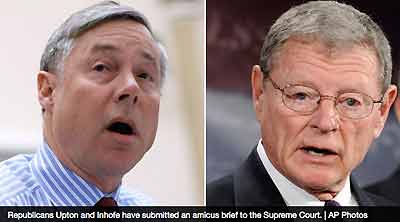 Two top House Republicans and the Senate's leading global warming skeptic asked the Supreme Court Monday to throw out a lawsuit seeking to force electric utilities to slash greenhouse gas emissions.
House Energy and Commerce Committee Chairman Fred Upton (R-Mich.), his energy lieutenant Rep. Ed Whitfield (R-Ky.) and Sen. James Inhofe (R-Okla.) submitted an amicus brief Monday in the high-profile American Electric Power v. Connecticut case.
According to the American Journalism Review, Politico is a Washington, D.C. based website and newspaper that focuses on Beltway political coverage, started by veteran Washington Post political reporters John Harris and Jim VandeHei started in January 2007.
See: Glenn Greenwald. May 30, 2008. "The right-wing Politico cesspool". Salon.
I once thought that Politico would be a pernicious new addition to our rotted media culture. Instead, it actually provides a valuable service by packing every destructive and corrupt journalistic attribute, in its most vivid form, into one single cesspool.
See: Smackdown: climate science vs. climate economics
See: EPA in the Crosshairs | Mixplex
See: Beware The Green Dragon! | Right Wing Watch
See: Energy & Commerce Committee Investigates Potential Impacts of Hydraulic Fracturing