EPA chief faces hostile House GOP
Publication Type:
Web Article
Source:
Politico (2011)
URL:
http://www.politico.com/news/stories/0211/48953.html
Keywords:
press
Notes: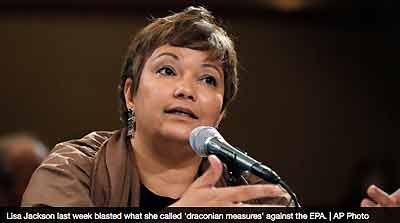 The showdown between House Republicans and the White House over climate change and environmental policies kicks off Wednesday with EPA chief Lisa Jackson as the star witness.
The Energy and Commerce Committee will hold a hearing on legislation floated last week by Chairman Fred Upton (R-Mich.), Rep. Ed Whitfield (R-Ky.) and Sen. Jim Inhofe (R-Okla.) to strip the Environmental Protection Agency of its authority to regulate greenhouse gases under the Clean Air Act.
Jackson last week blasted what she called "draconian measures" aimed at handcuffing her agency, and insisted that the White House would veto legislation to take away its regulatory authority.
"These efforts would halt EPA's common-sense steps under the Clean Air Act to protect Americans from harmful air pollution that until now has not been regulated at all from any sources in this country," she said.
According to the American Journalism Review, Politico is a Washington, D.C. based website and newspaper that focuses on Beltway political coverage, started by veteran Washington Post political reporters John Harris and Jim VandeHei started in January 2007.
See: Glenn Greenwald. May 30, 2008. "The right-wing Politico cesspool". Salon.
I once thought that Politico would be a pernicious new addition to our rotted media culture. Instead, it actually provides a valuable service by packing every destructive and corrupt journalistic attribute, in its most vivid form, into one single cesspool.
See: Republicans ask court to toss climate case
See: Smackdown: climate science vs. climate economics
See: EPA in the Crosshairs | Mixplex
See: Beware The Green Dragon! | Right Wing Watch
See: Energy & Commerce Committee Investigates Potential Impacts of Hydraulic Fracturing