Bluedaze - Drilling Reform for Texas
Publication Type:
Web Article
Source:
Bluedaze (2010)
URL:
http://txsharon.blogspot.com/
Keywords:
opinion
Notes:

Texas based blogger "TXsharon".
"I'm a landowner and a mineral owner on top of the Barnett Shale.
If you want to know how I became known as TXsharon and why industry tries to discredit me by calling me a "left-wing lunatic with a socialists agenda," you can read about it here: How I became a "Far Left Radical with a socialist agenda," etc. And, yes, I'm a mineral owner.
In January 2010, I started working for Texas Oil and Gas Accountability Project on a very part-time basis. I am likely the only person in Texas who gets paid for helping Texans who are negatively effected by oil and gas development. We hope to make my position full-time soon."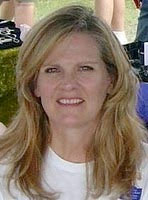 See: Cheney Helped Halliburton Hide Secrets About Dangerous Chemicals in YOUR Drinking Water. Tue Nov 25, 2008 at 08:36:40 AM CST.
See: "Doodygate".

See TxSharon's Diary on the Daily Kos.
See Barnett Shale: Aerial View and Cattle Drink Drilling Waste