Federation of American Scientists (FAS) - SourceWatch
, , SourceWatch, (2010)

Sourcewatch page provides overview including links to directors, funders, and board members.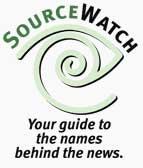 See FAS page on Earth Systems:
"Over the next century the earth's resilience and adaptive capabilities will be stressed by the demands of global climate change, environmental degradation, a population increase of two billion people, and the accompanying increased resource and energy demand.
These stresses will place an additional burden upon the earth's natural systems and the processes and resources that drive these systems. Future system scarcities and imbalances represent a security concern with the potential to destabilize and weaken existing political, social, and economic structures. And as these natural systems are inherently highly interdependent, it is necessary for them to be analyzed and considered systemically.
The Earth Systems Program seeks to address these issues by developing and promoting sustainable, scientifically sound, and inclusive solutions, policies, and technological developments."
"The Federation of American Scientists (FAS) was founded in 1945 by scientists who had worked on the Manhattan Project to develop the first atomic bombs. These scientists recognized that science had become central to many key public policy questions. They believed that scientists had a unique responsibility to both warn the public and policy leaders of potential dangers from scientific and technical advances and to show how good policy could increase the benefits of new scientific knowledge."
FAS works to challenge excessive government secrecy and promote public oversight with their FAS Project on Government Secrecy. Part of the project includes the distribution of the free electronic newsletter Secrecy News, which provides informal coverage of new developments in secrecy, security and intelligence policies.
Includes video interview with Hans Bethe on Atomic weapons.
Please note that information taken from Wikis should be verified using other, more reliable sources. It is a good place to start research, but because anyone can edit a Wiki, we do not recommend using it in research papers or to obtain highly reliable information.